Summary
Imagine this.
Head of manufacturing, being given the responsibility to lead an all new company venture in the mass market jewellery business!!
Head of finance, being given the responsibility to start a lifestyle brand for the youth segment!!
Large group of employees across functions, levels & businesses, deciding, what Titan should be five years down the road & defining the road map for the same!!
Many such stories, which are more exciting than what Hollywood & Bollywood deliver, are common phenomena that happen in TITAN.
It is said that anything is possible, only when one sees it as a possibility. Anything can be measured; the only exception perhaps being the potential of people. Anybody can excel in his (or any) area of work, given the right environment!
 We at Titan, strongly believe in all the above statements. We have formal and informal structures and processes in place , which ensure that
A) There is empowerment of people to lead even when they lack formal authority
B) Employees across levels contribute and enable top management to decide the annual business plan & five year strategy
C) Opportunities are  given to passionate people to lead , even if they lack the prior experience in handling a new assignment
D) Processes to identify leadership talents are in place & processes to enhance leadership capability are created.
Context
Titan Industries limited, a joint venture between TATA group and Tamil Nadu Government (TIDCO), was formed in 1985, to design, manufacture, brand and retail watches. As per the understanding reached between the partners, The Managing director of Titan will be a nominee from TATA group and the Chairman will be nominated by Tamil Nadu Government.
Today Titan is the dominant watch retailer in India, with sales of 15 Million watches per annum, and with market share of 55%. 15% of our total sale comes from exports; we also have an international presence in Middle East, Singapore, Malaysia, Vietnam, Bangladesh and many other countries.
Titan diversified into precious jewellery manufacturing and retailing in the year 1995.Precious Jewellery is a big market in India with 40 Billion USD market today (8 Billion USD in 1995). The retailing of precious jewellery in India is dominated by family jewellers. Jewellery retail is also highly fragmented, with over 300000 individual retailers. We were the first Corporate to enter in Jewellery retail, and the task was to understand jewellery manufacturing, precious metal buying, and the biggest task was to compete with family jewellers, who have been in business for decades with a loyal customer base. The family jewellers source their jewellery from gold smiths (through middle men) who work from their house (cottage industry) with nil or minimum overheads.
We had started with a manufacturing plant with all modern refining, alloying, waxing and casting facilities, imported from Sweden, Japan & Germany, with an investment of 15 Million USD. We evolved to selling jewellery under two brands, brand Tanishq , for the evolving, modern design & fashion conscious Indian woman , and brand GOLDPLUS for traditional, investment conscious Indian women. We have, as of date, 182 retail stores under these two brands across the geographies of India. The annual revenue from jewellery business had crossed 1.5 Billion USD in last financial year, the overall revenue for the company being 2 Billion USD.
We also have a very modern manufacturing plant for manufacturing the intricate case & modules of watches. We have 350 exclusive watch retail outlets across India & our watches are also retailed in over 6000 multi-brand watch outlets. We have the unique distinction of having made the slimmest watch (EDGE) in the world. As of today, we are the largest jewellery & watch retailer in India.
Also we have recently expanded our retail foot print in selling optical eye wear (started in 2006), and have achieved market leadership in this category also with over 250 retail stores. We have set up a modern facility to manufacture our own lenses.
In Titan ( Being a part of TATA group ) , we are guided by the TATA group philosophy on ethics , values, and Governance , and also, processes for Business excellence ( called TBEM ) , HR processes , Sustainability , safety, and Innovation Processes ( guidelines by TGIF). There are appropriate forums, and structured yearly audits by assessors certified by TATA group, to understand where Titan is good at and the opportunity for improvement, in our journey of excellence.
Triggers
Back in 2002 the leadership baton (MD) was handed over to Mr. Bhaskar Bhat, from a charismatic leader Mr. Xerxes Desai, who had established a very profitable watch business for the company and had incubated the jewellery business. While it was a great opportunity for Mr. Bhat to take TITAN to next horizon of growth, he had his own challenges to overcome too. The challenges were many; to mention a few-
1. The profitability of the company was substantially eroded by the newly incubated jewellery business, which was making losses
2. The "huge losses" incurred by TITAN , foraying into Europe , in mid 90s was to be managed.
Mr. Bhat, who always believes in the strength of employees and who places employees interest above company's interest, and who (unconditionally) believes in the collective thinking power of the employees, had the initial challenge, to win the confidence of all stake holders and more importantly, the investing community, by showcasing profitable operations, despite all the challenges, for the year 2001-02 (his first year as COO). Instead of directing his employees on a set of prioritized tasks to overcome the challenges, Mr. Bhat in his own style, came out with an inspiring theme titled "Mission Impossible" which, backed with his energising communication, propelled each employee to walk the extra mile (or extra many miles) in enabling TITAN, to record profitable operations for the year 2001-2002. Click here to see the Mission Impossible AV.
MISSION IMPOSSIBLE - A turning point in the Company's fortunes In 2001–02, the Company's business performance by the end of the third quarter had been below budgets due to a variety of market related and other factors. And the outlook for the last quarter looked bleak too. At such a stage, most organizations would just announce very aggressive sales schemes and promotions and hope that the last quarter can generate the much needed sales. At Titan, most times, thoughts run to innovation, even if it is just in the way schemes are put together. Mission Impossible (where the IM was crossed out) was one such initiative. The end objective was to generate higher sales and profits; but the route taken to achieve it by involving and motivating the national sales force is what made it different.
The program took on a war-like fervor. It was a war worth sacrificing and fighting for, Bhaskar said to the employees. The Company's pride and prestige that was threatened had to be protected…and we had to steer our Company out of the troubled waters by delivering a brilliant economic performance. MI took on an army like logo and imagery. It was a war and we wanted to win! Regional Teams were formed. Foot tapping audio visuals were created for national viewership by the Titan sales force. Fortnightly messages from Bhaskar, cheering and urging the teams on were beamed across the country with the countdown as we moved towards the last month of the year. Teams were challenged to perform and they were helped by the back end Supply Chain Department pitching in with faster dispatches of stocks etc. It was a well planned execution where the entire organization, including Manufacturing, Finance Departments etc. came together and played their parts. Sales teams had never seen a program of this scale, with so much zeal and energy ever unleashed at Titan! The MI momentum was unstoppable and Titan achieved sales results which were almost unbelievable! And even today, this program is seen as the one that turned the tide in the fortunes of this Company!
The QTR on QTR sales and profits achieved were as under:
Period                   Sales (Rs. in Crs)    PBT (Rs in Crs)
Sept 01 - Dec 01                       207          10
 Jan 02 - Mar 02 ( MI Qtr )         277           18
MI is talked of at Titan even today … but we realize that a note like this can barely capture the true magnitude of the initiative, the perfection in its execution and the energy it generated in the Company. It is not just about the sales or profit numbers; it is about the spirit to excel against all odds that Bhaskar Bhat ignited in the minds of all Titanians across the country in that period – through this Mission Impossible initiative . "Mission Impossible" had not only made the year 2001-02 profitable for TITAN, but had very clearly set the tone for new ways of managing future plans and strategies-by creating a process of empowering its employees, guiding & mentoring them ,to decide the destiny of TITAN. The circumstances under which "Mission Impossible" was launched, and the success it had achieved, triggered TITAN to energize and involve its employees in all its strategy formulation and implementation processes. Looking back, after a decade into our journey, the revenues have gone up from Rs.800 Cr to Rs. 10,000 Cr and the profits from Rs. 9 Cr to Rs.1000 Cr.
Key Innovations & Timeline
I. FUTURE SHOCK ,Strategy is not decided in the board room but decided by employees Mr. Bhat, in 2004, in one of his address to employees, had triggered the thoughts of people, to an interesting question "What does it take for our company to record a fivefold growth in 5 years time?"; this implied that he dreamt about becoming a billion dollar revenue company by 2009, from our USD 200 million revenue recorded in 2004. There was a rousing reception from employees to the challenge posed by him.Very interestingly Mr. Bhat was very clear that, the "what and how" part of the growth will have to come from the employees.
Brief details on FUTURE SHOCK -The year 2003-04 was a turnaround year for Titan Industries Limited. After a few years of financial pressure, the company was then poised at a point of inflection, with enormous potential for future growth. The organization had to now craft out its long term strategy for the next five years. Organizations would typically call a consultant like McKinsey and work with them to put a plan together. Or the various business heads would be asked to put their five year plans together – and a summation of that would become the organization's plan. This would have led to a top line which would be an arithmetic progression of each year's growth and led to perhaps, a sub-optimal growth overall!
At Titan, however, things work differently. FUTURE SHOCK 09-10 was unveiled by Bhaskar Bhat. It was a unique, first of its kind program, where several of the Company's younger executives were constituted into teams to look at various growth opportunities for the future with respect to both our existing businesses and new businesses, both in India and abroad. The objective was to collectively pitch our goals much higher and establish a collective ambition which would propel the Company to much higher levels of business and profitability in the future.
The unique feature of the program was its format. The program had members from various functions ( In all ,13 teams were formed through a process ). Internal team leader, an internal mentor, a financial anchor and an external advisor , were identified for each team.. The mentor and the external advisor would challenge the assumptions, provide the much needed external perspective, act as a sounding board and stretch the team's thinking. It was a unique format to have an external advisor - these were people like Senior Vice Presidents from the consumer durables / FMCG industries, consultants, people from academia etc. who had in-depth knowledge of the Indian economy and the consuming class. The external advisors were personally invited by Bhaskar to spend time with the Future Shock teams. The crowning glory of the program was when the teams had to present a five year business plan to a Jury comprising our CEO, senior members from the Tata Group and the external advisor. The presentation by the teams were also attended by a large cross section of executives from Titan , who were given the power to Vote to select an idea of their choice. Some CEOs of Tata group Companies were also on the Jury.
This was a very unique format, much appreciated by many in the Group. Senior TATA leaders appreciated this program for its grass root level involvement of employees to raise the bar for the future of the Company. Future Shock 09-10 sowed the seeds for many of the current new businesses that Titan Industries has diversified into and propelled the Company into significantly higher goals than would have ordinarily been possible through a normal business planning process.(Find below pictures of Future Shock)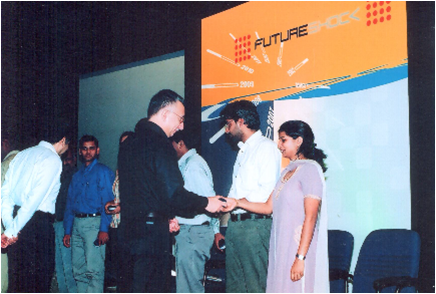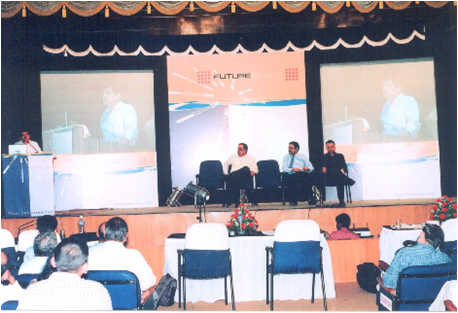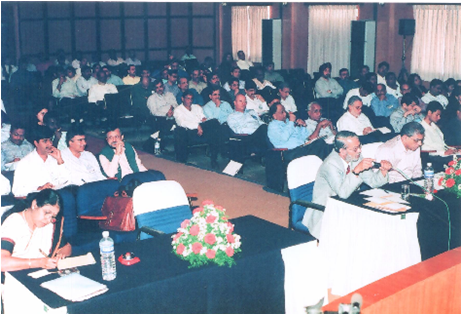 The Prescription Eyewear business was one that came out of Future Shock. A brand called "Titan Eyeplus" has been launched and it is estimated to grow to a Rs. 500 crs business soon. The jewellery business, (which had started with Brand Tanishq, for Urban woman) launched a new brand targeting the semi-urban and rural markets in India called Gold Plus which was the 2nd business to come out of Future Shock. Nine years later, the two new businesses launched as an off shoot of Future shock process have blossomed to become large, respected and profitable businesses.
Jewellery Goldplus, an all manufacturing people led ( the head of business , the retail head , the category & design head all from manufacturing background ) mass market jewellery brand, through slew of pertinent innovations spanning product, process & customer service, had become the first brand within Titan to be profitable from year 1. It also gained the distinction to be the first brand to record maximum sales revenue in the first year of operation, and also in recording the fastest RS 1000 Crores, cumulative sales revenue. This brand is all set to achieve 250 Million $ sales revenue this year.
MARKETING INNOVATIONS BY GOLDPLUS
Find below photo of the World's First Gold Nano Car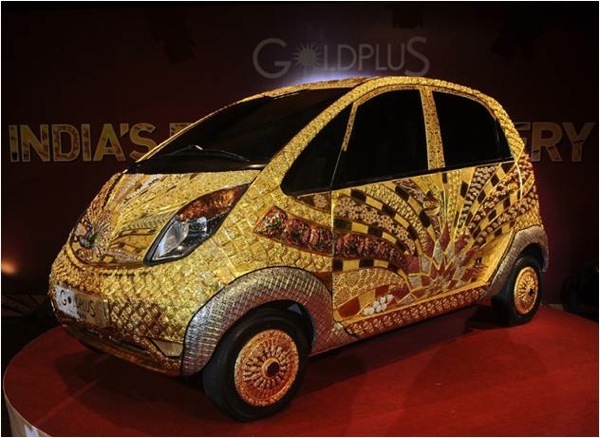 Find below photo of World's Biggest Gold Bangle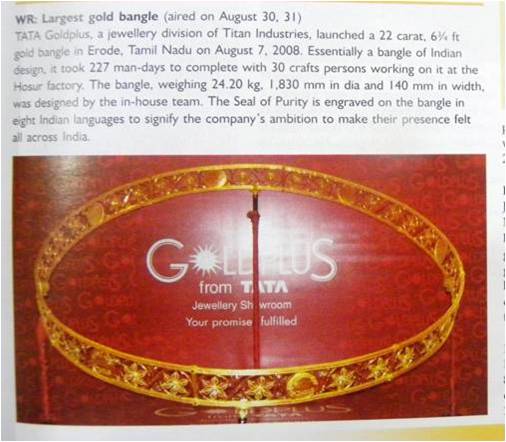 Eyeplus, with over 250 stores, has established market leadership in eyewear business. This brand is marching with the ambition to acquire a customer base of one million within the next 3 financial years. Many innovations like, remote eye testing & online eye testing have been indigenously developed benefitting large customer base.
INNOVATION IN TITAN EYE PLUS
Find below first of its kind online eye testing by Titan Eyeplus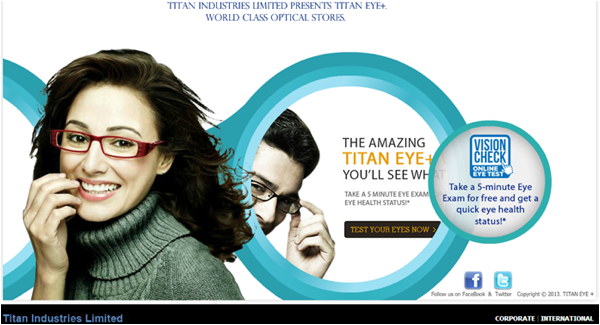 Find below Switchers Collection-3 different looks-1 stylish frame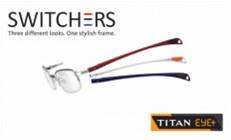 While the future shock program had paved way for converting many ordinary people in to Extraordinary leaders , Here is what an employee has to say about the program  Employee speak : I had 20 years of hard core manufacturing experience in automobile industries & I was wondering , how I would shape up when I joined this brand & retail led ( B to C ) company. There were manufacturing & business challenges. At one point when I had proposed that Titan is missing out on the opportunity of addressing people in the bottom of the pyramid , I was pleasantly surprised to have been asked to lead this new brand ( Goldplus ). Coming to a customer facing retail business without any past baggage of experience in Brand & retail , has not only helped me to unearth my hidden potential , but has also helped the company with new learning. Many stunning , innovation initiatives , challenging & breaking the industry convention were successful , in creating a new niche for our brand. Ananta , the unique loyalty program ( appealing to the heart of the customer , when the entire competitionwas appealing to the mind of the customers with discounts & gifts was a grand success. Ananta , was selected amongst the top 10 best customer service initiative in the Oracle retail congress held in Berlin , ahead of many international brands. Today I am a CEO at Titan handling new business , and such things can happen only in Titan." L.R.Natarajan , CEO , New Business
2. TELL ME SURVEY , A process to listen to the voice of stake holders , in deciding the next year's operating plan. By using a structured questionnaire called "Tell me Survey", the MD's office created a process for understanding the pulse of a cross section of employees, in terms of what went well the previous year (as perceived by them), what did not go well, what new initiatives had worked and what did not, what the company should pursue and what we should not and so on. The survey also includes cross section of our vendors and franchises.
Around 10% of employee population (around 600) is involved in this well managed survey which maintains strict confidentiality. Many of the ideas endorsed by large section of employees are incorporated in the next year's budget by way of companywide initiatives. The suggestions that are not taken forward are communicated back to the employees both in the open house and through smaller meetings of select participants and top management. The following initiatives were driven based on the feedback from Tell Me survey in the last many years-
The objectives of each initiative was defined. Cross functional teams were formed, providing them with the required resources. The empowered team were the leaders in going about accomplishing the task assigned to them.
1. Rejuvenating Brand Titan
2. Improving Tanishq Retail
3. Resolving Titan – Sonata conflict
4. Cost reduction through Cost Erosion programme (2=20 for a Rs. 20 Cr cost reduction)
5. Productivity for Prosperity (a cost reduction programme)
6. Improving the Performance Management System
7. Revisiting the Compensation Practices
Click here to see the questionnaire used in the survey
3. Initiatives towards equipping & energising employees to lead , even when they lack formal authority A. Innovation School of management , Skill & empower the common employee in solving a big challenge. It is perhaps one of the most unique initiatives across industries, where a common employee is trained on skills to innovate and groups of employees thus trained, are given orbit shift challenges to crack. More than the results achieved (stunning results have been achieved, nevertheless), the employees feel empowered and play the leader's role in going about the projects assigned to them with pride & passion.
A six month course on innovation, co-created by EREHWON, an innovation consulting company who are pioneers in " orbit shift Innovation methodology ", was designed with 3 days of class room session , on the "what , why and how of innovation" , followed by 4 hours / week free time to work on identified innovation projects, 2 hours / week of mentoring in a week, and a monthly review with senior management team , ultimately leading to a diploma in innovation for the employees.(Click Here- To have a look at the innovation school brochure). So far 200 of our employees have been converted as trained innovators, and manufacturing innovations contribute to around 20% of our profits in our jewellery division. (To have a look at one of our innovator's project, please click here).
Find below the photos of Innovation School of Management and the first batch of innovators from the school.
B. Interweave- Connecting the dots! Provide platforms to make employees as Heroes "If only Tata knew, what Tata knows!"- R Gopalakrishnan, Executive Director - Tata Sons Afore is a statement made by R Gopalakrishnan, fondly called as RG in Tata fraternity, highlighting the imperative of tapping into the collective might of the USD 100 billion Tata Group. There are organizations such as Sony, Xerox, and Motorola, which were once the powerhouse of innovation and technology, but soon lost out to more nimble, creative challengers. These pioneers had all the right things in place, but failed to synergies various pieces of expertise together in delivering a real performance. The question is- how would Tata Group in general and Titan, in particular remain vital in changing times? It is therefore imperative that we don't lose out on assimilating and leveraging the nuggets of excellence that exist across the breadth of Titan.
Because ideas are born at the intersection of disciplines, and Titan has presence in several disciplines, it is only natural for us to enable more such fertile connections. To ensure cross- pollination of ideas and enhancing collaborative engagements, Titan Innovation Council has launched a series of initiatives such as the Titan Interweave. (Please find below the Titan Interweave Logo)

The Titan Interweave is an event where the best practices from a particular function or region is shared with the larger audience, and here the intent is to encourage broad basing of such practices.The first edition of Titan Interweave was hosted in Bangalore in July 2011 for the Sales and Marketing Team. The event saw 25 ideas being presented to an audience of over 200, and several of these ideas were later experimented with other functions. This was then followed by a event hosted for the Northern Region in July 2012, and later in January 2013.Since then it has been replicated by the Western region in 2013 as well. Cumulatively, the Titan Interweave has touched over 10 percent of Titanians from across locations and business divisions and this has resulted into people having meaningful dialogues, productive collaborations and innovative ideas and solutions.(Please find below photos of the Interweave Event)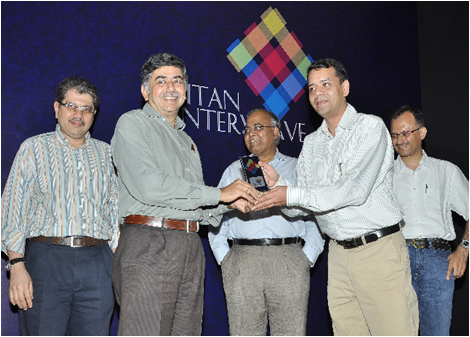 C. HOD fund , Trust the employees, tweak the rules, empower them in experimenting their ideas. This is another unique initiative which encourages employees to experiment new ideas. This is achieved by creating processes which enable employees to receive up to RS 100000 per project to help them experiment their new ideas. One can take up as many projects and can collect RS 1 Lac for each project, through a simplified process from the local finance department. Quarterly review forums are established to understand how the money has been spent and the results achieved.
Employee speak about HOD Fund "This initiative truly liberated us! In our kind of organization it usually takes a long time to get the allocation of fund for any new experiments, this slows down the process and interest in the project itself. After the introduction of the HOD fund, we have been allowed to utilize up to one lakh without any question and it has given a huge leverage and pressure to perform for all the HODs. This was a well thought out and need of the hour innovative initiative through which we are able to implement the new ideas without any delay, and keep the employee morale high and able to generate more such ideas."-Mr. Rajendran G , Group Manager , Jewellery Division.
 Few of the projects which utilised the HOD fund are given below-
1.Light Weight Collection (metal mould) (Please find below a photo of the Light Weight Collection Challenge)

The Challenge: Tanishq in its product portfolio has many famous Fashion Jewelry products. These Fashion Jewelry items need to be light weight and require repeated accuracy. The traditional method used for casting of these jewelry items was called Lost Wax Casting which used a Rubber Mould. However, a Rubber Mould doesn't yield satisfactory repeated accuracy.
The Solution: the team came up with the idea that a Metal Mould should be used instead of a Rubber Mould. The Metal Mould would give the desired repeated accuracy and hence help in making lighter jewelry. However, another hurdle confronting them was the fact that Metal Moulding Machine is very expensive.
How the HOD Fund helped: The team turned to the HOD fund. Using it they purchased a few parts from outside and using some parts that were available in-house, they made a low cost Metal Moulding Machine. The Metal Mould achieved repeated accuracy and led to 50% weight reduction compared with regular casted item. This made light weight fashion jewelry collection possible. Thus, they managed to achieve a low cost yet highly effective solution to a complex problem owing to quick access to capital made available through the HOD fund.
2.One Day Wonder (Guide Card Printer) (Please find below a photo of the One day wonder Challenge)

The Challenge : One of the challenging steps in Jewelry Manufacturing Process involves embedding diamonds in the jewelry item. This step becomes complicated because the size of diamonds involved is very small and each diamond needs to be embedded in the exact right spot meant for it. If a larger diamond is forcefully put into a smaller cavity, the diamond is likely to break and alternatively if a smaller diamond is put into a larger cavity, it will be loose and there is a risk of it popping out. Given that the difference in sizes of the diamonds is very minute, it was challenging as well as time consuming for the worker to ensure that the right diamonds were embedded in the right spot all the time.
The Solution: To overcome this problem, the team came up with a simple innovative solution. It was proposed that the back side of the Bill of Material for each jewelry item would have a layout (a detailed image) of the jewelry item and in this layout using proper color coding it would be indicated which diamond needs to be fitted in which spot. With this process, achieving accuracy became easier and much quicker. Order Processing to Final Product completion within 24 hours became possible.
How the HOD Fund helped : though the idea was good, it's implementation required that the team had access to high definition color printer. In the normal course of things, a request for having a color printer installed would have taken a long time as it required multiple approvals. The HOD fund was found to be of great use in this scenario. They managed to immediately procure the printer and implement their idea which otherwise would have taken a much longer time. Over thirty projects have been completed successfully by using the HOD fund.
D. Innovation Challenge Program, An initiative to mould middle level managers into future business leaders. This again is a unique initiative at Titan which focuses on adding to the skills of the Middle/ senior level management. 30 managers were sent to the Indian institute of Management Bangalore for an interesting two weeks program , exclusively created for Titan by IIM faculty , for a) Exposing managers to the threats and opportunity in the market place b) Educating & guiding them on the required skills c) Giving the exciting projects and empowering them to work on the same.Please click here for more details.
Employee speak : "It was a great initiative from Titan to identify some of us to be part of the Innovation program @ IIMB. The structured inputs provided by the faculty were really enriching and the sessions with innovation experts & industry leaders were even more exciting. The TMC members' participation and encouragement during the program re-instated their commitment on enhancing the innovation culture in the organisation. The learning from this program has completely changed the way I think and act in the day-to-day life. Thanks to Mr.BB, Mr.CKV, Mr.LRN and the entire organisation for the wonderful opportunity."-Mr. Panneerselvam , Senor Manager - Goldplus.
4. Initiatives towards enhancing the competency of employees (Enhancing their leadership capacity) A. MBA program – Alliance Business School , Educate employees to become future leaders, In an attempt to create a talent pipe line for our organization, our company had collaborated with a leading Business school for providing a 3 year part time MBA program to our executives. This program has been a resounding success with over 100 of our executives ( mostly from manufacturing department ) having completed the MBA program successfully. The tuition fee was sponsored by our company.
Please see picture of one of our executives in the MBA convocation function.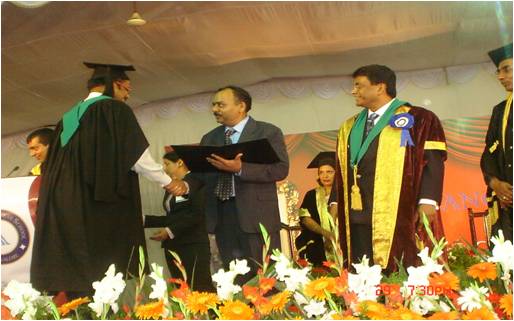 Following is what one of the executives, Employee speak : Mr. Elangovan A, had to say about the MBA program: "I am proud to be a part of this wonderful institution – this organization called TITAN. A place that has helped me grow and realise my potential. An institution that nurtures the individual, and takes proper care, and helps him grow – both on the professional and academic fronts. It encouraged me to continue my education – after I joined on the basis of my Secondary Qualification – enabling me to complete my Diploma Certificate. The policy of elevation of employees from the labour level to the Staff Level is a boon to all the aspiring professionals, and, added to that is the sponsorship for management education (MBA from Alliance Business School), that came as an icing on the cake. To put it in short, a place where you get it all – Motivation, freedom to perform, no barrier for growth; a place that boosts your confidence with support, genuine concern for its people and praiseworthy people practices. To grow from the level of an operator to a Manager handling one of the core operating units of the division – is an achievement that I am indeed proud of – made possible by the policies of this wonderful organization. Thanks and Gratitude to this home called TITAN."
B. E to L level , Unique program to train, skill & upgrade workers as supervisors & give them platform to grow further. The culture & work environment provided by our company has been conducive for a majority of the employees to fulfil their aspirations, including our workmen. This program of providing opportunities for our workmen to be promoted as supervisors ( if they pass all the stringent tests ) was introduced in the year 2005. Amongst the 1500 + workers , this program had encouraged , 45 % of them in completing their basic degree, (they joined with just a Class X qualification) through part time & distance learning institutes. Today we have over 100 post graduates, many engineers & business graduates amongst our workers. So far through this program, 550 workers have been upgraded as supervisors and amongst them there are around 10 people, who have moved up over a period to become managers. Please click here for more details. 
C. SAMVIT Power of Knowledge – online learning portal. Titan Industries continues to provide online training to support the day to day working requirements of its employees. Online courses can be used as reference tools to help answer your day-to-day on the job questions or as part of your personal development. These learning resources are available 24x7 from any internet connected computer both at work and at home. Please see attachment for more details Click here
D. Assessment Centre (followed by mentoring) Develop talent pipe line Assessment Centres help organizations identify and develop competent people, which is now the need of the day. Assessment centres are tools that involve assembling "recommended managerial candidates for specific purpose of assessing their potential and arriving at the decisions regarding their promotions at work." Companies take a group of up to a dozen candidates away from work environment for several days, giving these candidates simulated management problems such as a case study, role plays and in-baskets. After a series of interviews and tests, observers (usually industrial psychologists or senior managers) collate the results to produce overall potential ratings for each candidate. It is used for the following-
1. Selection – Assessment Centres help organizations in getting the right people in.
2. Career development – The identification of the competencies possessed by the individual helps organization decide his career plans.
3. Potential appraisal – These centres help organizations identify if the person can handle the challenges offered in the next higher position.
4. Identification of high potential managers – This creates a pool of managerial talents & multifunctional managers that would be available across the business group etc.
5. Succession planning – Identifying the right individual for critical positions such as CEO, CFO etc is very important for the success of the organization. These centres reduce the risk of such wrong identification.
6. Allocations of challenging assignments – These centres provide the organization with the strengths and weaknesses of every participant. This helps the organization in deciding the candidates who would have the necessary abilities to undertake the proposed challenging assignments.
7. Management development – These centres provide ample opportunity to its participants to reflect on one's capabilities and to improve by observing others perform in the AC.
8. Identification of training needs – Assessment centres provide candidates and organization with concrete data on the improvement areas, which can be utilized, for training.
9. Identification of a global pool of talented managers - Adjusting oneself in the global scenario is a critical requirement of some positions in the organization. Assessment Centres help organizations to identify such managers Process followed in Assessment Centres.
The list of critical responsibilities, at each stage is given below-
A) Pre Assessment Centre process • Defining the objective of Assessment Centre. • Get approval for Assessment Centre from the concerned officials. • Conduct job analysis. • Define the competencies required for the target position. • Identify the potential position holder and send them invitations. • Identify the observers. • Train the observers. • Design the Assessment Centre exercises • Decide the rating methodology. • Make infrastructural arrangements. • Schedule the Assessment Centre. • Inform the concerned people of the schedule.
B) During Assessment Centre process • Explain participants the purpose of the Assessment Centre, the procedure it would follow and its outcome. • Give instructions to the participants, before every exercise. • Distribute the competency-exercise matrix sheets among observers. • Conduct all exercises. • Conduct a discussion of all observers on every participant's ratings, at the end of the session. • Make a report of the strengths and improvement areas of every participant. • Give feedback to participants. Get feedback from participants and observers about the conduction of Assessment Centre.
C) Post Assessment Centre process • Compile reports of all participants and submit the list of selected participants to the concerned authorities. • Make improvements in the design according to the recommendations. • Evaluate the validity of results after a definite period.
E. Mobility policy , Give growth opportunity to internal candidates The mobility policy was crafted by the HR department with a view to increase employee job satisfaction and enhance opportunities for career development. This policy provided a defined process for cross-functional/departmental moves thereby opening opportunities for internal talent to take up new, challenging roles. Over 1000 employees have benefitted from this initiative. To read more about this policy click here.
Challenges & Solutions
• The biggest challenge for the top management was to believe in the new process of empowering people, and to play an enabling role, totally different from the decision making role that they used to play. It was not easy for everyone to adapt to the new culture, and we did lose a couple of very capable and senior leaders in the process. To cite an example , the employees who have been assigned Innovation projects , to develop more ideas , will be schduled to visit other companies. There were situations intially that the respective Heads of department , would not agree to releiving the Innovation students to go on a tour . Post this , after intrevention from CMO , The faculties of innovation School , have learnt to involve the Departmental Heads in Scheduling the visits of Employees to other factories. 
• After educating and creating an empowered organization, the second challenge was to fulfil the aspirations of all newly skilled employees. At some point, we perhaps , had created more talent from within, than what the company needed. Thanks to our vertical and horizontal growth, and slew of initiatives in engaging employees on various constructive initiatives, the problem is seen less today. 
• The third challenge was that, while majority of workers (E Level) were enthusiastic about the education and growth opportunities provided to them, there were small factions who at the slightest opportunity, would negatively influence others from participating in all new initiatives of the company. Constant and persistent communication has helped in minimizing this problem. To cite an example , we reached a stage , we sensed , break through productivity , through a new process in stone setting. A small faction of the employees were spreading negative messages , informing employees that if we produce more through new process , the management will resort to reducing the number of employees. Over Six months of dialouge with the workers , addressing their concern , and only after we took them in to confidence , the new process was implemented.
• The fourth challenge was that there were a small set of executives, at lower and middle management level, which could not cope up with the new initiatives of the management, were left frustrated. While senior management constantly engages with these executives, we are still grappling with the problem.
• The last challenge is with respect to employees who join via Lateral recruitment (which is quite rare); they often find it very difficult initially , to adjust to Titan's culture.
Benefits & Metrics
  Some Interesting Before and After Story : Many Ordinary employees , because of the culture followed in Titan , have risen quickly in their career , and are holding important leadership positions , in the company. Manimaran , who started his career as a Diplamo trainee in our casting department , progressed on to become the Principal of our Innovation School and is currently heading the Quality assurence function of our 2 Billion USD Jewellery business.Saumen , who joined as an engineer trainee in our Maintanence department , moved on to Head our SCM function , followed by Heading the Retail Function and he is currently the Head of our business , ( handling all brands of Titan ) in Northern India.But for our Culture Manimaran & Saumen would have at best become the Head of their function , in their career , in Other companies. There are hundreds of Saumen & Manimaran , our Culture identifies and nutures.
 • In the "Great places to work" survey by the Economic times (a leading business news daily), we moved up in the rankings from 24 in 2007 to 11 last year 2012.
• Both our matured divisions , Watches & Jewellery , have been awarded the JRDQV award ( JRDQV award is similar to Malcolm Baldrige award for excellence ) , for business excellence by Tata group.
• Backed with agile and energetic employees, the profits and sales revenues, have been moving towards North rapidly (9 Cr PBT to 1000 Cr PBT in 10 years time)
• High ownership and acceptance, across the levels of employees, of all new customers facing, market facing and Innovation initiatives.
• Change management, is no longer a struggle at TITAN.
• Being a life style company, we have been able to easily enlarge our portfolio of categories with many new brands (see the Titan Expansion map below) and have never felt the absence of leadership talent from within to manage these brands.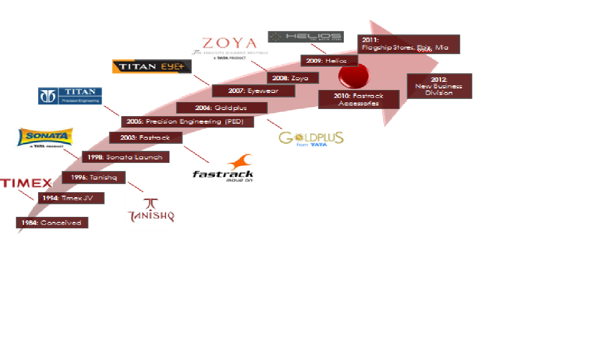 • Achieved the status of "Most admired Retailer" in India over many years across forums-Mr. Bhaskar Bhat was recently awarded the "ET Retail Personality of the year" by ET Retail awards,2011.
• Our brands have won many coveted awards in Marketing and Retailing practices over the years such as-"Fabulous 50" company award by Forbes Asia in 2012 ; 3 Retail awards at the ET Retail Awards,2011.
Lessons
The leader, if he has to create leaders everywhere in his organisation, has to accomplish two things before embarking on this journey-
1. Win the trust of employees and other stake holders It is easy to identify the great performers (it does not need any effort from the management), but the challenge is in dealing with average performers, who are large in numbers. How we deal with them and groom them to be champions will prove crucial for future growth. The average performer in his perspective is giving his best and longs for recognition. The challenge for the management, therefore, is to transform them at their personal level.
When the leadership team has to involve every employee in change management, they need to understand their current strength & aspirations. Understanding people comes from genuine care and spending quality time with people. The above coupled with humility and integrity from the top, leads to trust worthiness which is a pre-requisite for any change management. Once , having won the trust of these employees ( average performers ) , recognising them for what they are doing and systematically giving them a small stretch in their work & guiding them to succeed is important. This style of leading an organization requires humongous patience and perseverance in the initial period. But having crossed the initial phase, the sustained results of employee engagement leading to continuous growth of the firm, is imminent.
2. Influence and get the buy in of Top management executives. It is never easy to have consensus on a subject like this and more so, on the approach. Demonstration of conviction, total belief and powerful communication coupled with humility and genuine respect for other opinions are all required. One should stay focussed on the process and not the result & wait patiently. Communication from the Leader has to be Powerful enough & Convincing enough , leaving others to quickly believe in the new approach and follow.
Well , I wish there is a magic switch , which enable all managers , to agree , on the new culture. It is a mission , it is a journey , it is a process that one needs to undertake. A Leader who has total conviction , and who genuinely  respects others , will navigate his way to winning the confidence of others.The result can be achieved only through a  dialogue process ,( each meeting presenting the opportunity for every one to understand the leaders conviction) , which requires lot of patience and perceverence.  In titan for us to reach where we are , had taken us little over a decade
Credits
• The first person to be credited is the charismatic leader Mr. Desai , who not only started the watch business but sowed the seeds for total employee involvement in Titan.
• Credit to Mr. Bhaskar Bhat who took over from Mr. Desai since he genuinely places people interest above company interest. He probably knows all the 5000+ employees by their names, & their aspirations.
• The entire senior management of Titan, for having had the faith in the new way of managing the employees & the company.
• The entire HR team, who always reinforce confidence of employees with slew of new & pertinent initiatives.
• Many leading consulting firms, who, with their expertise, have helped us in keeping the morale of employees high.
• Our vendor partners & franchisees, who were always appreciative of our approach & extended their support.
• Lastly & more importantly, the credit belongs to all our passionate employees, who are always ready to walk the extra mile for the company.