Summary
InsuranceNext epitomizes the spirit of intrapreneurship in large organizations and rewires talent with an objective of revitalizing customer business. It harnesses the power of imagination and collaboration by crowdsourcing disruptive ideas and heralds the game-changing moments of the future of insurance industry. Together, passionate minds at work bring future alive. 
Context
Cognizant (NASDAQ: CTSH) is a leading provider of information technology, consulting, and business process services. Headquartered in Teaneck, New Jersey (U.S.) with over 50 delivery centers worldwide and approximately 171,000 employees as of December 31, 2013, Cognizant is a member of the NASDAQ-100, the S&P 500, the Forbes Global 2000, and the Fortune 500 and is ranked among the top performing and fastest growing companies in the world. Cognizant recently completed two decades of service. We belong to Cognizant's Insurance Practice which is one of the mature Practices within the organization with over 9, 200 employees and serve as strategic partner to 7 of the top 10 global insurers.
All of us are aware that every business is becoming a digital business with the emergence of disruptive technologies like Social, Mobile, Analytics and Cloud (SMAC). There was this sense of urgency amongst our insurance customers to catch up with the emerging trends in order to remain relevant in the competitive landscape and to serve their consumers better who were quick to adopt these technologies. We saw this as a major opportunity to change the playing field in order to help their customers rethink, reinvent and rewire their businesses as the trusted partner.
While we continued to focus on market share with the traditional Application Development and Management stream, by having the SMAC strategy in place, we established the mindshare work stream seeking to transform the nature of customer engagements by proactively helping them through enhanced thought leadership and innovation. 
With that as a context, we at Cognizant Insurance Practice realized that the ideas originating from few bright minds in the four walls of an executive office would not be sufficient to revitalize customer business. 
Triggers
Insurers are usually considered conservative compared to other industries when it comes to new technology adoption. They are not to blame squarely. Being part of a highly regulated industry, insurers must ensure that they are extremely cautious in their approach to new technology adoption by not compromising with the regulatory and legal obligations. This posed a huge barrier to institutionalize the changes in a rapid fashion and pushed them to the back foot compared to their peer industries. Insurers were also facing the risk of being left behind and becoming irrelevant as a brand in the minds of their end users who were consuming the new technologies at a faster pace.
Having a fair understanding of the global and the insurance landscape, we at Cognizant took it upon ourselves to reimagine the future of insurance industry. We had to quickly establish our credentials as the thought leaders who can enable the insurance customers to run better and run different challenging the status quo, maximizing their fullest potential. But we were just making foray into the emerging technologies ourselves.
Reflecting on the journey, our earlier attempts at targeting specific use cases to demonstrate the capabilities of emerging technologies failed to impress upon the customers as the power that is vested in the convergence of these technologies to disrupt their business remained untapped. Reinventing our approach by applying convergent thinking to come up with the possibilities of the future that relates to the business imperatives seemed the way forward. Cognizant is born global and a client-centric organization. Our associates (we prefer addressing our employees as associates) have always been passionate and deep rooted in solving complex problems faced by the customers. Traditionally, the onshore associates who are closer to customers have a solid understanding about customer's business landscape and pain points. Predominantly, the offshore associates focus on delivering technology solutions. The biggest challenge on hand was to come up with a distinctive approach that can bring these passionate minds together to coalesce business and technology that has the potential to transform the customer's business in near-future.  
A lot of questions were looming large. We have been in similar situations in the past and come out shining through the fog. Amidst all the challenges, we knew that if we have the right strategy in place to unleash the potential of our associates by kindling their passion, we would be on a roll. 
Key Innovations & Timeline
Way back in Q2 2012, we formed the Insurance Future of Work team, a four member team to develop our point of view on leveraging SMAC technologies for insurers. 
Try out the tested methods
Going by the fact that it is always better to try the tested methods, we piggybacked on running innovation campaigns in the individual accounts i.e. project delivery teams to pool ideas from associates as part of the managed innovation process on how to leverage the SMAC technologies for insurers. The managed innovation framework advocated by the Cognizant Innovation Group had already paid huge dividends for us in providing a structured approach to innovation.
We floated campaigns like, "How insurers might benefit from mobility initiatives?" or "How insurers might adopt social business?" and generated ideas from a cross section of the crowd representing large accounts and captured them in the idea management system. We started publishing them as thought papers (Sample few -> Thought Paper 1 | Thought Paper 2 | Thought Paper 3).  
Learn to fail fast
While we were able to generate ideas in silos and implement them, we did observe major gaps.
#1 – The ideas mostly constituted incremental innovation like enabling existing web based functionality as a mobile app or social app and were not powerful enough to disrupt the customer business models
#2 – Concerning SMAC, 80% of the ideas remained as ideas on idea management system either due to lack of feasibility or relevance or funding and only 20% passed the filter criteria to move on to the next stage.  Out of the chosen 20%, only 10% were fitting into the strategic objectives of the customers. Out of the 10%, only 2 - 3% of them got implemented successfully in the near term.
#3 – Majority of participation were from the critical mass at offshore. The onsite associates who were actually closer to customer business and who could prove extremely valuable in providing relevant inputs on customer's strategic initiatives were not engaging as much. 
#4 – Even with respect to offshore, there was designated few from the account teams primarily from technology background who participated in the initiatives to learn a new technology and develop the apps but there was not much participation from the rest of the community, mainly the domain experts were not involved.
#5 – Though multiple ideas were generated with larger focus on quantity, we could only create point solutions with those ideas. It was getting extremely difficult to establish correlations amongst the ideas and put together a cohesive story that can impact customer business.
#6 – We realized that the context we set for innovation in the campaigns was flawed as it focused on a singular area like mobility or social and did not provide a holistic view on how emerging technologies can converge to build a digital insurance enterprise and generate better business value across the value chain and improve the efficiency of individual stakeholders.
The tested methods were failing and the existing platforms were not helpful to accomplish what we aspired for. The good news was that we failed fast and were willing to learn from the failures fast.
Keep experimenting
#Hackathon
Around Q3 2012, we went on to conduct hackathons, build 24*7 events where associates formed teams with diverse stakeholders like business consultants, developers and built working prototypes and functional apps using the new technology enablers. We found that by collaborating with business folks, hackathons helped associates to passionately code and pump oxygen into a prototype to breathe business. We chose themes that revolve around key insurance business processes and conducted these events across the global branches at Cognizant where associates exhibited excellent enthusiasm.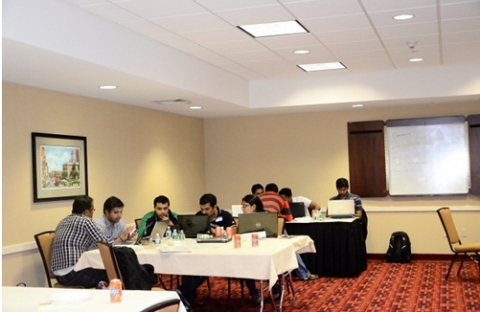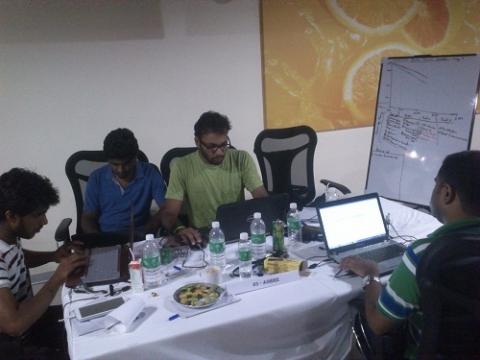 We still faced difficulties in tying the different apps implemented in hackathons as an end-to-end business theme.
#JAM
Around the same time, we started to conduct JAM sessions where diverse stakeholders from business, technology and design world got together to throw their perspectives on how we can transform the key customer business processes using technology enablers. We discovered that by applying design thinking and empathizing with the end user from varied perspectives, we could conceive an end-to-end business theme around the key business processes.
To elaborate a little further, when we ran the idea management campaigns on specific themes, the concentration lay on leveraging a singular technology like mobility or social and the associates who were mostly the technical developers built apps on specific use cases to view policy details or report / track a claim. This constituted more of transactional apps development that were enabling the web based functionalities in mobility or social channels. 
Subsequently, we wanted to envision futuristic concepts around end-to-end business themes by exploiting the power of crowdsourcing. By way of end-to-end business themes, we could foresee how the entire policy management or the claims processing life cycle could transform in near future to deliver business gains. For instance, we could conceive how an auto customer's experience would be transformed in near future right from the time policy is purchased till the claim is settled. This we thought would double the enthusiasm in the crowd to think through the holistic view in transforming the customer business through convergence of emerging technologies. 
The eureka moment
These events opened our eyes to discover a next generation way of engaging our associates to conceptualize and build end-to-end business themes. The biggest revelation being that we should largely engage the millennial workforce as they were looking at things differently. These digital natives for whom the smart devices have become the networking hub had an inherent intrapreneurial spirit. By being the largest consumers of SMAC technologies, they had it in them to explore and apply the cutting-edge technologies to disrupt customer business. Tapping this talent effectively was the need of the hour. 
The managed innovation approach was working wonders when it came to incremental innovation. Nevertheless, we recognized that we had to devise an impactful strategy that can propel disruptive innovation by channelizing the millennial talent. We felt it's time to seed a vision.
Seeding the vision
During July 2012, our think-tank comprising of the key Leaders of Insurance Practice and the Insurance Future of Work team reviewed the proceedings and sensed the need to chart a strong vision and clearly communicate the objectives across the board. After few hours of structured brainstorming, we envisioned a platform that confluences the following –
Identify the key customer business processes across the varied lines of business that can be digitized and re-wired
Leverage the emerging technology and trends – Social, Mobile, Analytics, Cloud and the Internet of Things as an enabler to benefit business
Engage the customers, partners and associates differently – Make the interactions personalized, contextualized, connected and insightful
Present our point of view through a combination of storytelling and Try-it-yourself concepts that can generate enough interest for downstream opportunities
Unleash and aggregate the human potential – design environments to inspire associates to amplify their imagination and contribute towards disruptive innovation through collaboration
Rather than developing the comprehensive suite of apps completely and then testing their applicability or potential value to the business, we adopted lean startup mindset to prototype the ideas and gather feedback early in the life cycle. We eschewed the traditional powerpoint presentations and conference room meetings for customer presentations and adopted a role play approach to let the customers experience the value demonstrated.
Garnering support from stakeholders
The most challenging of all was to fund the initiative as we had to invest heavily towards erecting a physical experiential zone with environments that could simulate a home, office, car etc. to empathize with a stakeholder far better and deliver apps that can cater appropriately. Luckily, our executive leadership team had huge faith in our vision and provided us the necessary approvals and support.
Over the course of time, from a four member team, we expanded to a cross-skilled ten member core team. One of our team members took the primary responsibility to coordinate and oversee the user-centric design of physical environments conducive to amplify imagination. One sub-group within our team concentrated on conceptualizing an end-to-end business theme and refining the approach towards delivering the content as a first-hand experience. Another sub-group developed the apps using emerging technologies. 
Our vision became a reality. The physical zone with the state-of-the-art infrastructure and necessary gadgets came into existence. We branded our initiative as InsuranceNext epitomizing the spirit of next generation team building the next generation solutions for insurers.
The Launchpad
On July 9th 2013, we, the rebranded InsuranceNext team piloted our initial business theme to demonstrate what the future beholds. We conceptualized as to how a day in the life of an insurance advisor would get transformed in future by deploying smart technologies and thereby aid in maximizing productivity, reduce cycle time for new business acquisition and enrich end user experience. With the help of the series of gadgets infused with the apps developed by us leveraging new technologies, the customer delegates could feel the future by enacting roles of different actors in the value chain in the simulated environments at the physical zone. They were enthralled with the experience, in turn testifying our vision.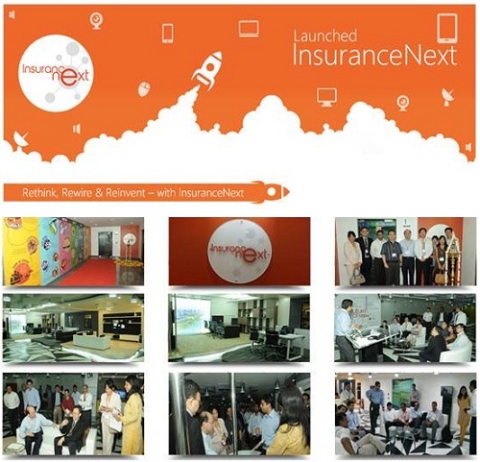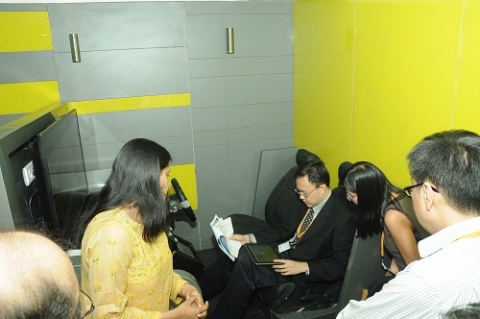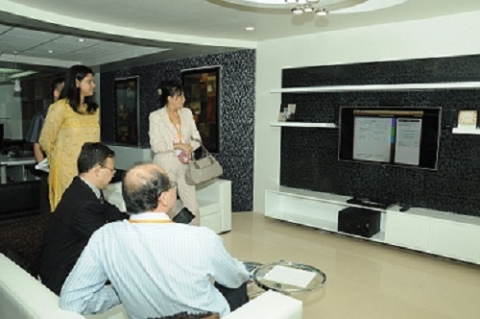 But this was just the tip of the iceberg. How do we scale and sustain this initiative to cover wider horizons of varied lines of business and associated processes, tailor it to customer needs or expectations, tap other ambit of technologies and deliver the experience globally transcending the boundaries of a physical zone? Referring back to our vision, we knew that we had the right infrastructure and approach in place and now it's time to unleash and aggregate our associate potential. 
Executing the mission
We started evangelizing InsuranceNext brand with the crowd. Any new initiative including innovation needs good marketing. We decided to borrow ideas from the buzzing trends that catch up fast with the associates. What better option could it be than the sport of cricket for the Indian mass? On July 29th 2013, we floated our call for disruptive innovation as InsuranceNext Premium League (IPL), needless to say inspired by Indian Premier League.
InsuranceNext Premier League is a championship tournament for Insurance Practice associates that aim at spotting the thought leaders of the Practice who can think futuristic and create valuable assets for InsuranceNext zone.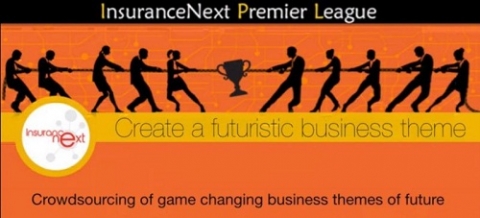 We knew that disruption can be made possible only by bringing together diverse mix of team comprising of technical architects to business consultants, designers to developers. We decided to harness the power of collaboration. Every portfolio, more commonly known as  business unit within the Practice had to field 11 players and elect a franchise owner and nominate a captain to compete in fortnightly challenges that revolved around an end-to-end insurance business theme. The top teams based on point standings would have a face-off during Grand Finale in a bid to win the coveted Championship title. Thus by gamifying the initiative, we added a little more glitter and fun and garnered huge participation.
Thanks to our Practice Leadership team, the message percolated top-down clearly articulating the objective and the benefits that we didn't face as much challenge in obtaining buy-in from the business unit groups. The business unit leaders who played the dual role of franchise owners and executive sponsors in turn broadcasted the message to their onsite counterparts (client delivery directors) and ensured that we could get the right mix of onsite and offshore participants representing each team.
Without leaving any stone unturned, we effectively leveraged every possible communication channel to spread the message. We distributed event calendar, reference guide and cheat sheets detailing the objectives and rules of the tournament to franchise owners and organized exclusive calls for the business unit leaders to clarify their queries. We sent out flyers to the associates and mounted standees and posters across locations at strategic places where associates commonly gathered to increase awareness and build the excitement. We leveraged the social collaboration platforms within Cognizant and spread the message globally specifically highlighting what is in it for the Practice, business unit groups and the individual participants. 
For instance, we went about answering what is in it for every associate to contribute –
Amplify imagination and script the future of insurance industry
Collaborate with a intrapreneurial community - diverse mix from the world of business, technology, design to build futuristic concepts
Access to mentors to seek subject matter expertise and help with refining the ideas
Get hands dirty to learn and explore emerging technologies
Gain good exposure to end-to-end  business processes
Realize the business outcomes generated by your technology contributions
Access to state-of-the-art lab infrastructure equipped by latest devices and gadgets
Execute innovative proof of concepts along with a community and see your ideas come alive
Empathize with the end user point of view while developing the apps
Test the power of your ideas and apps with early feedback from customers
Participate in anchoring customer mindshare / thought leadership presentations
Ability to showcase apps to customers and receive first-hand feedback
Pursue passionate activities apart from regular deliverables
Earn respect from peers and visibility to leaders
Be part of a game-changing moment in the Practice history
We planned for a qualifier round followed by fortnightly league matches. In the league phase, Round 1 comprised of storyboarding where the teams would elaborate the concept abstracts. In Round 2, the prototyping round, teams were expected to build the prototypes. Round 3 is when we expected the teams to churn out working functionality of apps and deliver the experience by enacting a role play in the final round.
IPL Tournament Cheat Sheet
Brief Rules
Each team has to field 11 players in the squad (primarily the associates working for a business unit comprising of many project delivery teams aka accounts within Insurance Practice, both onsite and offshore) represented by a franchise owner
The franchise owner has to be in the capacity of business unit leader cum executive sponsor
Each team should name a captain to lead the teams in the efforts throughout the challenges
Each team can have a coach (excluding the playing 11) in the capacity of a mentor to guide and fine tune deliverable 
Each team is recommended to field 4 foreign players (belonging to specialized Insurance Practice groups) comprising of business consultants (Cognizant Business Consulting Group), technical architects (Insurance Technology Council Groups), product consultants (Insurance H3 Group) and so forth
Each team can collaborate with external partner groups (outside of Insurance Practice) including but not limited to Global Technology Office – the organizational group that functions as research and development center for technology, Emerging Business Accelerators – the organizational group that incubates new businesses around emerging technologies, Enterprise Application Services – the organizational group that enables business enterprise architecture integrations and reuse their common assets as applicable
After an initial qualifier round, 10 teams would qualify to compete in fortnightly challenge rounds
Top 4 teams based on point standings at the end of challenge rounds will have a face-off for the championship title in a Grand finale 
Tournament Announcement: July 29th, 2013
Qualifying Round - Develop a futuristic concept
Expectation: Pick a futuristic business theme and write an abstract in not more than 500 words describing the futuristic concept. The teams should nominate their entry with a franchise nick name, design a logo, name the franchise owner (business unit leader), captain and the playing 11
Presentation format: Virtual (Submission of document in web portal)
Submission last date: August 21st, 2013
Top 10 teams qualify
Round 1 – Storyboarding
Expectation: Elaborate the abstract business theme in the form of a storyline narrative detailing the actors involved in the transformative / futuristic business process, the scene settings and their interactions with other actors and the system highlighting the business value that gets generated 
Presentation format: In-person (offshore participants) and video conference (onsite participants)
Timeline: 10 minutes to pitch the idea, 10 minutes for Q&A from judging panel
Presentation date: September 16th, 2013
No elimination
Round 2 – Prototyping
Expectation: Build a prototype to demonstrate the concepts in the storyline narrative 
Presentation Format: In-person (offshore participants) and video conference (onsite participants)
Timeline: 20 minutes to demonstrate the prototype, 10 minutes for Q&A from judging panel
Presentation date: September 30th, 2013
No elimination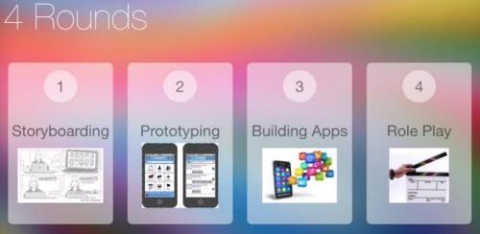 [Round 3 & 4 sandwiched on same day]
Round 3 – Building apps
Expectation: Build a working version of the apps (can be mobile / web / any nature) to demonstrate the functionalities and the business value 
Round 4 – Role Play
Expectation: Prepare a role play script to demonstrate the futuristic concept through the apps developed by enacting in the physical experiential zone leveraging the simulated environments (home, office, car etc)
Presentation format: In-person (offshore participants) and video conference (onsite participants)
Timeline: 20 minutes to enact role play demonstrating the apps built, 10 minutes for Q&A from judging panel
Presentation date: October 24th, 2013
Top 4 teams qualify for Grand finale
Grand Finale
Expectation: Similar as that of Round 3 & 4. A golden opportunity to refine, showcase the concepts and deliver the experience to CXOs
Presentation format: In-person (offshore participants) and video conference (onsite participants)
Timeline: 20 minutes to enact role play demonstrating the apps, 10 minutes for Q&A from judging panel 
Presentation date: November 7th, 2013
A winner and runner-up
The following evaluation criteria was provided as a reference guideline to the judging panel - 
How well thought out the idea is (in terms of clarity, profoundness, user experience)
Is it leveraging SMAC and emerging technologies
What is the business applicability in the next 5 years 
Does it present a novelty factor / uniqueness
What is the level of progression from previous round towards building user experience (as applicable)
30 accounts participated and we received a whopping number of 88 business ideas fielding 968 players. Remember these are not just app ideas but disruptive concepts that presented the potential to flip the fortunes of the insurers in future. Not just that, for the first time, we saw center of excellence groups external to insurance (4 foreign players outside of Insurance Practice allowed as per IPL rule) and onsite teams heavily participate with great gusto. 10 ideas were shortlisted and the 110 players fielded by the selected franchises were raring to create some of the best innovations of all times.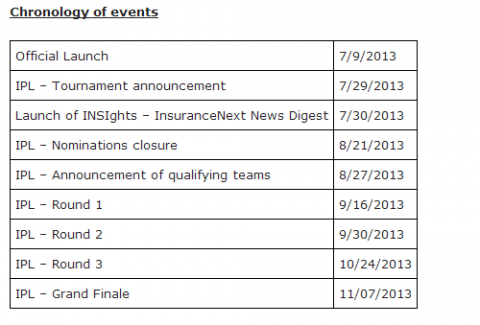 We arranged for an experience tour of the physical zone to the top 8 teams that qualified prior to the commencement of the rounds and also provided them adequate orientation on zone infrastructure and emerging technologies to get started. In addition, an ongoing support with e-mail helpline / inquiry through social platforms was made available during the entire event. 
While one of the teams submitted an idea on how the internet of things would aid in smart risk assessment for property insurers covering both personal and commercial lines of business, the other team provided their point of view on how the auto insurers could leverage the telematics technology to monitor driving patters to influence premium reduction and enable safe driving. 
Innovation in action
The teams participated with so much vigor and spirit that it seemed most of them were working 48*7, investing 24 hours extra apart from their regular project deliverables. It was sheer passion that was evident and the ability to learn through collaboration and the excitement to create something out of the box pushed the associates to perform beyond their limits. Participation of onshore teams was facilitated through video conference. We did a live update of all the rounds in enterprise social channels for the community to follow the updates and derive further inspiration. The finale event was video streamed to the participant community globally spread out.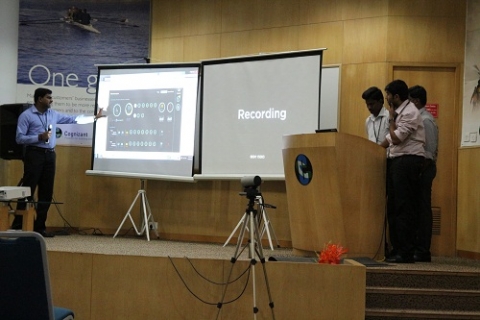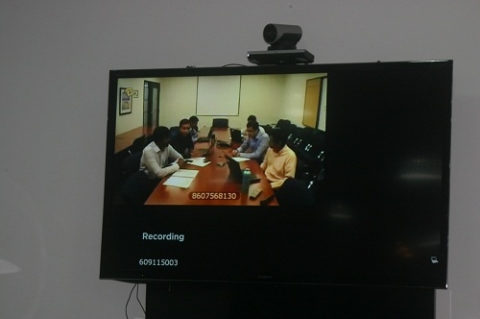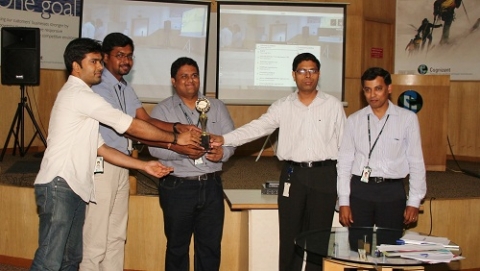 When we went through certain of the ideas on paper, we were wondering as to how the teams would go about delivering the experience. For instance, the internet of things based smart risk assessment concept sounded great on paper but we were not very sure on the quality of experience that would be delivered. The teams swept us off our feat by delivering the experience with multiple physical sensors and mobile devices connected to each other demonstrating real-time connectivity and monitoring with analytical dashboards carrying business insights. The team also went on to bag the runner-up award. 
The concept showcased by the winning team was top-notch where they demonstrated a significant transformation of return to work program through the deployment of emerging technologies by building a strong business case and demonstrating substantial value not just for the insurers but for each of the stakeholders or actors involved in the business process.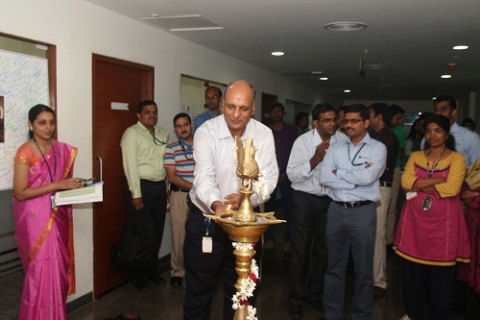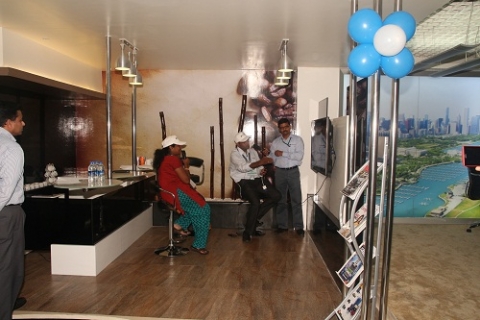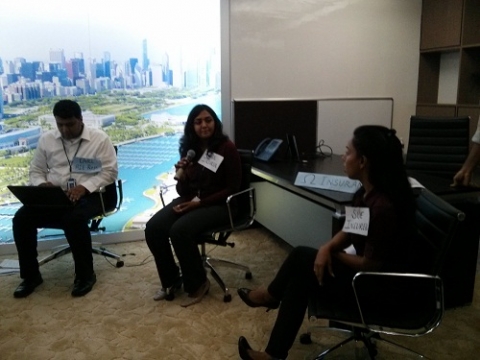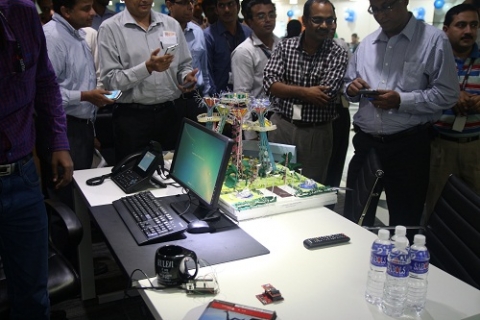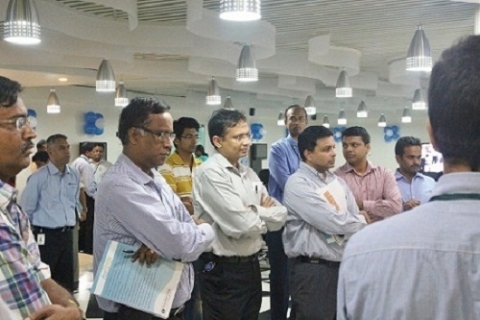 Round after round, taken aback by the experience delivered by each of the teams, the judges felt that all of them are winners in their own right and there is a specific need to nurture the innovation ecosystem and incubate the ideas into a full-fledged solution offering, as per the potential presented not just by winners but all teams.
Feedback from eminent judges 
"This is the mother of all other innovations" – Group Chief Executive (Tech & Ops)
"This platform is an excellent blend of technology and business" – CIO & Head of Innovation
"This is a platform which all other Practices should take notice and follow" – CTO & Head of Global Technology Office
"Thank you for giving me the opportunity to participate as a judge in IPL. I was very impressed with the quality and efforts demonstrated in every solution area" – Head of Enterprise Application Services
"InsuranceNext is the silicon valley of Cognizant! Guess we have already achieved the ROI for all our investments" – Head of Insurance Practice
All the ideas presented excellent business potential. In fact the winning ideas of the tournament were decided to be patented by the Practice. (The reason why we couldn't disclose all of them here with sufficient detailing)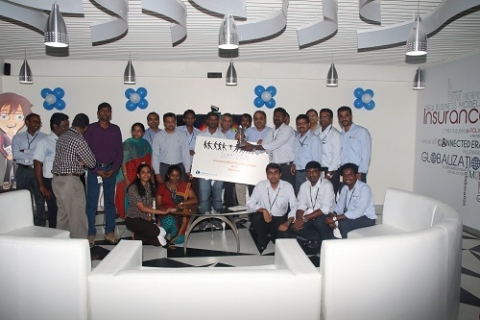 The winning team quoted, "It is a great moment for us. We are delighted to hear Chandra's (Executive Vice-Chairman) comments. The team was highly motivated right from Round-1 and we feel happy on the outcome. On the final round today, all teams did well and apart from the fantastic show that we managed to put up, the runner-up team were equally amazing in integrating smart devices which impressed all of us"
This was a competition which brought out new ideas and innovation, demonstrated the true value of team work and dedication and above all testified the power of passion and belief.
The Real Success
What testified the real success was when we took these ideas delivered by the communities of passion to the customers to deliver mindshare. By mindshare, here we mean how effectively we showcase our thought leadership to customers so that we can occupy a fair share in their minds and thereby recall us as their trusted partner while facing business challenges. We have hosted around 40 customer visits since inception showcasing varied futuristic concepts and apps as a storyline enactment and it would be an understatement to mention that we have never been this successful in showcasing our thought leadership to the customers. The best part being that the innovation has come from the people on ground and the mindshare presentations are delivered by the people on ground. We are able to take the minimal viable products to the customers and receive their feedback and validate our thoughts.
This is ultimate testimony to innovation as we are able to cover all spectrums of the line of business and processes, cover associates spread across the geographies and cross-pollinate ideas and sustain the momentum on a continual basis. Few of the customers voluntarily expressed interest and requested for the facilitation of exclusive JAM sessions enabling their stakeholders to participate with our teams in order to co-create value. These sessions have helped us strengthen our understanding of customer's business and establish our credentials as strategic partners.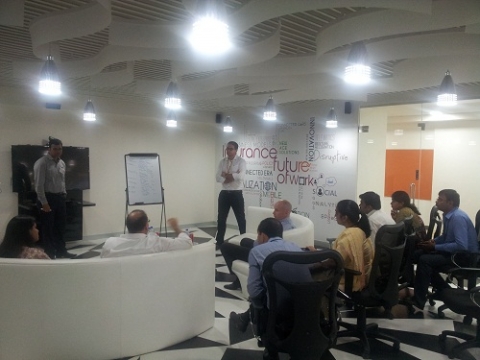 Road ahead
Day by day the passion is growing bigger and stronger. We are all geared up to roll out IPL as an event on an annual basis and confident that the outcomes of subsequent editions would surpass the maiden edition. Of late, we have started delivering the experience at customer locations beyond the physical boundaries of an offshore zone. By conducting a series of workshops and enrolling the associates at onsite right from the millennial crowd to the client delivery directors, we have enabled them to customize these concepts according to the customer business situation and their consumer demographics. We are confident of tailoring and shipping this experience to every customer's doorsteps across the globe to demonstrate our thought leadership which is now running deep-rooted in the culture of the Practice and running in the veins of every associate than restricted to confined few. 
Challenges & Solutions
Rewire the talent
Challenge – Large organizations have the risk of becoming complacent in their day-to-day operations and might lose sight of the opportunities presented by entrepreneurial culture to produce disruptive innovations. Incubating intrapreneurial spirit within large organizations that are globally wide spread is a mammoth task. Providing opportunities for every associate to collaborate with a diverse community, letting associates pursue their passion apart from their regular tasks, attempting things out-of-the-box by amplifying imagination is difficult to accomplish in hierarchical organizations that have well-defined managerial structure and protocols.
Solution – Cognizant has been advocating the principles to reinvent the workforce considering the expectations of the new age workers. Insurance Practice leadership has always believed in empowering its associates and operates in an open, flexible and inclusive way of working. Our managed innovation programs already helped us make every associate believe that they are an innovator. Rewiring the talent by empowering and supporting them by designing environments conducive to innovation, facilitating the necessary infrastructure for igniting their minds to think futuristic and providing them adequate recognition did the trick.
As already elaborated in the key innovations section, we went about answering what is in it for every associate to contribute. The evident opportunity to satisfy their creative quest, gain exposure to emerging technologies, get their hands dirty and give life to their own ideas and cross-pollinate them with their peers by being part of the game changing moment in the Practice history kindled the enthusiasm in the associates to participate with absolute passion. 
Building an innovation ecosystem
Challenge – Building an innovation ecosystem to gain support from the business unit leaders, gathering support from partner groups representing business and technology world and demonstrating value for every stakeholder presented huge challenges.
Solution – By kindling the competitive spirit through gamification initiatives, we influenced the business unit leaders to vie for coveted honors. Apart from the 110 players who were selected in the IPL initiative, every associate in the business unit contributed their bit in researching trends, refining ideas, voting the best ideas, cheering their peers, designing prototypes, providing feedback on the user experience of the apps, scripting the role play etc.
During the initial rounds of the contest, business unit leaders who typically manage a business unit within Insurance Practice and liaison with customers realized that the powerful concepts conceived by the collaborative community had the potential to disrupt their customer business and maximize efficiencies in near future. It opened newer avenues for them to engage with their customers and earn their goodwill and trust. The rule to field foreign players from specialized groups within Insurance Practice in the playing 11 and the rule to engage with partner groups that represent the organizational center of excellence groups that envisions and develops generic frameworks, solutions or capabilities to leverage their assets and best practices helped in building an effective ecosystem. 
Most of the technology capabilities developed by the partner groups could not reach the insurance customer's purview because they lacked the backing of a strong business case or demonstration of business value. By partnering with the insurance associates and participating in the IPL event, their capabilities got quickly integrated with the business workflow substantiating the benefits in a language appreciated by the customer. Most of the business consultants who were part of the specialized groups within Insurance Practice like Cognizant Business Consulting Group volunteered to participate as their ideas were coming alive in action and presented to customers paving way to rapid feedback.
The icing on the cake which was an unexpected outcome was when one business unit that developed a disruptive concept was able to pitch in that concept not just to their customers but customers representing other business units as well presenting a potential of building a platform as a service in near future that can cater to multiple customer organizations and generate non-linear revenue for Cognizant. Rather than claiming that we built an innovative ecosystem, it would be apt to mention that a value-based ecosystem evolved with varied stakeholders realizing what is in it for them and volunteered to subscribe.
Treading the road less traveled
Challenge – Traditionally, we were used to certain processes and methodologies followed in our approach to innovation, approach to app development and the way in which we deliver customer presentations. In a large organization like ours, it is extremely difficult to get the buy-in of multiple stakeholders and pivot the approaches that are time-tested. Treading the road less traveled is one of the biggest challenges that we faced as the potential to fail is huge and the failures could cost heavily to us considering our proven track record.
Solution – Our time-tested methods were anyways not producing the desired outcome and we decided to experiment with the newer methodologies by gaining inspiration from startups. Mindful of our responsibilities, we just ensured a few things in place. Put together a strong vision and clearly articulate it to all the stakeholders involved. Present our newer approach to ideation, app development and delivering customer mindshare backed with solid research and solicit feedback from executive leadership team. Obtain buy-in and support from the executive sponsors by clarifying our vision and approach.
Instead of idea management campaigns on specific themes, we leveraged collaboration and gamification (classic example being the IPL event) to deliver futuristic concepts around end-to-end business themes through effective crowdsourcing. Performing rapid iterations of app development applying lean startup principles and adopting a role play approach for delivering customer presentations to gather early feedback directly from the customer helped us validate our point of view.  
Scaling the model
Challenge – Most initiatives start with a lot of promise but ultimately wither in due course of time either because of the challenges faced in scaling the model or sustaining the momentum. Ours is going to be no exception.
Solution – As already highlighted, the business unit owners started supporting the customer mindshare delivered for other business units as applicable. This helped us leverage the associates within the business units to refine and customize the concepts on an ongoing basis. The partner groups helped us build and tailor most of the technological capabilities and integrate with the concepts by enrolling their associates. Same was the case with the business consultancy group that pitched in to offer help from the domain perspective. As per the two-in-a-box model followed by Cognizant, every business unit leader at offshore has an onsite counterpart designated in the role of client delivery directors. They helped us conduct the workshops at customer locations widening the reach and took responsibility for customizations specific to the customers in their respective business units. 
Traditionally, the growth is linear for IT service companies since the revenue is effort based. With more number of people, we gain more revenue. We were already venturing into the product space to achieve non-linear growth where we could invest on one product that could cater to multiple customers typically operating on similar lines of business and the revenue would be license or usage based. The biggest risk in such ventures was the upfront investments to make in building out the comprehensive features without validating the value it would reap for the business.
We leveraged the InsuranceNext platform to validate the business value that a concept holds for future by letting the customer experience it first-hand. If the concept gained large traction across multiple customers, we brought it to the attention of our Practice Leadership who decided on funding them as exclusive product ventures. We went on to associate each of these futuristic business themes to the product venture groups with exclusive owners identified so that in the capacity of subject matter experts they can help the InsuranceNext core team refine the mindshare assets on an ongoing basis for showing our thought leadership and also comprehensively build on these assets as tangible products or solutions if a larger cross section of the customer had exhibited interest in pursuing the next steps. 
Benefits & Metrics
Employee gains
The associates (employees) in the project delivery track were able to pursue their passion for learning and development apart from their regular deliverables. The technology enthusiasts got to enhance their knowledge on the emerging technologies. The business enthusiasts got to collaborate with the technology enthusiasts and in turn with the designers to blend business and technology to come up with futuristic concepts, thereby each of them enhancing their knowledge levels to understand the holistic picture and deliver value to the customers. They were able to gain access to mentors and coaches, they were able to connect with a passionate community, see their ideas come alive, present their thought leadership to customers and feel valued for their contributions.
Some of the associates representing both business and technology communities decided to switch their career tracks to focus on product development strengthening our product delivery capabilities and in turn pursue their aspirations.
Voice of the associates
"I personally am a by-product of this initiative. I was part of one of the client team's in Windsor connecticut,When the wheels of hackathon reached the shores of US, the way the event was organized, the freedom we were given to innovate all these contributed to the birth of the mobile developer in me." – One of the hackathon participants who switched his career track to join InsuranceNext core team
"I still remember the hackathon eve where I asked myself a lot of questions whether I can do it, what will happen if I can't etc. But here I am as a mobile developer writing to you all. And without hackathon, this wouldn't have been possible. Truly inspired by the peers who participated along with me in the event, led me gush my innovative thinking and drove me to be a part of the team where I am branded as a mobile developer." – One of the hackathon participants who joined and contributed significantly to a product venture and currently with InsuranceNext core team
"InsuranceNext has created excellent platform for associates to learn (really meant this as my team utilized this platform to learn) and innovate (IPL events). Really proud to see such a healthy platform available for Insurance practice." – One of the product venture team leads on behalf of his associates
"Another significant achievement was more than 60 people would have done mobile programming for first time as part of IPL contest over the 10 weeks that this competition was on. That's probably best form of learning..."  – One of the Insurance Practice Leaders 
"InsuranceNext is an excellent platform for empowering our associates to unleash their creative side, and it provides an excellent opportunity to validate the feasibility of these ideas. It is almost akin to a platform where start-ups meet with prospects." – One of the Insurance Practice Business Unit Leaders
"Events like IPL organized and successfully executed by InsNext team are a perfect outlet for associates to contribute back to practice beyond the delivery work." – One of the IPL event captains on behalf of his team
"I was witnessing some of the IPL rounds and I could see the enthusiasm and passion shown by the associates in presenting their futuristic ideas/solutions on the floor. Hats off to you and your team for building such a wonder platform to incubate innovative ideas and help associates to unleash their creative side" – One of the IPL event spectators lending support to his team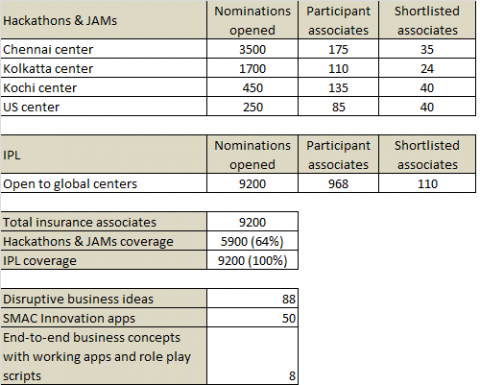 The initiative helped the participant associates acquire skills in both technology and business front enhancing their knowledge levels like never before. 
Customer gains
Customers from varied geographies were highly enthralled with our mindshare and some of the feedback testified the impacts we had created on their minds and the value we had generated to revitalize their business –

"This is the first time we see innovation in action. We would like to engage with you as a strategic partner" - VP, Group benefits, One of the largest group benefits provider in US
"This is a business driven session with technology as an enabler with fine customizations that would provide us great value" - AVP, Commercial lines, One of the leading global commercial insurers in UK
"We are thoroughly impressed with your thought leadership. We would like to engage with you" - Digital strategy Head, One of the global leaders in financial protection in APAC
"We would like to engage with you in the product implementation" - Head of distribution, One of the leading life insurers in APAC
"You guys are extremely strategic in your approach" - CIO, One of the largest P&C insurance providers in US
Organizational gains
The mindshare that we delivered through the InsuranceNext platform positioned us as a strong thought leader and we could win a lot of strategic engagements of the customers as trusted partners.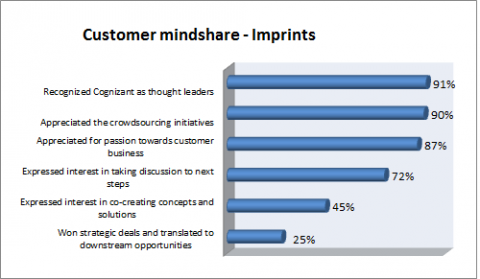 The partner groups were able to monetize their solution capabilities by identifying and integrating them with appropriate business cases. Product organizations benefited by leveraging this platform to test minimalistic features of their solutions before making concrete investments. They were also able to gather feedback from the customer and refine the solutions early in the life cycle. By seeding a sense of ownership in associates and engaging them, as an organization we could realize higher employee satisfaction, better customer retention, better employee engagement, between synergy among the varied stakeholders in the associate community, enhanced associate productivity and explore newer opportunities. 
Lessons
Believe in the vision
We learnt the importance of charting out a strong and clear vision, communicate the same to all parties involved and obtain the buy-in from the executive leadership team and other stakeholders. Above all, believe in the vision, especially while treading the road less traveled. Exhibit perseverance during the initial hurdles, keep challenging the assumptions and embrace changes in an agile fashion.
Empower the team
If we get the core of employee engagement aspects right by empowering the team and entrust them with challenging assignments to tap their creativity and imagination, enable them to collaborate with a passionate community and value them for their contributions, it translates to a win-win situation for the employees and the organization. The customers could reap the benefits of the intrapreneurial DNA that we had seeded on the ground amongst our associates to make them a differentiator in their marketplace.
Tap the millennial talent
Every organization should look at tapping the millennial talent as this population breaks the stereotypes by bringing in fresh perspectives. We experienced in our journey that they are tech-savvy, multi-taskers and natural collaborators craving to do things differently. By clearly communicating the strategies and equipping them with the right environment that encourages innovation, organizations can channelize their talent and benefit hugely to gain competitive edge. 
Failure is good
We realized that failure is not that bad, in fact failure is good if we can fail faster. When our tested methodologies failed, we learnt quickly from those to pivot our strategies. Right through every step we traversed, there were lessons learnt and we continued to incorporate those lessons in the subsequent endeavors. We would rather claim it to be incremental success rather than a failure. From hackathons to JAMs, we made a bigger stride to float IPL initiative and gained huge returns. From custom presentations to storytelling, we made a bigger leap to deliver first-hand experience with role plays.  
Inject voice of customer early
Alongside the journey, we discovered that our mindshare vehicle could be the testing ground for the actual products we develop. By letting the customers experience the future and validating our hypothesis, we could gather customer feedback early in the life cycle on the minimum viable products we showcased at the InsuranceNext platform and embraced that validated learning to decide whether the concept can be built as a comprehensive product or a solution to serve the right target audience. 
The biggest lesson being that, "Together we can make a huge difference"
Credits
Thanks to Cognizant's Executive Leadership team for helping us refine and fund this initiative. Without their support, we would have got nowhere. Special thanks to Chandra Sekaran (Executive Vice Chairman), Rajeev Mehta (CEO - IT Services), Sukumar Rajagopal (CIO), Sumithra Gomatam (President - Industry Solutions) for their patronage towards this initiative. 
Thanks to Insurance Practice Leadership team - Muthu Kumaran (SVP), Dinesh Maroo (AVP), Rajesh Shastri (AVP) and other eminent leaders with whom I, Shyam Sundar Nagarajan, had the privilege to put together this vision as a team.
Thanks to my core team - Suresh Kumar Tata, Roopa Navin, Akila Narayanan and rest of the members to have helped us orchestrate the collaborative efforts and translate the vision on the ground.
Thanks to Ramdas Nyayapati (D), Karthikeyan Sivasubramanian and Kannan Srinivasan for helping us organize the innovation events across geographies. Thanks to Pradeep Shilige (SVP), Sowrirajan Santhanakrishnan (VP), Sukumar Rajagopal (CIO) and Raj Bala (CTO) for honoring us by judging the IPL event along with our Practice Head, Muthu Kumaran (SVP).
Special thanks to Chandra Sekaran (Executive Vice Chairman) for his gracious presence to inaugurate the grand finale event and encouraging the associate community with his words of wisdom. 
Thanks to Portfolio / Business Unit Leaders, Client Delivery Directors, our parent group Insurance H3 and the Product Venture Leaders, Cognizant Business Consulting Insurance (CBCI), Insurance Technology Consulting Group (ITCG), Cognizant Innovation Group, external Partner Groups that includes Global Technology Office (GTO), Emerging Business Accelerator (EBA), Enterprise Application Services (EAS) and other support groups that includes Networking, Admin teams for their relentless support.
Thanks to Customer community who have participated with extreme enthusiasm and provided us valuable feedback.
Most importantly, thanks to the whole associate community of the Insurance Practice for making this initiative their own and multiplying the effects by collaborating and innovating with the truest intrapreneurial spirit.