October 30, 2013 at 10:30pm
Summary
Rules are daemons. They reproduce themselves and suppress human potential such as autonomy, sympathy and altruism.
Tokio Marine & Nichido Fire Insurance Co., Ltd. (TMNF) once had been a very open, frank and vivid company. But since the late 1990', it has got immersed in a swamp of rules and became very bureaucratic. Although business growth and financial condition of TMNF were still intact, "Sense of hopelessness" had been spreading among employees.
To change the situation before it became too late, TMNF initiated 10 years' comprehensive innovation project called "Bappon Kaikaku" on 2004,, The project has changed everything from insurance products, business processes, computer systems, reducing hundreds of thousands of rules. That revived employee's human potential and resulted in an incredibly positive effect at the Great Japan East Earthquake and Tsunami on March 2011.
Context
TMNF has been the leading company in property and casualty insurance market of Japan since its founding on 1879.
Based in Tokyo, the company manages 1.9 trillion yen ($19 billion) in net premiums written and has 8.3 trillion yen ($83 billion) in total assets and 17,000 employees.
TMNF sells almost 100% of its policies via its 47,000 agencies.
It's a flagship company of the Tokio Marine Group.
Triggers
Swamp of Rules
Once upon a time, TMNF had very open, frank and cooperative culture. But after the insurance deregulation in the mid 1990's, TMNF got saddled with increasing complexity of insurance products, business processes and computer systems.
The complexity was mainly attributed to the new style of competition in the deregulated market. Insurance companies started to add a lot of functions to their insurance products. For example, auto insurance alone had 100 payable types of claims expenses and 50 premium payment patterns. Different insurance product lines — auto, fire, injury, liability, medical, life, had different business processes and rules as well.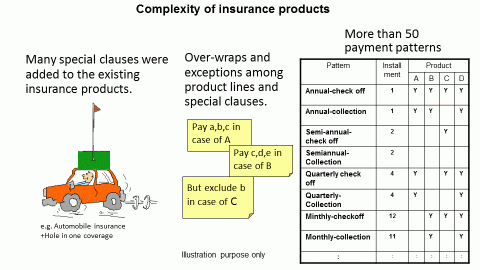 Sense of Hopelessness
Tenth of thousands of rules were made to manage those complex products and processes. Additional thousands were made to manage those rules. Accordingly, business processes became more and more complex and inflexible. Bureaucracy and sectionalism spread across the organization.
There were pervading "sense of fatigue and hopelessness" among employees and agencies.
Revolution in the Peacetime
"With those heavy burdens of complex business processes and rules, we can't provide sufficient services to our customers and we might get "Red Card" from the market", thought Mr. Shuzo Sumi, Member of the Board, Senior Managing Director and CIO in2002, then CEO and now the Chairman of TMNF and Tokio Marine Group.
But financially, TMNF was not in a crisis at all. It has been making steady growth. It had plenty of assets and was rated very high by rating agencies. Business was running as usual, little bit jerky but competitors were in a similar situation, after all.

If someone had proposed comprehensive innovation, there would have been a lot of objection such as "Is it really necessary?", "We are doing just fine", "What would be the Return On Investment?" etc,.
Even if general agreement had been achieved that TMNF needed comprehensive innovation, there were a lot of "Perfectionists". There could have been endless discussion about the ideal situation of TMNF and might have taken years with no conclusion. Eventually, it would have end up in partial incremental renovation.
Low Profile Strategy
To avoid that, Sumi-san took "Low Profile" strategy starting from something acceptable and then expand it after getting buy-in.
On the offsite board meeting held in December 2003, Sumi-san showed a chart visualizing how complicated, inconsistent and irrational the current business rules are, and explained that the root cause were the complex insurance products that in turn make business processes complex and made computer systems complex.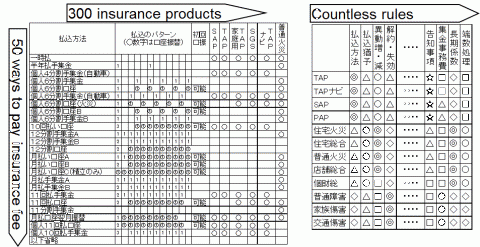 The board members were astonished to see the chart and agreed to take actions.
Simultaneously, voluntary study groups were held by younger employees to discuss the future of the company.
Both movements led TMNF to start comprehensive innovation project.
Key Innovations & Timeline
The project was named "Bappon Kaikaku"(抜本改革) which means "drastic innovation from the scratch" in Japanese.
Initially, the project was not called that way. As a part of "Low Profile" strategy, it had more inconspicuous name as "The revision of Insurance Products, Business Processes and Computer Systems" to avoid stimulating conservative people with brave project name.
After the project got momentum, it was re-named as "Bappon Kaikaku".
Key Innovation
Reduce products and special clauses by half.

Renovate business processes by getting rid of paper and cash.

Rebuild core computer system and Agency Systems.
Timeline
2004 Started "Bappon Kaikaku" planning.
2005 Established "Bappon Kaikaku Promotion Division".
2008 First "Bappon" system (Automobile insurance) went live, changing 60% of the whole business processes.
2009 Bappon System PhaseⅡ(Fire insurance) went live.
2010 Bappon System PhaseⅢ(Superinsurance) went live.
2010 Implemented videoconfenence system to all the 250 branch offices.
2010 Replaced 30,000 employees' terminals with Thin Client.
2011 Great East Japan Earthquake occurred.
2011 Completed 97.3% of 173,000 claims by the middle of September.
2013 Bappon Claims Management System went live.
Challenges & Solutions
"Bappon Kaikaku"
Define Key Issues
For TMNF, the root problem was the complex insurance products which in turn made business processes and computer systems complex. Unfortunately, TMNF's vertical and siloed organizational structure made communication and collaboration across departments difficult. Thus, even the basic rules such as insurance fee payment, amendment, cancellation evolved differently across the insurance product lines. It was as if the same species evolved in isolated islands take quite different shapes such as the creatures in Galapagos Islands.
 
Field offices and Agencies were confused to receive various inconsistent notices, requirements and information from the siloed organizations.
Set up new department
Company-wide renovation was inevitable to solve these issues. But at that time, TMNF was suffered from sectionalism and each department was sticking to its own benefit. If certain department took a lead of the project, other department would have been reluctant to cooperate. So, in 2005 TMNF established a brand new department named "Bappon Kaikaku Promotion Dept." which is in charge of promoting the project from the holistic viewpoint. The member of the department came from various related departments, including "best of the best" of the company. Although it could have been said that "Bappon Kaikaku Promotion Dept." was an elite troops, TMNF carefully balanced the power between the Promotion Dept. and other departments. If other departments had perceived "Bappon Kaikaku Promotion Dept." as a superpower that does everything, they would have stopped to cooperate and just "wait and see". Cross departmental task forces were established under the Promotion Dept. to address various issues such as products re-development, re-building agency systems and information systems to ensure all departments would own responsibilities.
Re-design insurance products: build them like "Lego"
The fundamentals of this project were re-structuring of TMNF's insurance products under the concepts of;
Make it simple.
Make it flexible and configurable to fit customers' needs.
Make it easy to understand for customers and agencies.
TMNF has rationalized those contradicting demands by re-engineering the personal line products from scratch and consolidated various products into structured product lines.
In this way, TMNF succeeded to reduce its product lines and special clauses by 50%
Simplify Business Process: get rid of Papers and Cash
TMNF banned paper based insurance application and cash based insurance fee collection. All the insurance application processes were converted from paper to digital. Cash payment was substituted by direct debit, credit card, and payment at convenience stores. The new business processes has reduced both agency and company workloads significantly while enhance customers' trust by reducing errors and delays.
Re-built Computer Systems : unwind "Spagetti"
TMNF's computer system had been 25 years old and had gotten unhealthily fat after thousands of small modification. TMNF has renovated its proprietary computer systems from scratch. Simplified products and business processes made computer systems more simple. System development productivity and frexibility was improved. 
Great East Japan Earthquake
On March 2011, when the "Bappon Kaikaku" was beginning to show its massive effects, The Great East Japan Earthquake erupted.

Initial Response: "Pay fast, Forget the cost!"
47 minutes after the earthquake eruption, disaster countermeasure offices were set up in headquarter and disaster area. A clear instruction was issued by Sumi-san, the group CEO at that time, to put all efforts into paying claims quickly, and completing settlements within two months. He even said "Forget about the cost (for a while)!"
Set up Special Contact Center: on the next day
The next day, March 12, "Earthquake Damage Support Center" with 110 computer terminals was set in the HQ building. Finally 1,800 terminals were set up in the temporally support centers in Tokyo and Tohoku area by May 13. 
The technology introduced to TMNF, along with the passion and dedication of the terminal supplier made such quick deployment possible. In 2010 TMNF switched its 30,000 computer terminals to thin-client. Setting up thin-client terminals was very easy, because all the settings and software were stored in central servers.  

Video Conference: feel the pain and emotion
The regional headquarter of Tohoku area and the head office in Tokyo was connected by videoconference 24/7. After the Earthquake, it soon became an essential lifeline of communication. Even from the remote head office in Tokyo, staff could feel the tension, fatigue, emotion of the people in the disaster area through the face and voice of them. Staff in Tokyo shared the feelings, sympathized and genuinely wanted to work for them. There were no trace of bureaucracy.
Agency system: another lifeline
As one of the initiatives in "Bappon Kaikaku", every agency converted their daily business into digital. That meant if they can't use their computer terminals because of terminal breakdown, electricity blackout or network disconnection, they were out of business. The staff in IT department and Tokio Marine Nichido systems who developed the Agency systems are too well aware of that. Young staff volunteered to go to Tohoku Area to help agencies. They quickly build three "Mobile Offices" equipped with PCs, printers, wireless connection and power supply. They quickly build an app to plot agencies' offices in the disaster area and drove the "Mobile Offices" themselves. In reality, "Mobile Office" was not as cool as it sounds. It was merely a van. But agencies welcomed it with great joy and gratitude. When the top screen of TMNF's Agency System appeared on the display, an agency said "Now we are connected to the world again". His wife broke into tears when she saw Yahoo screen first time after two weeks of the earthquake and said "How I've been missing this!". The young staff were so moved and shared this experience with colleagues in Tokyo Area with intranet.
Converting everything to digital showed some weakness, but once the terminals were recovered, unexpected merit of "Bappon Kaikaku" revealed. No documents, paper forms, cash, receipts, passbooks or account ledgers were washed out from agency offices or TMNF's branch office, because TMNF had gone to cashless and paperless business style, there were no such a thing to be lost in Tsunami.
Damage Survey: on All Fours
The survey staff conducted very intensive survey for houses and household goods. They were trying very hard not to miss any cracks or damages that are recoverable under earthquake insurance,rather than picking up evidences that will make payment ineligible. Also they listened to their customers patiently, knowing that listening to their stories and sympathizing with them could help to relieve their emotional suffering.

Gratitude from Customers : our most precious reward
We received a lot of thank you voices, letters, cookies and energy drinks from agencies and customers. Those were our strongest motivator.

(Sample transcription of the letters from customers)
"Thank you for crawling on the ground to find out unnoticeable damages on the groundwork. We appreciate your diligence"
"On the next morning of the earthquake, I was surprised to receive a call asking if we had any damage from the earthquake, even before I call to report you. The surveyor came very quickly and his work was excellent. I'll never forget your kindness and quick action in the midst of the turmoil"
"I'd like to express our sincere appreciation for your quick and kind service, despite of the paralyzing situation after the earthquake and concern of radiation from the Fukushima nuclear plant. Our home was ruined and we were at a loss, but your staff kindly checked our household goods to estimate damage for claims payment. We were relieved and had some hope for our future life. The recovery will be a long way to go, but we were pleased with your care."
Benefits & Metrics
Benefits
"Bappon Kaikaku"
As the effects of "Bappon Kaikaku" being materialized, people in TMNF become more and more vivid to see the hope in the future.
Especially, "Bappon Kaikaku" had greater effects to unleash 6,600 woman employees' potential who had been mainly in charge of clerical works such as checking paper application form, reconciling accounts, answering routine questions from agencies.
Initiatives in "Bappon Kaikaku" such as paperless application and cashless premium payment brought clearly visible effects to women employees. So they were motivated to promote the initiatives of "Bappon Kaikaku" further.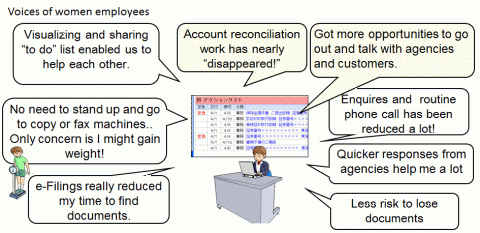 As "Bappon Kaikaku" drastically reduced those clerical works, they could unleash their talents to more productive and value-adding work.

 Accordingly, personnel management system changed drastically in 2008 when the first phase of "Bappon Kaikaku" went live. Women's work environment changed dynamically. Their role shifted to spend more time with agencies and customers. Woman managers and sub leaders increased in number. New personnel system made it easier for women to balance their work and family life. 

Great East Japan Earthquake
TMNF received nearly 160,000 earthquake insurance claims by the end of May. The number reached to 173,000 by the middle of September.
Although the number of the claims were nearly 15 times as large as the past largest earthquake insurance claims, "Hanshin Awaji Great Earthquake" in 1995, TMNF settled 87% of claims by the end of May, and nearly completed settlement (97.3 %,) by the middle of September.

This miracle was largely attributed to the "Bappon Kaikaku".
Throughout the "Bappon Kaikaku", TMNF not only renovated its business, but also changed its bureaucratic and sectionalism culture. Although "Bappon Kaikaku did not anticipate such kind of huge disaster, it turned out that IT, business process and corporate culture which Bappon Kaikaku has changed worked perfectly for disaster recovery. There was no trace of bureaucracy or sectionalism often seen before 2004.
It might not appropriate to call this "Benefits", but apparently, the experience in Great East Japan Earthquake unleashed our human potential. More than half of the TMNF employees (in accumulate) visited the disaster area in Tohoku as Special Forces for claims settlement and agency support. They met the customers directly, saw their tragedy and heard their voices. The voices of course included complaints or anger; most of them were gratitude, sometimes accompanied with tears. For most of them, it was their first time to contact with customer directly, because TMNF distributes its insurance products 100% via agencies. This experience fostered the sense of effectiveness that TMNF and their work is really serving the customers and the society.
Those who visited the Tohoku area posted the experience and emotion through intranet with their vivid texts and pictures. Those who stayed at their own workplace were able to share the experience and feelings with the frontline. This helped increase the sense of unity in TMNF. Employees started to act voluntarily without orders from their boss and collaborated with other divisions. Bureaucracy and sectionalism vanished in TMNF.
Metrics
"Bappon Kaikaku"
・Scratch and build more than 25 years old system, 10,000K steps
・Build online systems for 50,000 agencies with 400,000 user IDs.
・Improved key metrics (Apr.2005 → Mar.2010)
  Straight through Processing         91.1%    →           99.1%
  Cashless                                      42.1%    →           99.8%
  Early Renewal                              29.4%    →           72.5%
  Agency System Penetration         60.4%    →           91.2% 
  Manual Reconciliation                  350,000(Apr.08)       →70
・Won various awards such as
  2008 Asia Insurance Review Award General insurance company of the year
  2010 Ministry of Health, Labor and Welfare,  "Equal Opportunity and Child Care for Women" Award
  2010 City of Nagoya "Excellent Company for Child Care Support Award"  
Great East Japan Earthquake
・Sent 1,600 employees (8,800 in accumulate) to Tohoku area as temporary
・Deployed 800 new terminals in a week, finally 1,800 terminals by May 13
・Completed 87% of 160,000 claims by the end of May.
・Completed 97.3% of 173,000 claims by the middle of September.
Overall
Throughout the "Bappon Kaikaku", TMNF transformed itself into fit, agile and transparent organization. Although the Great Japan East Earthquake was a tragedy, employees who had been freed from "Rule Swamp" by the "Bappon Kaikaku" worked tirelessly with autonomy, teamwork and pride to help the people in damaged area, which in turn acquired great trust from customers.
With that, TMNF made steady growth after the kickoff of "Bappon Kaikaku" in 2004, and showed strong recovery from the global financial turmoil triggered by the failure of Lehman Brothers in 2008.

And above all, the employees revived their human potential to sympathize, collaborate and help colleagues to best serve the customers and the society.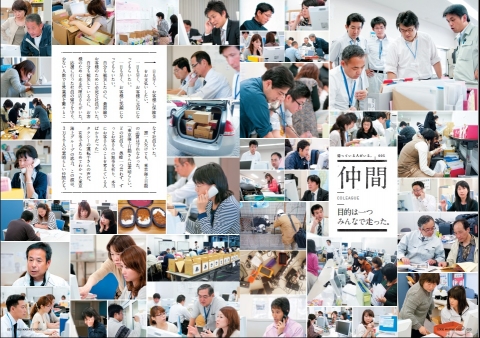 Lessons
Complicated rules suppress human potential, directly and indirectly.
Directly, rules inhibit people to act by their will.
Indirectly, rules deprive of people's vitality and ability to think and make decisions by themselves.
Rules reproduce themselves, foster "Rule Hyenas" and make other people passive, bureaucratic and conservative.
Large organizations have built-in mechanism to incubate rules and Rule Hyenas. Sometimes we need a brave leadership to stop the explosion of rules.
Of course we need certain amount of rules to keep organization and society healthy.
Problem is, we often forget what those rules were made for, and obeying to the rules itself becomes the objective. One way to prevent rules from reproducing themselves is to revisit the original objective why the rule was made, and keep them simple.
It is effective to embed rules into daily business processes and computer systems.
In that environment, "Rule Hyenas" don't have opportunities to manipulate rules to become complex.
TMNF's "Bappon Kaikaku" can be said as a huge initiative to make the rules simple and comfortable. TMNF got rid of the elements that make rules complicated such as manual document checking and manual cash handling.
Then TMNF embedded the rules into daily business processes, using computer systems in both company and agencies.
After TMNF successfully kept rules simple and hustle free, employees started to unleash their potential. That became quite visible especially during the Great East Japan Earthquake in 2011. 
【Chart】Any organization may be standing in front of the road to the Rule Swamp.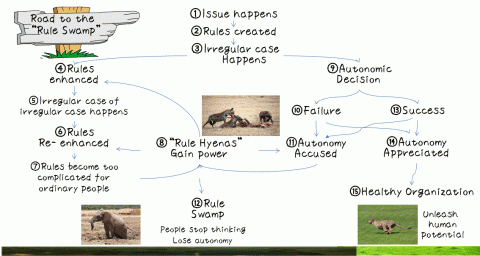 The path to a healthy organization is very narrow⑮. You have to appreciate autonomic decision makers even if they failed⑭. Also you have to keep the rules simple to prevent "Rule Hyenas" from proliferating.
Credits
Mr. Shuzo Sumi, former CEO and now the Chaiman of Tokio Marine & Nichido
All the members of Tokio Marine & Nichido
All the agencies who work for Tokio Marine & Nichido
All the supporting companies of Tokio Marine & Nichido
Article of  "President" Feb.2002 "Rule complying CEO ruins the company" written by Prof. Tsuyoshi Numagami, Hitotsubashi Univ.