Summary
When we submitted our  'Project 10X' hack last June as a part of MIX's 'Leaders Everywhere Challenge' we imagined piloting that innovative change strategy within one of Silicon Valley's high tech firms. It was obvious to us that 'Project 10X' would be a natural with such organizations. Instead, the first opportunity showed up within one of the world's oldest living bureaucracies.
This is a story of how one individual (let's call her Meg) catalyzed an 'intrepreneurial' venture that has the potential to free their organization from a culture troubled with low engagement, hierarchical management and stifling rules. Her organization, which we'll call ABCTS, provides Technology Services for a major division of a 100,000-person corporation.
Meg, ABCTS's HR director, knew they needed help — something entirely different from the traditional, programmatic 'sheep dip' change programs her organization had tried in the past. She thought the 'Project 10X' approach just might work. She vetted the idea with the head of ABCTS. He was intrigued. Together they engaged and secured the support of the rest of their Leadership Team to launch a Project 10X initiative for their organization.
The 'Crossing the Chasm' picture below descrbes the nature of ABCTS's challenge.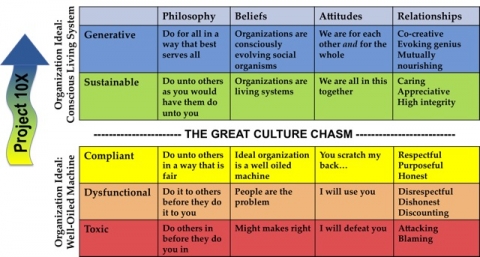 The organization's self-ratings showed their culture to be mostly in the Yellow Zone with significant Orange Zone characteristics — fairly typical for a traditional hierarchically controlled functionally structured organization.
The launch of P10X involved a 5-day Changemaker Immersion experience for 20 ABCTS's participants who chose to explore this 'strange' new Green/Blue Zone territory together.
This is a story of that 5-day action-learning expedition, how it unfolded, how it felt — and the challenges and opportunities it has opened up for ABCTS.
This is a Co-creation Story — a story of 'emergence' at many levels:
It's a story of the first 'baby steps' that ABCTS is taking as it explores how to 'transcend' the limitations of bureaucratic design while 'including' that which is foundational to its on-going sustainability and evolution
It's a story of the power of story — countless experienced 'changemakers' giving the gift of their ideas and perspectives in the form of 'Comments.' We are heartened by the quality and diversity of the Comments at the end of this post — all in support of ABCTS as it navigates its journey of individual and organizational transformation
MIX and its M-Prize strategy is a grand example of truly 'generative design.' It's an on-going meta-story that provides us ever-unfolding stories of organizational innovation in the service of all life impacted by those organizations. It's a rich and juicy strategy for attracting, nurturing, connecting, encouraging and celebrating  courageous souls who are taking initiatives to make a lasting difference in and through their organizations. It's a pragmatic way of helping more and more players appreciate that "we're all in this together"
Context
ABCTS is a 90-person Technical Services organization providing diverse IT support to a 3000-person client organization.
Interviews of the Leadership Team and other key players highlighted the need to significantly shift its culture in the areas of —
Employee engagement
Dependence on hierarchy (e.g., 'management has all the answers')
Level of employee initiative and ownership
In addition, ABCTS's client organization challenged them to achieve breakthroughs in —
Growing its change capacity — its ability to adapt to changing technology and customer needs more quickly and smoothly
Resilience of technical infrastructure — increased reliability and responsiveness to problems
Greater innovation — in all dimensions
Through the years ABCTS had invested in traditional approaches to leadership development and organizational change. According to Meg, these 'sheep dip' programs have produced little in the way of lasting improvement.
There was a readiness, not just for something different, but a burning need for a developmental strategy that could produce significant and lasting change.
Key Innovations & Timeline
4 Key Innovations      
ABCTS launched their 'Project 10X' journey with a unique '5-day Changemaker Immersion.' This involved 20 emerging 'changemakers' from across the organization, including all of the Leadership Team and a mix of managers and 'staff.' This Intensive was the centerpiece of 'Phase 1' of the multi-phase P10X approach.
This specially tailored action-learning expedition featured four key innovations designed to address the above challenges and support ABCTS throughout its P10X journey:
1.     Green/Blue Zone Immersion — The 5-day Immersion was designed to support participants in experiencing themselves as a 'conscious living organism' — as a community of individuals committed both to consciously evolve their lives, and also the organization they inhabit. Not a 'sheep dip' experience.
We began and ended each day with a community circle. We opened the Immersion with a Native American practice called 'Stringing the Beads' — the premise being that all of our voices are important, and for there to be wholeness and balance, each voice must be heard, each must be respected — each has wisdom to share.
Each of the Immersion's 'structures' (Total Community, Strategy Teams, Co-Creative Coaching Trios, and Individual Work) was designed to become increasingly self-managing as the week unfolded.
2.     'Co-creative Coaching Trios' and '10X Commitments' — The biggest challenge in crossing the Great Culture Chasm is in learning to escape the gravitational pull of our limiting patterns of thinking and acting. To do so each of us needs 1) to recognize that we're trapped in the box, 2) to learn what it takes to break free of those limiting patterns and 3) to experience how to support self and others in that process.
Co-creative Coaching Trios and Personal 10X Commitments are brought together in a way that helps individuals make the great shift from where they are… to who they are. During the Immersion these Trios met each day. They engaged in a self-managed process that enabled committed participants to begin to experience the potential of 'generative,' or 'Blue Zone' relationships. As the week unfolded the quality of both relationships and 10X commitments evolved in almost magical ways. An abiding sense that 'We're all in this together' began to emerge — to become palpable. The group began to experience themselves as a community.
We had invited several senior leaders from ABCTS's client organization to join us for a while on the morning of the last day. They could feel the energy. To quote one of the guests, "In my 20 years of working here I have never seen such a huge shift in people."
3.     'Future Fitness Analysis Instrument' — Describing your organization's ideal future in a way that helps you get there.
In preparing for the Changemaker Immersion we created a unique 22-dimension instrument. These dimensions reflected what we had learned from our interviews. Each dimension included a brief description of what might represent Red, Yellow and Blue Zone cultural characteristics for that dimension.
Below are the descriptions we used to 'anchor' one of the 22 dimensions — the Employees as Stakeholders:
Red Zone — Attacking and blaming relationships; employees treated as replaceable parts; fear pervasive and palpable; frequent conflict; back- stabbing; gossip; secrets; unhealthy stress; hierarchical autocratic leadership; favoritism; lack of respect and recognition; employees feel disempowered, disengaged and emotionally checked out.
Yellow Zone — Ethical, fair relationships and agreements; polite, conflict-suppressing; carrot and stick motivation; agreements mostly implicit; employees generally respected; reasonably fair rewards and recognition system; fairly high-integrity management and leadership; employee's ideas considered but management makes final decisions; traditional but efficient work teams
Blue Zone — The relationships and agreements that define this organization's culture are truly generative, e.g., alive, energizing, innovation-spawning and self-improving; strong commitment to contribute to each other's well-being and to the well-being of all stakeholders. Employees enjoy high levels of mutual trust and openness; are challenged and supported to grow to full potential; have opportunity to do what they do best every day; high levels of autonomy; diversity (of individuals, worldviews, styles, etc.) valued as a vital source of learning and innovation; supported in leading a balanced life. Management sees their role as creating the conditions that best support all of the above.
This FFA instrument was designed to produce multiple and multiplying benefits:
Reading and filling out the instrument is a consciousness-raising experience — individually and systemically
Engaging one of the Strategy Teams in adapting the Blue Zone descriptions in their language to describe the future they want turned out to be a potent visioning process
​This tailored instrument now provides the organization with the means of goal-setting and tracking progress toward those goals
4.    Language Designed for Crossing the Chasm — Taking Einstein's advice
"We cannot solve our problems with the same thinking 
we used when we created them." — Einstein
Language can constrain our thinking. Our traditional ways of thinking about organizations, and the people who comprise them, is reinforced by our language, e.g., 'span of control, head-count, superiors, subordinates, manage, motivate, carrot and stick, etc.' all reinforce a certain way of seeing people. In a typical hierarchically controlled organization, distinctions such as these stabilize that culture.
Language can liberate our thinking. E.g., we designed the Future Fitness Analysis instrument in a way that explicitly used language associated with three importantly different organizing paradigms:
o   The Red Zone culture is based on fear, shortage, winning at all costs, might makes right, etc. — beliefs that tend to be toxic for life
o   The Yellow Zone culture idealizes compliance, order, fairness, continuous improvement — organization as a smooth running machine
o   The Blue Zone language introduces a new ideal — organizations as conscious living systems committed to maximize their contribution to all life they impact
We also introduced the ABC Lens at the Immersion. One of the major flaws in most all sizeable organizations is that they were designed only to do A-work, i.e., all normally recurring work. They are not designed to do B and C-work — the work of organizational learning and change. ABCTS was not designed to grow any of the organizational capacities listed in the above Context and Triggers section.
It became clear to all that to move across the Culture Chasm toward the Blue Horizon vision would require growing ABCTS's generative B/C-work capacity.
Challenges & Solutions
Challenge #1:  ABCTS was not designed to do 'B/C-work' — the systemic work of organizational learning and change. This 3-Span Bridge model summarizes this challenge:
Expertise — How to identify that experience and those skills most needed throughout ABCTS at this time, and then find ways to grow those capabilities and weave them into the fabric of the existing organization
Infrastructure — Social, technical and physical infrastructure are all involved in supporting ABCTS's learning and change work. There exist challenges in each of those three areas that need to be addressed
Resources — Both leadership time/priority and budget are in short supply. Both are kinds of resources are important.
ABCTS is a technical services organization. In setting out on the P10X journey and shaping their design of how best to support the B/C-work implicit in that journey, they will need to embrace the challenge in Polly's post:
"How can we tap into emerging digital technologies and the principles that undergird them (such as transparency, collaboration, meritocracy, open­ness, commu­nity and self-determination) to produce radically new approaches to organizing and creating value?"
Challenge #2:  Need measures that matter — The nature of ABCTS's Technology Services makes it difficult to measure its business performance. P10X's sustainability needs to be fueled by its contribution to improving business performance. Clear, compelling measures of business performance, as experienced by all stakeholder groups is essential to sustaining movement toward their Blue Zone vision.
Challenge #3:  Time-consuming controls, regulations and procedures are mostly imposed from outside ABCTS — and seemingly outside of their influence
A Bootstrapping Solution?
Solving all three challenges require a P10X governance mechanism that meets these tough criteria:
It supports rather than overloads existing leadership
It develops and distributes P10X leadership throughout the organization
It becomes truly generative, i.e., self-regulating, self-improving and self-propagating
It fosters initiatives that keep growing the 'quality of relationships and agreements' with and among the various stakeholder groups involved
ABCTS is currently considering a P10X Leadership Development Initiative with potential to address all three challenges in a way that could satisfy the above four criteria. This initiative would build directly on the 5-day Changemaker Immersion experience. The Co-creative Coaching Trio practice would be evolved to include other stakeholders who become attracted to P10X 'R&D adventure.' The emerging self-evolving P10X learning and change community could meet one day/month to harvest learnings, to vet proposed change initiatives, and to re-constitute Co-creative Coaching Trios for the coming month.
This P10X initiative is a de facto R&D effort. Each implementation step is an experimental step toward their Blue Horizon vision. It's intended to be a heuristic action-learning journey. The P10X Leadership Development initiative is intended to grow the organization's capacity to move toward that vision.
Benefits & Metrics
Benefits
Focus on relationships and growing a sense of community is immediately rewarding and confidence-inspiring. The shift in the organizational climate was palpable.
Commitment of ABCTS leadership is becoming increasingly apparent. Their follow-up '2-day Espresso Changemaker Sessions' sent a strong signal to the rest of ABCTS
Leadership from ABCTS's client organization has been very supportive. There is potential for expanding P10X to include that organization
This is an R&D effort with enormous potential in terms of both business and social benefits. As this initiative is proven and institutionalized, its ripple effects have the potential to reach all of the 'Mother Ship' and beyond
Metrics
The FFA Instrument will serve to measure 2014 progress in terms of 1) Quality of Stakeholder Relationships, 2) Critical Organizational Capacities 3) Key Infrastructure Design Elements and 4) Context Design Choices
Barrett Values Centre, CVA (Cultural Values Assessment) will be used to map the values throughout the organization. The CVA provides a way of managing the cultural evolution of ABCTS to the same level of detail that is used to manage the finances
What's missing: Clear and compelling means of measuring overall business performance
Lessons
What we learned about what really worked
Extensive engagement with the Leadership Team and other key players was important to designing a 5-day Changemakers Immersion that provided participants a first first-hand experience of  a working Green/Blue culture.
The emphasis on relationships and community turned out to be essential first steps for AB
What ABCTS is learning and needs to solve
Their P10X initiatives need a home — a physical space adequate to the special kinds of gatherings that best support organizational learning and change.
How best to measure and track the effect of P10X on overall business performance
Credits
We are particulary grateful to Jennifer Rice, founder of BrightPassage, for her inspiring us to develop a Future Fitness Analysis instrument for use with ABCTS and other pioneering organizations. The FFA instrument proved to an important contribution to our 5-day Changemaker Immersion, and will serve as an on-going means of tracking P10X movement.   Jennifer's 'Future-Ready Assessment' uses a 4-point maturity scale to benchmark organizations on their fitness for the future: From Fit for the Past and Fit for Today to Fit for Tomorrow and 'Future Shaper.'
Tom Atlee's Social Systems and Transformational Change is but one glimpse at his rich and deep thinking on the relationship between transformational change and our capacity to change our social systems. His body of work has been both foundational and inspiritual to our many initiatives.
David C. Korten's Sacred Earth, a New Economy and the 21st Century University powerfully reinforced our conviction that turning the corner on our many global crises is dependent on our being able to re-purpose our organizations — which in turn requires that we greatly expand the role and nature  of organizational leadership.
Dr. Joel and Michelle Levey's Resilience: The New Sustainability at Work, summarizes our challenge (and opportunity) in its first sentence. "As tsunamis of complex change flood through our lives, world, organizations and communities, the need to develop greater change resilience, sustainability, and capacity to learn at every level becomes ever more clear."
The 10X concept was originally inspired by Bill Veltrop's work with James C. Selman. This discussion paper,Leadership and Innovation: Relating to Circumstances and Change, will give you a glimpse at the depth and breadth of Selman's thinking and work.
John Renesch's The Great Growing Up: Being Responsible for Humanity's Future provided us a powerful way of seeing and thinking about this evolutionary instant. Project 10X is intended to provide organizations, of all kinds and sizes, with a co-creative way to navigate through a systemic rite of passage.