Summary
Panera Bread launched a new breed of business to attack the growing epidemic of food insecurity in America. The result is Panera Cares—cafes where people eat tasty, nutritious food in an uplifting environment and pay whatever they can afford. There's a full Panera menu, but no prices. The guest, not Panera, sets the price. And yet, each community cafe is self-sustaining.
Panera Cares, in partnership with our communities, aims to raise the level of awareness about food insecurity in this country. We also hope to inspire other companies to get caught in the act of doing good.
Context
Panera Bread Company owns and franchises 1,562 bakery-cafes in 40 states and Canada. Panera serves 8 million guests each week. Along with its franchisees, it employs more than 68,000 associates. System-wide, Panera generates $3.3 billion in revenue and has a market capitalization of approximately $4.5 billion.
Panera has been among the single best performing restaurant stocks when measured over the past decade. It's also been among the best performing consumer-discretionary stocks on the S&P consumer index when measured over that same decade. But that's just the score. The game is trying to make a positive difference in the lives of millions of guests, tens of thousands of team members, and thousands of communities.
Triggers
Much of Panera's success comes from utilizing the principles that others call conscious capitalism. This notion of a conscious approach to value creation is built on the fundamental premise that every business has a deeper purpose than short-term profit maximization and a responsibility to all of its stakeholders, not just its shareholders.
For many years, Panera has practiced the principles of conscious capitalism—or what we like to call "enlightened self interest"—in two ways. First, we regard profit as merely the byproduct of serving society and a broad range of stakeholders. When we deliver value to our customers, employees, vendors, investors, and community, profit follows. Second, we focus on a higher purpose, above and beyond short-term results. Initially, that meant making a difference in the lives of our guests, by providing them with handcrafted artisan bread, delicious and nutritious food, and an everyday oasis.
Three years ago, at the instigation of Paul Saber, a franchisee who operates 55 Panera Bread cafes in the San Diego and Grand Rapids areas, we began looking for new ways to advance Panera's philosophy of making a difference through conscious capitalism. Over dinner one night, Paul challenged me with a question: "What are we doing corporately that people can immediately identify as something that goes well beyond serving our products? What's Panera's version of the Ronald McDonald House?" Paul made me realize it was past time to put our problem-solving skills to work in the communities that have given us so much.
Like many companies, Panera has a philanthropic arm—the Panera Bread Foundation—through which we give $100 million in product and cash every year to organizations that are helping people in need. We deliver freshly baked bread every morning to our cafes, and at the end of the day the bread that goes unsold is taken out the back door in black plastic bags and is delivered to food pantries and soup kitchens. And of course, we write checks to charitable organizations. But at times, those efforts feel inauthentic. And the irony of it all is we're a food retailer that lacks a real, direct connection with the people in need who receive our food. Day old-product goes out the door, but we don't really know where it ends up.
We struggled to find a mission that's truly connected with our hearts and minds, and links us directly to those in need. The search began with a question: What does the world need most that we are uniquely able to provide? It's a question that leaders of every company must pose, if we're really serious about using business to positively contribute to the world.
The journey to answering that question began when we came across a jarring statistic from the US Department of Agriculture: one in six Americans lives in a "food insecure" household. When you cut through the jargon, here's what it really means: Kids aren't eating! When one in ten adults are unemployed in this country, you end up with kids who are hungry. We're not talking about profound poverty. In many instances, we're talking about middle-class neighborhoods where people are living hand-to-mouth and could use a hand-up.
Then I had a revelation while watching an NBC Nightly News feature about making a difference. The piece was about Denver's SAME (So All May Eat) Café, which feeds people without requiring them to pay for the meal. There's a menu, but there are no prices. They act on the belief that guests will do the right thing and leave whatever they can afford. Although the report was inspiring, it included a sobering detail: it took many years of struggle for the founders (a husband and wife duo) to develop the capabilities necessary to launch SAME. And it hit me. Panera opens a new café several times a week and employs nearly 70,000 restaurant people. We can do this.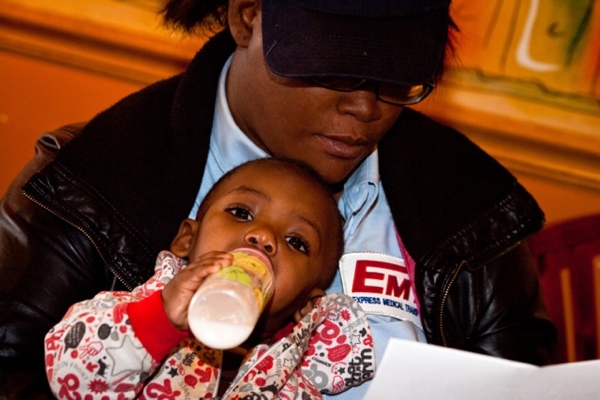 We believed our operation's nation-spanning scale provided Panera with an opportunity to turn our core competency against a societal ill. We continued to kick the tires on this idea and then decided: we were going to tackle the food insecurity issue, and put all of our skill and expertise to the task. 
Key Innovations & Timeline
In the summer of 2009, we decided to take a shot at the problem. Here's how we applied our innovation process to the challenge:
LISTEN & LEARN FROM OTHERS' EXPERIENCE
We began by standing in the shoes of people who are trying to come up with community-based solutions to food insecurity in America. Along with Kate Antonacci, our project manager, and Marianne Graziadei, formerly our VP of Operational Tools & Services, I took a lap around the country to observe and learn. We found a growing movement to create these pay-what-you-can cafes, of which there were about fifteen at the time. Unfortunately, most were very small facilities that were feeding 40 or 50 people a day in the back of a church. Based on those experiences, we realized there was a yawning opportunity to help many more people, if we could innovate an approach that operated on the scale of a typical Panera.
We also visited soup kitchens, where we saw what many have experienced if they've worked in one or especially if they've eaten in one: the negative energy. You walk in and people have their heads down. People are in pain, and the drab, basement-like atmosphere doesn't do much to alleviate it. And the food is the same institutional stuff you ate in third grade. It fills your belly, but doesn't leave you with any personal dignity. That realization pushed us to think about how we could create an experience that enhances people's dignity.
When we first considered this experiment, we thought we'd create a place that would serve baked goods and coffee. But as we traveled the country and observed soup kitchens and "pay what you can" cafes, we came to understand we were operating under the wrong assumption. Everyone wants variety and the kind of offerings we serve so successfully at thousands of Paneras across America. 
MAKE A RENDERING OF THE FUTURE YOU HOPE TO CREATE
To summon the concept we hoped to create, we imagined a place that would draw lots of people by offering high-quality, nutritious food in a warm, inviting environment. A place where every person who walks through the door would be served with dignity, regardless of their ability to pay. We imagined a place where those in need were indistinguishable from those who were more fortunate. We realized if we were going to create a magnet for those who could pay as well as for those who could not, and to do so with great positive energy, we had a perfect model in Panera.
Indeed, as the rendering began to take shape in our mind's eye, we came to realize the concept looked a lot like Panera. It would feature a menu like the one we offer at Panera and it would deliver an experience like the everyday oasis we seek to create at Panera. And to drive the scale we hoped to operate at, we came to believe the concept required the credibility of the Panera name. We wouldn't cut any corners. It was going to be Panera without price tags. We'd call it, Panera Cares.
As we continued to work away at our rendering, some in the pay-as-you-can movement told us we'd have to use cash registers—that when guests came in, they'd need to feel real pressure to pay. But we couldn't see how we'd protect people's dignity if we were spying on them, to see if they'd pay what we thought they owed. So we borrowed an idea from one of the community cafes for a different kind of payment mechanism: a donation box. That was a tough decision, because by protecting people's dignity we were relinquishing control and potentially giving people permission to take advantage of us. But we didn't see a way for us to sort out who could pay from who couldn't. We couldn't exactly stand at the door and ask guests to show us their W-2 forms when they walked in.
We created a menu with suggested donations for each item, to help customers understand what's needed for the café to sustain itself. Ultimately, with a donation box, guests would decide what to pay, without any pressure from us. But the café would survive only if community members stepped up and supported it.
*Define the real value proposition. In trying to figure out where to locate the café, we clarified what we were trying to accomplish. We had to put it in a neighborhood in need, but it also had to be in a place that could pay for it. If we placed the café in a seriously troubled neighborhood, it wouldn't survive. These considerations made us redouble our effort to define what we were trying to accomplish. In any big innovation effort, when you're trying to work your way into the future, it's not hard to lose sight of the goal and veer off course. Panera Cares' real purpose, we reminded ourselves, is not about curing poverty. It's about empowering communities to take care of each other.  
Our first Panera Cares café went into our fifteenth Panera store, which is located in Clayton, Missouri, outside St. Louis. It's in a neighborhood that has $1 million townhouses, as well as the county jail and the county courthouse, which stands directly across from the cafe. It's a place where you walk to work and you see panhandlers as well as businesspeople. Just the place for us.
*Don't lose sight of the big picture. As we worked towards opening our first Panera Cares, we were consumed with trying to cover all of the gritty details. Things like signage, staffing, and cash management. But to make it all work, we also had to maintain a long-range view, and hold on to what we were really trying to accomplish.
We were conducting an experiment in human nature, to really see if we could let customers decide what to pay and still sustain the enterprise. We were trying to change the corporate-giving mindset, which is to write a check and forget about the problem. With Panera Cares, we were trying to utilize something that's just as valuable as money: our time, skill, scale, and experience. We were also trying to show that all of us are in this together, by enlisting communities in this notion of shared responsibility. Above all, we were making a long-term commitment to solving a problem that can never fully be solved, but demands our best efforts nonetheless.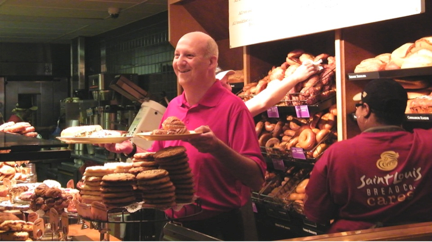 BUILD A PROTOTYPE AND EVOLVE FROM THERE
On May 16, 2010, we opened the first Panera Cares in Clayton. So many people in our business think that when you open, the hard work is done. Not so.
Panera Cares started out as an experiment. The year we spent planning the cafe was really a matter of shaping a hypothesis: Can we attack the nation's food-insecurity problem by creating pay-what-you-can cafes, which communities will then support? For it to work, some people would have to be willing to contribute more than their fair share. Indeed, would enough people do the right thing?
Opening Day was the beginning of the test, to see what really worked and more importantly, what didn't. I personally spent the first three weeks in that café, working 100 hours a week, refining the concept and living the experience.
Learn and adjust the prototype on the fly. There were many ups and downs. On the first day, we found that all the beautiful signage we created to communicate the concept to guests failed miserably. Every guest who walked in automatically expected to see a menu with prices. Guests didn't pay any attention to the signs and they didn't know what to do.
We quickly determined we needed to create a new role, the greeter, who would stand at the door when guests walked in and explain the concept: "This is a café of shared responsibility. If you have the money leave a little bit extra. If you're in need, take a little bit off. And if you've got nothing, leave nothing. It's up to you. All we ask is that you do the right thing and leave your fair share, whatever you deem it to be."
Triple-leverage the concept. We continued to innovate around Panera Cares, by taking the excess revenue above our operating costs and using it to provide job training for at-risk youth. We took in kids who'd been on the streets and in foster homes and trained them to work a cash register, prepare food, and serve our guests. With these skills, the kids have a better shot at making a living and joining society's mainstream. And because we wanted to set them up for long-term success in the world, we partnered with Covenant House in St. Louis to help them develop life skills. We went on to graduate our first class of interns in May 2011.
*Pleased, not satisfied. Once the first community café was up and running, we had a moment to reflect on what we'd taken on. We'd begun to build a different model for corporate giving. Instead of writing checks and donating product, we had used the skills we'd developed at Panera over multiple decades to attack the problem of food insecurity in America. Panera Cares allowed us to utilize our capabilities and test our entrepreneurial, problem-solving skills. And it enabled us to work shoulder to shoulder, with our customers, to confront a problem that plagues our communities. But creating Panera Cares is the first step in a much longer journey.
In our initial rendering of the Panera Cares concept, our objective was to launch a pay-what-you-can café and see whether the community would support it. If the concept succeeded, we would then have a proven platform, which would allow us to leverage all of Panera's scale, expertise, and resources in a broader effort. We are now exploring a range of options that will tap the tens of thousands of Panera associates and the millions of Panera customers in the fight against food insecurity. Throughout the rest of this year, we will engage all of our associates in a building a framework for action. Next year, we plan on unveiling a series of initiatives that we hope will ignite a movement.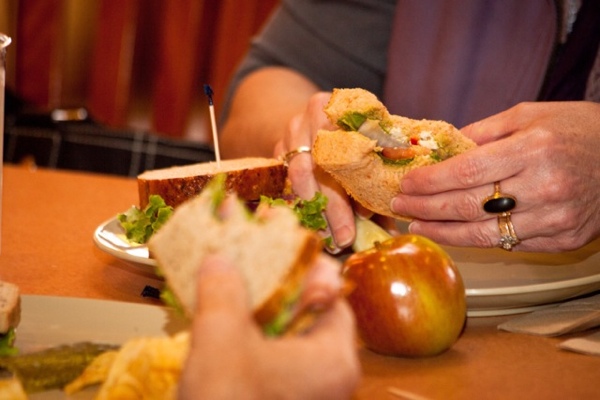 Challenges & Solutions
Challenge: Dealing with the pushback from skeptics.
Panera is a publicly traded company. Shareholders would not be happy funding this thing forever. When I discussed the idea with my board of directors, they were incredulous. Their reaction: "What's it going to be, lunch on Uncle Ron? Are people going to rip us off?"
Solution: After a lot of discussion, we agreed to use our existing 501c3 non-profit foundation to house the Panera Cares enterprise. The foundation operates as a separate entity from Panera LLC. As a non-profit, Panera Cares just has to cover its expenses. But those expenses are real: real food costs, real professional employees, real overhead.
And by operating Panera Cares as a non-profit, Panera could then limit its risk. Panera donated the café to the community, but ultimately it was the community's responsibility to sustain it. If it did, we'd have a model that worked.
Challenge: Overcoming the fears of our own team members, as well as their tendency to judge whether a guest was truly in need.
A number of our associates had worked in the Clayton Panera for years. They feared if the community didn't support Panera Cares and the concept failed, they'd lose their jobs. Some had also lived with food insecurity, which gave them even more incentive to make the concept succeed. We had a team member who had worked there for ten years, and on opening day she told me, "Ron, I've been in pain in my life, we need this very badly, and this morning I went to church and prayed for this place." Needless to say, there was a lot of emotion and tension swirling around when we first opened our doors.
And once the cafe did open, we all got caught up in a very human instinct, which is to profile people and judge whether they have the ability to pay. Yes, there were people who tried to abuse us, such as the kid who ordered $40 worth of goods and told us to put $3 on Daddy's Bank of America card. I wanted to jump over the counter and throw him out. And then there was the fellow who looked poor and probably was—he tossed $10 into the donation box for a single cup of coffee. During those first few days, our confusion and suspicion sometimes got the better of us.
 Solution: Part of the reason I worked at the café for three weeks was to be there for team members. I began to understand how we needed to evolve the role of a team member at Panera Cares if we were to make the initiative a success. One of the toughest challenges was helping each of our team members learn to ignore their own inclination to judge people by appearance or behavior. That meant having lots of conversations around protecting the concept's integrity, rather than worrying about Panera potentially getting ripped off.
Challenge: How do we make it comfortable for people who can't pay, but are uncomfortable taking something for free?
Solution: More often than not, we saw people's bright side, even those who were in a dark place. For people who were hungry but couldn't make a donation, we added a volunteer option. They could earn their meal by contributing their time fulfilling front-of-the-house tasks like wiping tables, clearing dishes, and sweeping floors.  We saw tremendous pride in people's faces when they put the meal voucher that they had earned in our donation bin.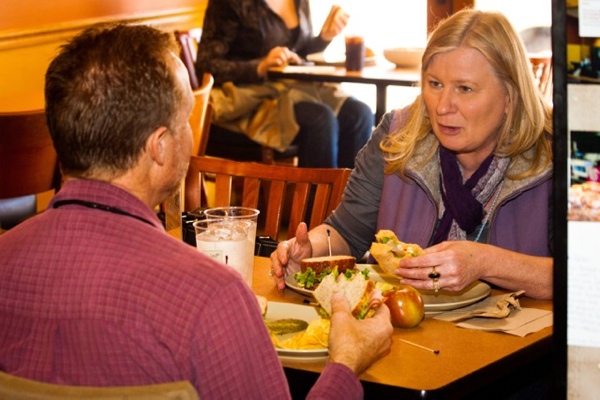 Benefits & Metrics
BENEFITS: The results are better than we could have imagined. In 2011, we served more than 500,000 people at Panera Cares cafes, including many who were struggling with food insecurity. This year, our community cafes will feed nearly one million meals to people.
Panera Cares serves our customers by giving them a way to directly make a difference in the lives of fellow community members who are in pain. It serves our communities—we have partnered with our communities in a real way to address food insecurity, while also launching job-training programs for at-risk youth. It serves our associates—they are proud to work for a company that stands for something more than profit; they're proud to be a part of an organization that's serving almost a million people who are struggling with food insecurity.
Above all, Panera Cares serves society, because it demonstrates that people are fundamentally good. Not everyone, of course. But most people, when given the chance, will do the right thing. And that's a lesson worth remembering for all of us in business, especially at a time when the only group held in lower regard than corporate executives is Congress.
METRICS TO DATE: We've since opened two more Panera Cares cafes—one in Dearborn, Michigan (November 21, 2010) and one in Portland Oregon (January 16, 2011)—and this year we will open another two. Looking ahead, we expect to add more programs to serve the community, just like the program for serving at-risk youth, which has expanded to three cities. The goal is for each cafe to be self-sustaining—that is, generating enough donations to cover their direct costs—and all three are well on their way. The cafes bring in 70-80% of the retail cost of the food. To achieve that number, we estimate 60% of people are leaving the suggested donation; 15-20% are leaving more; and 15-20% are leaving less or nothing at all.
A byproduct of this effort has been nearly 1.5 billion media impressions, with coverage on all three national nightly news shows (ABC, NBC, CBS), CNN, TIME Magazine, USA Today, Associated Press, the Washington Post, the New York Times, the LA Times, Huffington Post, Fortune Magazine, the Wall Street Journal and more.
Lessons
Launch, then strategize.
At Panera, we are opportunists, not capitalists. Our most valued currency is our ability to see and seize on opportunities to make a positive difference in the lives of our customers and stakeholders. With Panera Cares, we didn't spend a year working out a big, over-arching strategy for how we might fight food insecurity. Instead, we saw an opportunity to use our core competencies to create Panera Cares and we acted. This instance of fulfilling our higher purpose played out in reverse order: first we launched Panera Cares, then we figured out what it really meant.
From the start, Panera Cares always aligned with Panera's core purpose—to contribute to our customers and our communities—and one of our foremost cultural values, which is to build relationships through authenticity and service. Once we proved Panera Cares could summon, in some small way, humanity's "better angels," we pulled back and began to define a strategy for building out a Panera Cares platform for attacking food insecurity.
Over the course of several months, even as we were planning the next Panera Cares cafés, we talked through the concept with various constituencies within the Panera network. As we did, a larger, more sweeping rendering began to crystallize. We defined an aspirational vision—to eliminate food insecurity in the US—as well as a mission, which is to be a change agent in that battle. And we began to map out how we'd leverage our competencies in a larger Panera Cares effort that we'll roll out next year.
If we had strategized first and then tried to launch, we'd probably still be trying to persuade people that Panera Cares is a risk worth taking. By launching first and succeeding, we laid a foundation for the strategizing that followed. 
It takes total commitment from the top.
I'm all for grass-roots innovation and radical ideas that work their way up from below to challenge the mindsets of the big dogs at the pointy end of the pyramid. But an innovation like Panera Cares needs the CEO to lead it or at least be fully engaged in it. I don't think I'm the smartest guy in the room—far from it. But I could see what Panera Cares needed to be, and I had the drive—and, yes, the power—to overcome the skeptics (of which there were many at first), and summon the resources to make it come together. Think about it. To bring Panera Cares to life, we had to create a whole new business model. Who besides the CEO can make that happen?
To build trust, be transparent.
At Panera Cares our customers "do the right thing" because they trust us and believe in the integrity of the Panera Cares concept.  And the reason they trust us is because we're transparent. We let people know what we're doing, how we're doing it, and most importantly, where the money is going. We publish weekly and monthly reports in our cafes, where we share the donation levels for that month. We also post the number of volunteer hours. We share stories from our journals internally and externally and we spend a great deal of time educating our associates, customers, and communities about food insecurity. But our most important communication is within our Panera Cares cafes. We spend an enormous amount of time talking to customers—telling them our story, hearing their stories, and building relationships.
Doing the Right Thing Pays Off for Shareholders
When we first embarked on this journey, there were many who told us that as a publicly traded company, it didn't make "business sense" for Panera to devote time and resources to building a non-profit enterprise. Even on that score, they were wrong. Many millions of people across the country are moved by Panera Cares and their affiliation with Panera is deepened when they hear about the initiative. Similarly, Panera associates across the organization often rise in applause when we talk about our commitment to Panera Cares.
Do connected customers and proud team members help the bottom line? Last year, our Portland market had the highest year-over-year comp increases of any Panera region. Now maybe it's only a coincidence, but recall that we opened a Panera Cares in Portland in January 2011. Panera Cares is a powerful differentiator that helps build trust with our customers, pride with our associates, and ultimately enhances our competitive advantage.
That said, we didn't launch Panera Cares to improve our balance sheet. And that's why it's succeeding. Whatever tangible and intangible benefits accrue to the business, they're simply by-products of committing to a purpose that goes above and beyond profit and next quarter's earnings per share.
Dare to be Bold
In creating Panera Cares, we essentially built a voting booth to determine whether people who had the means to pay more would do so. So many people told us, when we first started out, that the vast majority would vote "no." What joy we took in proving them wrong. Conventional wisdom held that "giving away food" would sink Panera Cares and damage Panera itself. We could never understand such thinking. Panera Cares was a bold experiment with an audacious goal—and no downside. If it failed, like so many experiments often do, so what? We'd have tried something that was worth doing, at no material cost to the company.
We thumbed our noses at conventional wisdom, and instead took an unconventional path. We proved that a brand-name restaurant company could sustain a business that serves nearly one million people annually, all while letting the people set the price.
Be Provocative
We had another motive in creating Panera Cares, beyond confronting food insecurity in America. We also hoped to inspire or if necessary provoke other companies to contribute to society in a way that goes beyond philanthropy, and instead harnesses those non-renewable resources—their time and know-how—to directly address the world's inequities.
For every vital service now being provided by a not-for-profit or government entity in this country, there almost certainly is a large corporation with the skills, experience, and the scale to vastly improve and increase the capacities of those organizations. Imagine if Wal-Mart ran distribution for food shelters. Or if Gap opened thrift shops. Or if Home Depot rehabilitated housing in underprivileged neighborhoods.
Are there other "conscious capitalists" who are willing to get their hands dirty so as to positively impact the world? Of course there are, and many got to work long before we did. But given the past few years' business scandals and economic hardships, we hope many more will step up to the challenge.
Credits
Ron Shaich, Bill Breen, Kate Antonacci