August 24, 2011 at 9:53am
Summary
Every new employee at Red Hat quickly learns about memo-list, one of the most visible elements of the Red Hat culture. Memo-list is a mailing list that we subscribe everyone in the organization to, and historically we used memo-list for anything from making important announcements to discussing company strategy to sharing jokes. 
At times over the years, we considered moving memo-list from a relatively low-tech email mailing list to an online discussion forum or a web-based collaboration tool. But ultimately we stuck with the mailing list, in large part because everyone is subscribed, so everyone sees every message. It is an extremely democratic platform for discussion. 
In fact, memo-list is a crucial element of the meritocratic culture of Red Hat because it gives every employee an equal opportunity and equal voice to express thoughts, ideas, and opinions. 
As the company expanded from a start up to a large organization with more than 50 offices around the world and more than 3000 employees, memo-list conversations multiplied and in recent years we noticed that the signal-to-noise ratio went up. With the sheer amount of communication overwhelming email boxes, many employees no longer viewed it as a valuable resource. We were coming to a bit of a crisis. Something had to change.
Where did Red Hat turn for answers? Rather than turn to an outside consultant or senior management, we asked a group of employees who cared deeply about memo-list to build the plan to help it evolve.
Context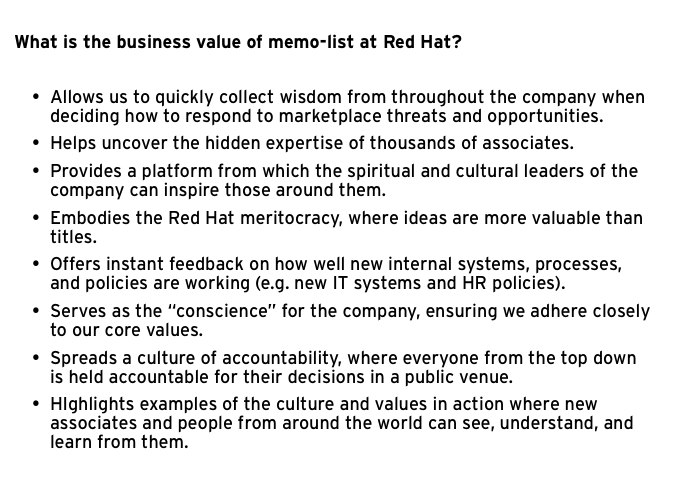 Historically, when new employees joined Red Hat, typically, one of the first things they saw or heard about was an internal, free-for-all email list called memo-list. We subscribed every Red Hat associate to memo-list automatically, and opting out was not an option. Memo-list became a key part of the Red Hat culture. 
Many people saw great value in this lively email list. It was a platform where every person in the company had the chance to put ideas out there--with a good chance those ideas would land on the computer screens of some big names in the company. Individuals could publicly vet and critique ideas throughout the organization. True to the ideals of the open source meritocracy, the best ideas would have a chance to rise to the top. 
Anyone who saw a problem could quickly bring it to light. Others would jump in and make suggestions or explain a missing detail. All employees had a voice. 
Memo-list also built and reinforced a sense of community within our rapidly growing company. From farewells to birth announcements, memo-list had its own way of making people in a global company feel connected. And when you needed to find out who was in charge of a project or what was going on with an initiative, memo-list was the place to ask.
 
Triggers
But the downsides became apparent and became more accentuated as we grew larger. In this unmoderated email anarchy, personal attacks were common and flamewars were expected. Indeed, the controversial comments or links sent out on Fridays, with subject lines like "It's Friday and…" or "Friday Flames" were a regular feature of memo-list. 
At their best, the heated debates encouraged passion and brought out valuable new ideas. At their worst, they spread misinformation, were distracting, or were demoralizing to many in the company.
And then there was the sheer amount of email. Years ago, new hires were stunned to open their new email accounts and see page after page of memo-list replies. Many of these conversations seemed (or were) completely unrelated to Red Hat's business.
This led some to believe memo-list was a colossal waste of company time. Many an exasperated associate would respond to these mile-long threads with, "Don't you have any work to do?" and "Why can't we unsubscribe from memo-list?"
When I first joined Red Hat as an attorney in the Legal Affairs group, I questioned the value of memo-list myself and the amount of time people spent reading and writing notes on it. But when my role changed, ultimately into my current role as Chief People Officer, I began to see its tremendous value. Memo-list gave employees a place to express their true feelings and it gave Red Hat's management team the gift of honest feedback. I for one was happier seeing feedback on memo-list so that we knew what is going on in our associates' minds. If people have a concern, they are going to express it in some manner. It is better to have an internal debate than to have the criticism behind closed doors or in outside forums.
Over the years, Red Hat employees advised each other on ways to tame the memo-list email thread. They set up their inboxes to list email by thread, rather than chronologically. They filtered out memo-list messages to a separate folder. But it didn't solve the bigger problem.
Members of our senior management team spent a significant amount of time discussing what to do with memo-list. Given the issues, the only simple option the leadership team could see was to take it down. But this was not a culturally viable solution.
Key Innovations & Timeline
Something needed to be done. And in an open source company like Red Hat, we knew that that "something" would have to be done: 
 • iteratively, 
 • collaboratively, and 
 • transparently. 
When you're trying to improve something that is important to a community of people, it's important to invite them into the process, and that's exactly what we did. 
Assembling a working group
We started by putting together a core team that would tackle the problem. We looked for people from different functional backgrounds and geographic locations. We tried to recruit representatives who worked remotely and some who worked in offices. We looked for old-timers and newer hires. We also specifically included associates who were strong advocates to discontinue memo-list. Our goal was to assemble a team small enough to work quickly and diverse enough to be representative of the Red Hat population. 
In a company of just over 3000 employees, our final team was around 15 people, including 4 of the top 10 posters to memo-list. 
Building a prototype solution
Team members presented many ideas, from moderating the list to splitting it into smaller lists to setting some ground rules. The team decided that one important piece would be giving all employees the chance to weigh in on any proposed solution. Finally, the team settled on an initial prototype of guidelines for the improved memo-list.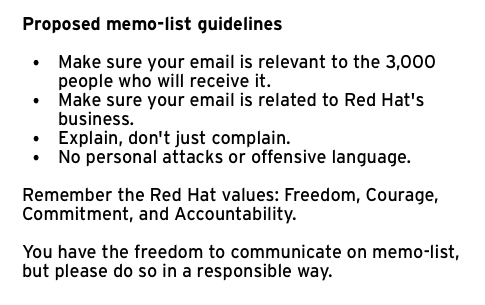 To preserve a forum for the entertaining, interesting, and even the time-wasting messages (an especially valuable part of the culture to those who worked remotely and didn't have the chance to associate with colleagues often in person), the team also proposed creating a new list: friday-list, in honor of the Friday flames. This would be the everyday off-topic list, and it would be an opt-in list. 
With the prototype in hand, it was time to get feedback from the employee community and to think about how to get their buy-in for the changes. 
Presenting the prototype
To begin collecting feedback, the team launched the first of two company-wide surveys. This first survey asked for opinions on the current state of memo-list and shared our proposed changes. The survey included a text area for general opinions and ideas in addition to the specific questions. 
About 9% of Red Hat associates (245 employees) responded to the survey, and 42% of the respondents simply wanted to unsubscribe from memo-list entirely, which shows just how pervasive the issue had become. But after reading the proposed changes, 89% of those taking the survey were willing to subscribe to the improved memo-list, and 60% were interested in subscribing to friday-list as well.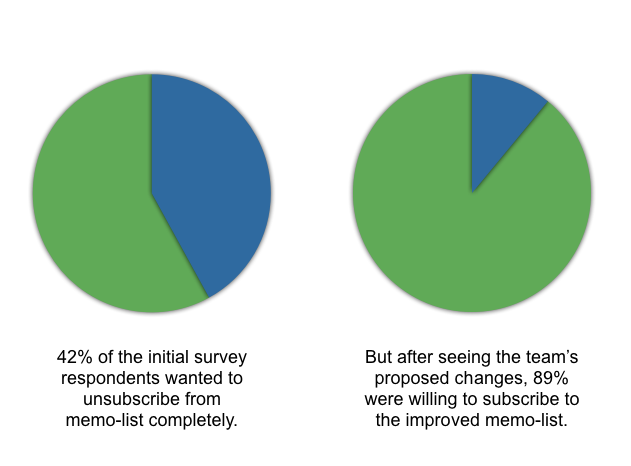 Survey comments included many expressions of gratitude for addressing "the memo-list problem" and some from people who thought memo-list was fine and needed no changes. Several associates questioned the continued use of email rather than a different technology, and others disliked the name friday-list. Overall, the name friday-list was the change with the lowest buy-in. Half of the surveyed associates liked it, and half didn't. 
Implementation and iteration
In the spirit of "release early, release often" (a principle closely held by open source software developers who want to get feedback on their work quickly so they can improve it quickly), the new memo-list guidelines were implemented while the survey was being conducted, with plans to adjust the guidelines based on what associates said in the survey. 
But because the feedback on the proposed guidelines from the survey was largely positive, no major changes to the prototype were necessary (this may also be an indication that the working team had represented the diversity of opinions from within the organization well). After 100 days, the team conducted a follow-up survey to learn more about how the new system was working out. A few suggestions, like sending reminders of the new guidelines from time to time and batching new hire announcements, were implemented at that time based on the additional feedback. 
In an open source company, few things are unchangeable—we truly live by that "release early, release often" principle. So the lines of communication have stayed open, and the team continues to meet and occasionally modify the posting guidelines based on feedback and observations about the lists. 
Policing the lists
In many organizations, when new guidelines are implemented, they need to be actively "policed" by someone deputized by management to ensure the guidelines are followed.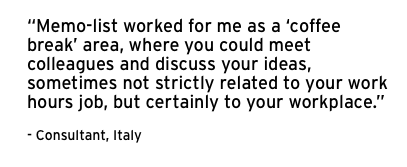 As with many other activities within Red Hat, enforcement has become a collaborative, community-driven effort. Many of the people who were part of the original project team stayed on as "posting guides" and several new people volunteered as well. Rather than one person trying to single-handedly watch over all of the mailing list activity, this group collaboratively steers the content of the lists together. The group is connected via mailing list and sometimes discusses a questionable post before appointing someone to follow up with a poster who has broken the guidelines. Often the list is self-policing as well, with people outside of the posting guides group questioning suspect posts or promoting the guidelines. 
But overall, the posting guides group has found limited need to send out ongoing reminders because the guidelines have largely been embraced by the employees (no doubt in part because they were deeply involved in their creation) and violations are few and far between. For new employees, the team has added a section to new hire orientation that discusses the guidelines and each new employee receives a welcome email that includes the guidelines when they are first subscribed to memo-list.
Challenges & Solutions
Figuring out how to evolve memo-list was a challenging issue for Red Hat. On the positive side, memo-list was a vehicle that connected employees to each other around the world and created a shared understanding of our business, values, and culture. It gave every employee a channel from which to provide feedback and was a powerful meritocratic force that could (and often did) facilitate change and increase accountability.
On the other hand, it was also a venue where personal attacks could get out of hand, where conversations could quickly become demoralizing, where misstatements helped to proliferate inaccurate information, and it could be deeply polarizing. Some viewed it as a symbol of Red Hat culture, while others perceived it as a waste of valuable time.
Here are a few key challenges that came up during the effort to transform memo-list:
Problem: Not everyone agreed on what success would look like. In a company of 3000+ people, there were diverse ideas for what a successful evolution of memo-list would look like.
Solution: By recruiting a cross-section of people from different parts of the company, we were able to bring together many different viewpoints to help build the prototype. This ensured that the prototype we presented to the company would have a good chance of being embraced. It was.
Problem: Those with extremely strong opinions about memo-list were often the loudest voices, drowning out the opinions of those who weren't as vocal.
Solution: The surveys gave voice to the silent opinions and gave us data that allowed us to see beyond just the opinions of the loudest voices.
Problem: Ensuring people actually followed the new guidelines.
Solution: Many of the volunteers for the task force also took on policing roles after the new guidelines were launched. Fairly soon, memo-list rules were being enforced broadly by the memo-list community, not just by the people on the team, and most people now follow the guidelines on their own. But because the community was deeply involved in the creation of the guidelines, the policing effort has been easier than expected.
Problem: How to find the right balance between information source and a lively community. If memo-list was used strictly for announcements-- all business and no discussion-- it would lose some of its value as a tool for building a cohesive employee community. Yet, if the discussion became too lively or not business-like enough, some people would begin to tune it out.
Solution: While the guidelines we've mentioned previously did a nice job of keeping things in balance, we've also tried to allow for some flexibility as well. So when important moments in the culture of the company occur, memo-list becomes more of a gathering place and the conversation flows somewhat freer. For example, when the company was listed on the New York Stock Exchange, there was a lively discussion on memo-list, celebrating how far we had come together as a company. It was a great moment that brought everyone together.
Benefits & Metrics
While everyone in Red Hat is still subscribed to memo-list, the new and optional friday-list has about 20% of the company subscribed. In the last month before the new guidelines took effect, there were 892 posts on memo-list. During the first five months of 2011, more than two years since friday-list and the guidelines were created, the number of monthly posts has dropped by more than half, averaging between 30
0-400 posts per month. But the voices have not been silenced—much of the extra conversation has now moved over to friday-list, which averages about 150-300 posts per month.
So those who wanted to see the "noise level" on memo-list drop have had their wish come true, while those who wanted to ensure the lively and fun conversation would continue have had their wish come true as well via friday-list.
Here are a few pieces of feedback the team received after the changes were put in place:
"I realize that memo-list was hanging by a thread there for a bit, and I'd like to take the time to personally thank you for spending time on this, instead of letting it die. Memo-list is an important part of our company."
"…so far, so good. Posts to memo-list seem to be mostly related to our business, and posts to friday-list seem to be mostly wider topics that are not directly related to the Red Hat mission. I was skeptical, but my initial attitude is eroding."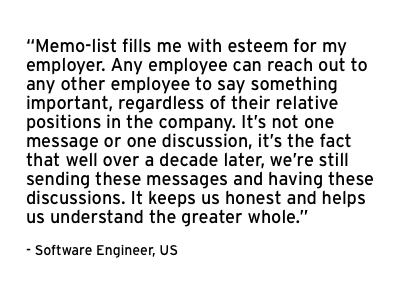 Memo-list remains a critical piece of the Red Hat culture. While it is now centered almost exclusively on business-related issues, people still feel empowered to express their views, and many executives—including the CEO—are regular contributors. While these new policies did change some things, we did so in a way that preserved the greater cultural value of the list, and this continues to pay dividends.
As for friday-list—an optional, just-for-fun list—it is living up to its mission. It gives people an outlet to express themselves, to share ideas and humor, to get to know each other in a less formal way. It connects people—including people working remotely by themselves—with each other and with the rest of the company, and it creates a sense of community among subscribed employees (especially the bacon lovers, as bacon is one of the favorite topics on friday-list).
Lessons
Empower passionate community members to solve the problem and communicate the solution themselves
By allowing the people who cared most about memo-list to develop the solution, we empowered its biggest advocates. This ensured not only that we would reach a smart solution, but that it would be culturally acceptable (vs. just a decision handed down by management) as well.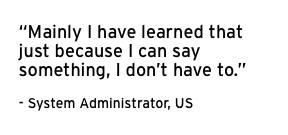 In addition, the people charged with communicating the changes to the company weren't "official" voices from the HR department or management. Instead, members of the project team who were active contributors to memo-list posted announcements and survey requests so that it was clear this was a community-driven effort. 
The posting guides team continues to add new members who are passionate about memo-list as they make themselves known to ensure energy and commitment remains high. 
Ensure you have ways to gather more than just the loudest opinions
Because the problems with memo-list affected many people who weren't keen to express their feelings publicly on memo-list (thus exacerbating the problem), we developed surveys that allowed many of the hidden opinions to be expressed safely and easily. When you seek out the opinions of more than just the loudest voices, you may uncover information that will surprise you. 

Socialize a prototype before launching the finished product 
Instead of having a small team build a plan and launch it without feedback, we reached out to the larger community and let them test and comment on the prototype. By designing your project using an open model like this one, you may receive valuable feedback that helps make the prototype better. 
But even more, you'll earn the trust and respect of people who appreciate that you valued their feedback enough to ask for it. It can be scary, but it almost always ends up creating more value (knowledge, alignment, possible solutions) than you would have gained otherwise.
Credits
I'd like to thank Michelle Thompson, Manager of Internal Communications at Red Hat, for her leadership on the memo-list project. Her passion for ensuring the team reached a great result was the driving force behind our success. 
In addition, I'd like to thank all of the members of the memo-list working team, especially Andrew Dinn, Kim Jokisch, Beth Kelly, Doug Ledford, Jon Masters, Sue Moynihan, Nick Otto, Devang Parikh, David Spalding, Rick Statile, Rik van Riel, and Jan Wildeboer. These people invested their time and energy to help solve a problem that could have never been solved by one person alone and to do so in a manner that embodied the Red Hat and open source spirit.