Hack:

Operating unit peer reviews: improving efficiency & effectiveness without sacrificing flexibility
Summary
Most companies have implemented "best practice sharing" processes that help identify local innovations and seek to scale them by providing corporate resources.  While well-intentioned, these efforts often yield disappointing results—including a low hit rate of improved efficiency and effectiveness, and a loss of flexibility as new global standard (based on the discovered "best practices") are rolled out across the company. 
We believe that encouraging peer reviews among front-line operating units can achieve the goals of traditional "best practice sharing" processes with far better results.  They can increase the spread of best practices, leads to smaller bets, and promote the self-selection of the best ideas.
Problem
In many organisations there is a belief that since innovation is valuable, it should be searched for and promoted. The traditional concept in a dispersed organisation - a senior manager flies in, is presented with local views, decides what is good and what has to be changed and leaves. Either nothing occurs or this "seagull" behaviour results in an unexpected and unwanted gift from above--e.g., months later a directive is received out of the blue to standardise all branches to a "modified" version of the original local innovation. Wanted, useful, or not. And often not used.
Take, for example, the experience from one of this hack's authors.  As a regional manager covering a number of country operations, it was common practice to regularly review business units. One target was identifying local innovations with the goal of spreading best practice to other locations. Smaller business units close to their customer often developed ideas to solve issues that may not have been visible in the centre.
The intent was good. If the issue was assessed as common amongst business units, a centralised solution was available at some time in the future and at some cost in money, resources, and ideas. Use was mandated and sometimes business units even used it. Occasionally the front line units were consulted by central development.
The problem: the good idea became a big bet that lacked flexibility and ownership among front line units. The central business case showing savings in central solutions was flawed because the central maintenance could not adapt to speed of change in local business, customisation of service to clients and a higher priority on other problems in different locations. Saving money through scale with the centralised solution was only theory. Pennies were occasionally saved and paid for through reduced adaptability.
Many new ideas and best practices are recognised. Can the implementation of new ideas be increased? And can the ideas that are implemented address the greatest need of the local organisation?
Resolving this issue can:
Make direction-setting bottom-up and outside-in.  Self-selection of ideas to resolve the local greatest need provides customer and front line direction setting. It should improve customer experience.
Experiment more often, more cheaply.  Implementation of new ideas multiple pilot sites before corporate resources are applied increases the probability of selecting the best practical ideas, and maximises testing of solutions. The number of ideas is large, and initial implementation cheap. This should lower investment risk. 
Expand the scope of employee autonomy. Employees in local markets with expertise can rapidly locate and implement ideas to solve their greatest needs. They are empowered by making decisions on priorities, gaining faster time to market and optimising use of local resource. This can lead to greater employee engagement.
Solution
Our solution can be summed up as follows: instead of relying on a top-down best practice sharing program, companies should enable front-line operating units to establish peer-to-peer relationships that will help them identify and "organically" spread the best innovations across the company (see Figure 1).
Figure 1. Peer-to-peer best practice sharing vs. traditional top-down approaches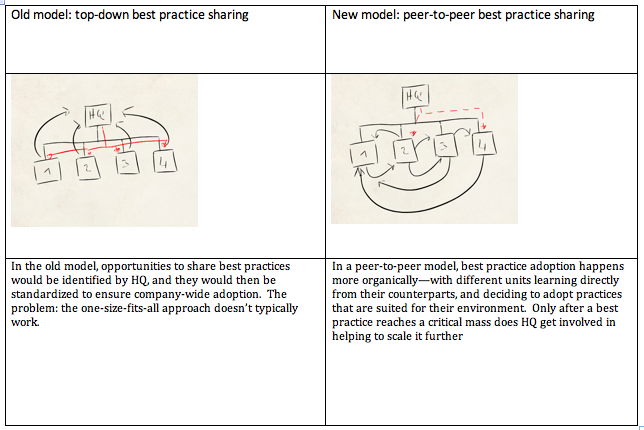 Peer-to-peer best practice sharing in action
In order to illustrate how this might work in practice, consider this real-world example from one of the authors of this hack (this is the continuation of the case shared in the previous section). 
Country managers were given funding to undertake peer audits once a year at another location, with the target of discovering what was done really well. Initial suspicion of audits died off quickly given the focus was identifying good things. Surprisingly, the auditors took ideas they liked and implementation was fast, localised and used. The pace of new implementation increased across the region. When an idea reached a large enough usage rate, central development groups were utilised to focus on efficiency and maintenance optimisation only, delivering faster and real cost savings.
The solution was agile in form, with a key strength based on local ownership and acknowledged benefit.
This idea was tested across technical groups (including application development, field services for customers, operations, customer training, sales support and  customer product support) but it could be taken up the scale to business strategy. The role of technology would be through increased visibility, methods and reducing travel costs - as long as the cost saved did not reduce effectiveness.
The key elements of peer-to-peer best practice sharing
More generally, there are five key defining features of a peer-to-peer best practice sharing model:
1) Provide time for operational managers to investigate best practice. The time needs to be allocated to a reviewer and a similar organisation being reviewed. The people chosen are "peers".
2) The focus of the review is identifying what is done well, and at least some areas the reviewer requests specific information on. This model is similar to "Appreciative Inquiry", an established line of thinking.
3) Any resulting activity has to be pull rather than push. Either organisation has the ability to implement as they choose. Ideas spread through a very direct process of cross-pollination. "Autonomy" and "involvement" are motivators in a "knowledge" organisation, and enhanced with this process. Increased focus and commitment should increase chances of successful implementation. 
4) Choosing new ideas for central resources is based on popularity of ideas implemented. An idea that looks good on paper but does not get implemented elsewhere does not receive central support. Priority is always "what is working" rather "what might/should work". Spreading investment and risk in an emergent way is much more resilient and less prone to catastrophic failures.
5) While peer-to-peer best practice sharing can work well based on physical site visits, social technologies such as internal social networks and wikis can complement the effort by broadening it (e.g., virtual site visits conducted on-line by more people), creating a repository of useful information, and facilitating monitoring/follow-up on the adopted innovations.  For a good description of how on-line collaboration systems can help, take a look at the story on the MIX about Shift, CEMEX's on-line collaboration process, and how it was used to develop a "Ready MIX" special products catalogue.
This hack also rests on two other assumptions.  First, operational managers will find resources to implement if the idea will benefit their business.  Second, operational units continually find resources to innovate in their areas of greatest need.
Practical Impact
Peer-to-peer best practice sharing can yield five significant benefits:
1. Managers are better informed on alternative, and more efficient/effective practices.
2. Investment risk should decrease as innovations are selected through success at each level prior to placing strategic bets.
3. Priority of investments reflects customer priorities through front line market awareness, and is therefore less at risk of being influenced by the "biases" and old mental models of a few people at the center.
4. More innovative ideas are implemented. The water cooler conversation moves through to implementation.
5. Innovations reach market faster.
First Steps
Here's a "quick and dirty" experiment one could implement in a portion of an organization, which can be executed with relatively few resources and a short time frame (60 days or less).
The core hypothesis guiding this experiment: there is a lot of untapped value that could be generated by regular peer-to-peer exchanges to identify and spread local best practices.
Set-up
1. Structure the experiment around bilateral peer reviews.  Specifically, pick one or two pairs operating units—e.g., countries/territories, or functional groups (e.g., IT) in different business units.  Ideally each operating unit will have 30 or more employees (for reasons detailed below).
Preparation
2. The managers of each unit ask their teams to provide their thoughts on (a) areas of innovation/"best practice" that their unit could share more broadly and (b) areas where they would like to learn from other units (e.g., how do you manage key client retention?).  The discussion could be made simple and efficient by leveraging an on-line wiki or discussion group. 
3. The results from this exercise are shared by each unit with their counterpart.  This exchange helps focus the peer review agenda on the topics of greatest mutual interest, and enables each unit to gather any relevant information that can be provided during the peer review (along with the relevant experts that can be brought to that discussion).
Peer review
4. The managers of the two operating units, and other "experts" identified in the peer review prep phase, gather for a half- or full-day visit (in person) at one of the two units' home office (the meeting could be broadcast for all employees to follow on-line, whether live or "on-demand").  The agenda for the meeting would be relatively informal , but would cover (a) self-declared areas of strength for each unit; (b) deep dives into specific issue areas of interest to each unit; (c) brainstorming ways in which ideas from (a) and (b) could be "ported over" to the units, and (d) next steps/follow ups (e.g., additional people to be consulted).
Post-review
5. Immediately after the review, all who participated in the preparation phase and review sessions would be asked for feedback on (a) the ideas / opportunities generated by the peer exchange and (b) the process itself.
6. 30 days after the review, each team will provide a quick update to its peer on the extent to which the opportunities being identified are being implemented, and what the impact has been to date.
7. If applicable, the most promising insights/ideas of the process will be compared with the "best practice" compendium at HQ (ideally the best practices surfaced would be brand new).