Summary
To varying degrees, everyone has self-centered ambitions: to become rich and famous, to win the race, to have some power over others. Such forces can drive people to work hard and produce results. But they also can be distorted, revealing people's dark side. A wise organization will tap the nearly limitless energy that can be generated from human beings' "light side."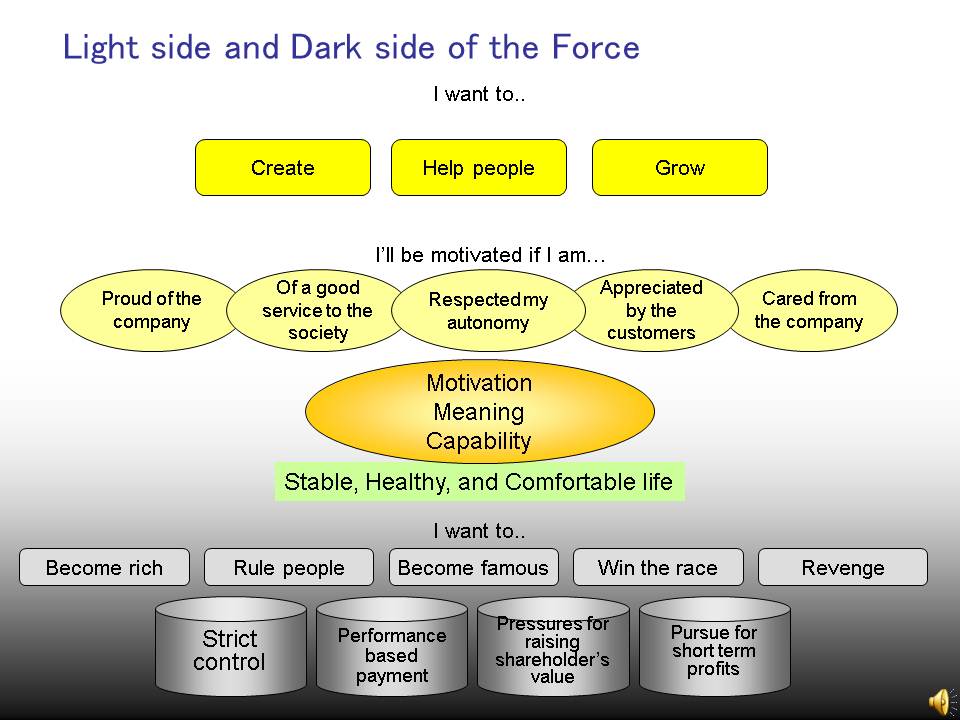 Problem
People want to become rich, rule people, become famous, win the race, or sometime revenge. Those "Force" could be the engines that drive people to work hard. But when the Force is maliciously controlled by the hands of "modern management" such as strict human management, performance based payments, pressures to raise shareholder's value, pursue for short term profit, the force is often distorted to the "Dark Side" and causes a lot of problems.
For example, if the internal competition within the company is too harsh and the monetary reward is too high, people may refuse cooperation with colleagues, ignore the profit of customers and society, and could even be induced to cheat or kick rivals out to win the competition.
Naturally, humans are motivated to create new things, to be helpful to others, and to grow. But the "modern management" often induce the power to fall into the Dark Side.
Solution
Change management philosophy and structure. Unleash employee's natural motivation to create, help others and grow oneself.
Think employees' happiness first, then customers' happiness.
Think profit as the result of good job, not as the objective.
Reconsider performance based payments.
Do not drive employees to compete each other. Let them cooperate and grow together.
Always think how the company can contribute to the society, and share the mission with all the employees.
Trust employees and customers. Do not conceive them as thieves, sloth or frauds.
Sounds too idealistic? Please see the two Japanese companies' cases illustrated in the attached document .
Practical Impact
Improve employees satisfaction, which leads to improve customer satisfaction
Unleash employees' creativity and ideas
Lower management cost and time
Ensure slow but steady growth
Lower the rate of internal misconducts and scandals.
Lower the rate of mental disease
Improve trust to the company from the customers and the society
Credits
Gartner Japan Executive Programs
Images