The Winners of the HCL MBA M-Prize
The MIX and HCL are pleased to announce the winners of the first ever MBA M-Prize. Since the seven Finalists were announced on April 5, the teams have been applying a core principle of open source management innovation: working to refine a good idea into a great Hack. The first round judges provided each team with comments, and MIX coaches worked with the teams to focus the upgrades and outline the experimental plan. After all, an incentive was available that most professors don't offer: a budget of $50,000 to test the winning Hack within HCL.
And the Winner is: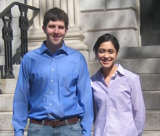 Late Night Pizza: Extending Hackathons Beyond Technology, by Alka Tandon and David Roth of Harvard Business School. David and Alka, both management consultants in their pre-B-School lives, were inspired by the problem of the lost tacit knowledge in the heads of colleagues who intersected infrequently. Time pressures inherent in the project-based world of professional services meant that insights gained on the front lines by consultants would only slowly, if at all, diffuse across the organization. Their solution is an adroit adaptation of the Hackathon innovation event concept, already popular among technology companies, for professional services.
Congratulations to Alka and David, who win $5,000 and will soon be preparing to run their experiment within HCL. 
Two other Hacks earn their teams $2,500 and the title Runner-Up:
The organization structure as free market from IMD Team #10 offer a radical re-imagining of the traditional employee-manager relationship, in which the employee selects the manager who is, in turn, rewarded with budget and scope in proportion to the results his or her team produces.
Stop incremental change and foster "Bold Moves" from LBS Group 10 suggests companies should require teams proposing major initiatives to offer at least one 'bold move scenario' that consciously escapes the gravity of incremental analysis.
Our thanks and congratulations to the teams, including our Honorable Mentions, the remaining Finalist teams, whose hacking has earned them $500:
For more coverage of the MBA M-Prize announcement, read MBAs Aim to Reinvent Management on BusinessWeek.com, The Benefits of Giving Prizes on FinancialTimes.com, Gary Hamel: Crowdsourcing The Reinvention Of Management on Forbes.com, and The MBA M-Prize's Winning Hack on Vineet Nayar's Harvard Business Review blog.
The MIX is pleased to be present at the birth of a new era of in vivo experimentation with bold new management concepts. Accelerating the evolution of management requires not only determined action to articulate and evolve alternatives to the status quo, but also the courage and vision to try them in living laboratories. By that standard, Late-Night Pizza and HCL seem particularly well matched, and we look forward to reporting on the progress of the experiment once it's underway.