Summary
Customer service professionals nurture a company's most important assets – its customers –, but they are also some of its lowest paid employees. There is some data suggesting that increasing the average pay in customer service improves the customer experience and makes business sense. You can read more about this topic and other innovative leadership ideas in customer service on my blog: http://www.linkedin.com/in/martonjojarth
Problem
Teachers and customer service professionals have a lot in common. In families, children are the most valuable assets of any parent, and teachers are the people who ensure these assets grow and flourish. In business, customers are the most important assets of any business, and customer service professionals are the ones entrusted with caring for them and providing an ideal customer experience.
Recently, I have read a research report correlating teacher's pay and performance in a number of countries. This made me think about how we view pay in customer service. The researchers focused on students in 8th grade and their math and reading skills, as measured by the Program for International Student Assessment (PISA). They found that students' achievement levels are higher in countries where teachers are paid more (adjusted for differences in purchasing power between countries). In fact, the data suggests that a 1% increase in teacher pay is associated with an almost equal increase in percentile scores.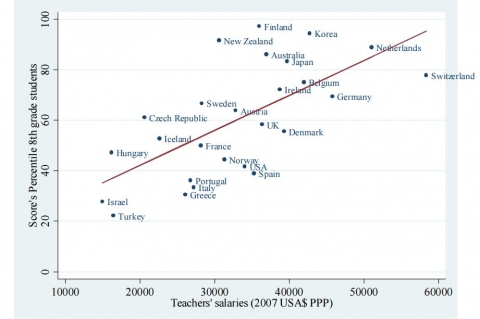 This correlation is not surprising, and although the study does not offer reasons, it is easy to come up with explanations: Higher salaries are likely to:
Attract people with more competitive qualifications,
Allow teachers to focus solely on teaching (as opposed to dividing their time and energy between teaching and other part time work),
Enable teachers to feel like valued members of society and to receive more respect from students and parents.
Advanced economies that realize the strategic importance of their children's education and understand the connection between compensation and performance invest more in their teachers. A key reason why, for example, Germany pays its teachers twice as much as Turkey is because the country knows that the only way it can successfully defend its status as a leading, innovation based economy against low cost competitors is through top notch education. And this can only be achieved by investing in top notch education professionals. They are willing to face higher costs in exchange for higher levels of student achievement. This is a trade off that most parents would make. Our children are our most important assets. We want the best education for them, and this is an area where we are hardly willing to compromise.
Another chart that I have been looking at is how salaries of teachers compare vs. other occupations. According to the Bureau of Labor Statistics occupations in the Education, Training, and Library category rank in the midfield across all occupational categories in terms of average salary. The average salary in the Education, Training and Library occupations was $46,140 in 2013. As most people would expect, this is much lower than management occupations and computer and mathematical occupations. But it is still higher than average salaries in many other job categories.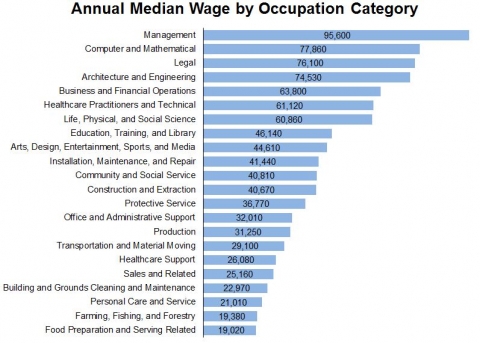 This is not surprising either. If a society sees children as its most important assets, it can be expected that the people entrusted with the care of these assets are fairly well paid.
For any business that sells products and/or services, clearly our customers are our most important assets. Without them, our business would have no purpose and would fail financially. So, I would expect that companies would make similar decisions about their customers as parents would about their children. If proud parents are willing to pay higher salaries to the people who take care of their children, wouldn't proud companies also pay higher salaries to the people who make their customers happy and safeguard the customer experience?
Looking at the data provided by the Bureau of Labor Statistics, this hypothesis does not hold true. The BLS reported that in 2013, the nationwide median pay for a Customer Service Representative was $30,870 per year. Customer Service Representatives are part of the Office and Administrative Support Occupations category and they rank at the bottom of that category. This category also ranks 6 categories below Education, Training and Library occupations. Business and finance operations occupations carry average salaries that are almost twice as high. It is worthwhile to note that, on average, Sales and related occupations – the other function within companies that interfaces with customers – are paid even less than Customer Service representatives.
Solution
This makes me wonder: Could a company boost its business results and improve customer experience by increasing the pay of its customer facing personnel? Yes. Based on the experience of our company, the relationship between pay and performance observed in the education sector holds true. Common wisdom is for management to ask employees to perform well and then reward them with higher pay. Our new approach is to pay employees more and then have management just sit back and enjoy getting better performance from the team.
Practical Impact
Happy employees make customer happy. Over the past 3 years, customer satisfaction at our company has increased by roughly 30%. We have minimal attrition.
Challenges
This leads us to the question why many companies are under-investing in customer service professionals when this might, in fact, negatively impact their shareholder value. Once companies realize that Customer Service professionals, like teachers, create value by nurturing and growing their most treasured assets, they will understand the business case for increasing the average pay of the customer service function – and hence its status, attractiveness and talent level. It is up to us, Customer Service professionals, to demonstrate this truth.
First Steps
In our company the first step was to look at inequalities of pay between employees. We found that some employees in a given role were paid significantly more than others, while this discrepancy could not be justified by performance or tenure. We decided to move the pay of the lower paid team members closer to the pay of the higher paid team members. Overall, 40% of all team members received at least some positive pay adjustment. Selling this to upper management was possible, because we could justify the move with arguments of legal nature. This first step has enabled us to measure the impact of the pay increase on customer satisfaction, which provides the business rationale needed to justify further increases in pay.