Summary
The road sign reads "Paradigm Shift Ahead"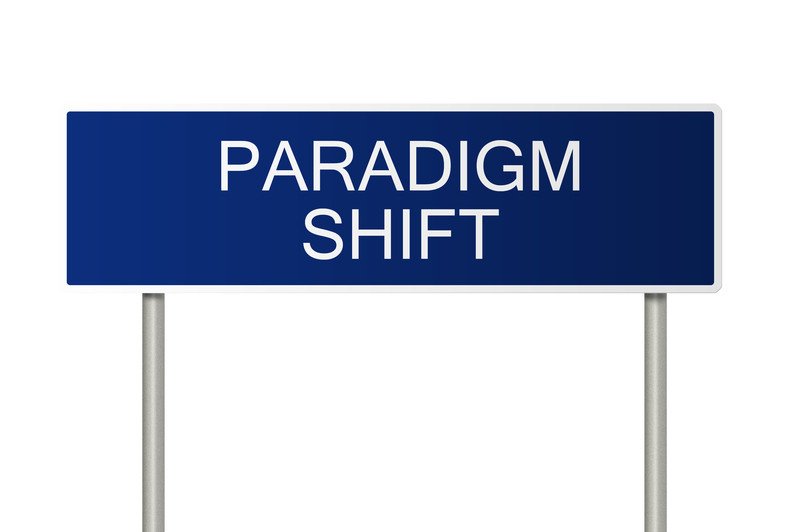 Around the corner is the oncoming shift.
We will exit roads named Bigger, Bigger Business, Bigger House, Bigger Car, Bigger Portions (have you noticed the garganuan girth of the peoples' waislline) Bigger Breasts and Bigger Longer Erection on the ready, when needed, although 3 hours is too long - call your doctor.
 
Perhaps it's also time to call the Doctor on the duration of the Bigger is Better paradigm as well. It has lasted too long, and it's ruining us.
Where will we go? 
What road will we take?
What is the paradigm we need now?

That is the question. 
Who has the answer?
To find out, read on.
 
Problem
Our love affair with BIGGER is at the bottom middle and top of many health, social, economic and environmental problems. We will shift this thinking and way of being or be shifted by its consequences. Read the roadsigns:
Failing governments
Failing economies that don't respond to methods previously used to "fix" such problems
Extreme weather conditions (This one is just beginning.)
Out of control U.S. health care costs that we cannot fix
Obesity epidemic
Extinction/depletion of species and natural resources that will not and cannot be restored (Been fishing lately? Catch much?)
How do we create the shift? 
Who has answers?
Solution
Turn to the Women
Women are not currently the driving power in business.
It is not our story, so we have a vantage point to see the assumptions on which the story is built.
Some of us see other plausible assumptions and the stories they can create. We'd like to change things.
How do I know? We asked. (Jane Perdue is my partner in seeking answers from women.) We did the research. We surveyed over 200 professional business women, most of whom work in large national or multinational corporations, to find out why they aspire to positions of power – to what end? Their top two priorities are "financial security for my family" not financial growth or riches, and "to lead change and make the world a better place."
Think: Fish don't see the water that they swim in. Don't ask the Fish about the water.
Where are the non-fish In business, the biggest lever for voluntary social and economic change in free enterprise societies?
Women are not the fish. We are outside the system. We did not create the system, although sometimes we swim in it. We are the non-fish. We see the water.
To make the paradigm shift, to answer the question "Where do we go from here?" ask the women.
Practical Impact
Just one tiny practical impact.
MAKE THE WORLD A MORE SUSTAINABLE, SOCIALLY CONSCIOUS, EMOTIONALLY CONNECTED, LIVABLE PLACE.
And by the way, women alone would be no better than men alone. We would have problems. Different problems, but problems nevertheless.
We need Both/And, Both Hands. All Hands.
Right now, and most immediately, we need to bring the non-fish into the conversation.
We need the women.
We need at least 3 in the room for their views to be heard and if we want to succeed at changing the water in the pond we swim in.

First Steps
1. Replace BIGGER. Make a shift.
I like fulfilling.
Is your life fulfilling?
Are you fulfilling your purpose for being here?
Are you full yet? Yes? Good, time to stop eating.
You may choose a different concept. That's fine.
The first order of business is to understand and stay true to WHY we want power. On behalf of what are we called to lead?
What is the story you want to tell about the world you helped to create?
2. Dress ourselves up in suits of power and get in the game, but never forget the purpose for which we donned those suits.
Understand the current rules.
Once there, and that means all along the way, create the shift.
Start pushing the broom from the other side.
3. Nelson Mandela this thing.
We are not better than men.
We simply have something different to offer, and it is needed now.
We also need men and women working together to make this new paradigm work.
Without men we will simply become fish in a different pond that cannot see the water in which they swim.
Here's a sample of what could be.
It is new story two women have already created. It's a story about fixing the economy and more. It is a story about BETTER, NOT BIGGER Enjoy.
Credits
The research one Women and Power is avaialable by contacting Dr. Anne Perschel at
Germane Consulting.