September 28, 2010 at 5:34am
Summary
Knowledge Management may have failed for empowerment and success but its effort is sustained today by the quest for autonomy linked to self-organization and self-drive. The Knowledge interactions that stymied Knowledge Management remain untamed. My means for Knowledge Flows tames interactions and conducts Dialogue for Feedback. Freedom and success follow.
Problem
Today we live in the shadow of catastrophe with the rich/poor, the ethnic and the digital divide growing. It raises the question: has mankind gained in its ability to pursue empowerment and success over the centuries? Empowerment is a powerful and romantic thought, linked as it is with Knowledge and Freedom, and success is a deep human desire. Together they represent the progress of man's intellect.
Knowledge Management was perhaps the first major attempt to develop a science around these two concepts. It declared the high end Knowledge workers engaged in judgments, investments, decision making, and risks worthy of special consideration because of their perceived impact on the destiny of the enterprise.
Knowledge Management (KM) could not break the following logic loop: If the workers themselves cannot organize the flow of their interactions then IT cannot hope to do it.  Thus KM could not overcome the impossibility of a one-size-fit-all Knowledge process. It submitted to the conventional wisdom that workers must self-organize and self-drive their Knowledge interactions. Correspondingly, KM proceeded to ignore System behavior, treated IT is a tool for Knowledge work and focused on the empirical aspects of Knowledge working:
Incentive and motivation systems to foster a culture for sharing Knowledge
Incentives/IT development to foster adoption of IT tools for collaboration
An organization or task force to assure total capture of Knowledge
The management of the Knowledge captured
Effective reuse of the available Knowledge
Measures to satisfy the identified needs of Knowledge workers like mobility, push/pull stimulation, interaction, privacy and contemplation
Identification of Key Result Areas and measures to guide the practice of Knowledge Management.
In the absence of a compelling System for Knowledge work – a method of working propelled by satisfaction of deep personal and professional needs - each of the above areas developed into a specialization with personnel required to perform the coordination. Systems on the lines of Quality certification were proposed (Satyadas & Harigopal) for the systematic conduct of Knowledge Management. This approach to better Knowledge work implied very expensive administrative overheads. It suffered from quite a few drawbacks:
Lack of support from philosophy and hence human nature. Knowledge Management sought to achieve its purpose by emphasizing the Knowledge imperative, namely, personnel must share because Knowledge work is like capital in its productivity but, unlike capital which declines with giving, the pool of Knowledge is raised by Sharing.
Disregard of the quality and quantity of interactions. In particular, use of simple linear language, good only for communicating the inner life and Knowledge of personnel, for communicating the complex content common to teams (see Barrier 'Creating a common language to unite stakeholders' to appreciate forces neglected). The communication was further complicated by the rapid growth of interactions.
Disregard of the loops of learning (See Barrier 'Neglect of the accumulated Management Wisdom' for details).
Dependence on incentives. Pfeffer & Sutton (1) have represented outdated cultures that treat Knowledge as power, fear of change, false analogies, internal competition, empty talk, mindless measurements, etc., are common. They prevent conversion of Knowledge as in best practices, insights, well laid plans, etc., to action, leading to billions in extra cost and failures. Incentives can be counter-productive as they are prone to the 'smart talk trap'.
Poor adoption.  The approach neglects worker needs – release from discipline, time/energy intensive  and comfort-zone threatening tasks - and at the same time seeks to change power equations, in particular the status-quo.
Knowledge Management did not succeed because of the seriousness of the drawbacks. At their core is the inability to tame Knowledge interactions. However, the force of its central ideas – empowerment and success - is such that they carry on. Not only are Knowledge interactions as unruly and chaotic and pressure inducing as ever but they are growing in their intensity to revolutionize the business place as evidenced by McKinsey studies (2).
70 percent of all US jobs created since 1998 require judgment and experience. The ratio is increasing rapidly. These jobs now make up 41 percent of the labor market in the United States
Recent studies—including landmark research McKinsey conducted in 1997—show that specialization, globalization, and technology are making interactions far more pervasive in developed economies. Outsourcing, for example, dramatically increases the need to interact.
Driven on by the romance of empowerment and the deep desire for success, Neo-KM has taken over the baton from Knowledge Management. It does not offer any means to tame interactions that is organized and managed by an intelligence independent of Knowledge workers and is therefore as dependent upon the personnel as before.  MIX itself showcases many Neo-KM initiatives. They suggest direct action like dismantling Command & Control or counseling to establish Trust & Teamwork or better Knowledge sharing in the name of either Freedom or good sense and civilized behavior or flow of Knowledge as a commodity. There is also a segment that believes better thinking for policy formulation is all that is needed for transformation. The assumption is that either the inherent value of Knowledge or the higher sensitivities or leader charisma can be a driving energy resource on the enterprise scale on a sustainable basis. The commercialization of Knowledge perhaps has method but lacks philosophy. Its materialistic appeal is inherently weak as established by Pfeffer & Sutton (1). The policy approach is needed for direction but must be supported by pragmatic execution since just thinking, whatever its quality, was never enough for uniting and driving a collective on a sustained basis. The higher sensitivities approach requires everybody to function with pure reason, team spirit, responsibility and consideration all the time. This approach to superior execution has succeeded under charismatic leaders like David Packard, Ken Iverson, and Sam Walton and in boutique organizations like IDEO. But instead of finding a means to promote the essence of their experience and realize the possible the attempt is to somehow replicate their results on the enterprise scale. Leadership and charisma either do not sustain on the enterprise scale or offer unstable models for replication.
Solution
The following understanding of success by Sun Tzu (3), the influential military strategist, philosopher and successful General of the Chinese Wu King in 5th century BC, has stood the test of time. It provides a valuable perspective to answer the question this hack addresses -   has there been any progress in the use of Knowledge?:
       "If you know yourself and know the enemy, you need not fear the result of a hundred battles".
I believe this means that if you emerge the Reality then success will follow.
Advances during the 20th century have identified the disciplines that surface the Reality and progress effective action. They were presented by Peter Senge (4) in his book 'The Fifth Discipline' published in 1991 to universal acclaim. The skills developed by the disciplines are as follows:
Problem Definition: It is progressed by focus on the root cause of the problem instead of the triggering event or the symptoms that reflect it. Mentoring facilitates the definition. The discipline is achieved by feedback to expose the generalizations made and surface the assumptions that underlie interpretation of facts.
Problem Solving: Focus on patterns of behavior and consciousness of the Whole vs. the Part, or the discipline of Systems Thinking, raises the quality of judgments that precede decision making. X-border feedback on assumptions, generalizations and perception stimulates a shift of mind as well as initiates an innovative response.
Concerted Action. The discipline of feedback drives learning. Feedback is the intrinsic power of a collective.  It leads to the formation of teams that foster trust and dispel the fear arising from uncertainty by spreading out responsibility. Feedback also facilitates firm leadership in synch with the grass-roots. In effect Feedback concerts action and raises the Collective Ability for superior execution to enable teams get what they want.
It emerges that Feedback, a product of Systems Thinking, is the key driver of Trust & Teamwork and the emergence of Reality. It may be understood as the prime enabler of individual and team Learning. It is this Learning that raises the ability to get what is wanted. It is the missing element for invigorating the all-important Collective Ability following its stagnation as discussed in my Barrier ''Absence of a means to exploit the latent collective ability for pursuing success'.  Feedback does not distinguish between the big and the small Knowledge worker. All are contributors to Reality and the response. It follows that the organization for Feedback, i.e., coordination and Knowledge capture, creates Trust & Teamwork and hence the collective. Further, per anthropologist Edward Hall as reported by Senge (4), it taps into a basic human drive: "The drive to learn is as strong as the sexual drive - it begins earlier and lasts longer".
A way to create a meaningful  Collective and raise its ability is a major advance. Today methods exist to define individual identity and raise ability. Prime amongst them is Yoga. I do not know of a reliable method to create the Collective or make it more productive.
Feedback is nothing but free-flow of Knowledge in context. It is demonstrated by the Discussion Boards of web news stories. The simple format makes it a matter of procedure. My Barrier 'The importance of dreaming about the free flow of Knowledge' explores the concept of free-flow and concludes it is delivered by Dialogue.  Dialogue on a sustained basis on each decision event demands enormous organization and discipline, hence immense energy. Today no reliable means exist to engender the organization and discipline for enterprises to assure Dialogue as needed on each event. The valuable combination of time, energy and volition that personnel are willing to volunteer was perhaps exhausted by the demand of the times a decade ago.
Free-flow of Knowledge has proven itself for superior Knowledge application and higher Collective Ability. The Wikipedia is an example. However, Prof. A. McAfee (5) has surfaced in his blog that Wiki's underlying technology, Web 2.0, needs to be adapted for the enterprise. Participation by personnel has to be somehow raised to cross the tipping point for reliability. My Hack 'Creating a common language to unite stakeholders' argues Web x.0 simply does not have the DNA to foster free flow of Knowledge across the enterprise.
The answer to the question on progress of mankind is now clear. One is inclined to consider Knowledge of the way to Collective formation, understanding and promotion of Freedom, and the concept of individual empowerment as major advances. However my discussion here on Collective formation and my Barriers 'The importance of dreaming about the free flow of Knowledge' and  'Change from within is a citadel that must be stormed – from within'  explore each of these developments and conclude they have their genesis in the flow of Knowledge. My Barrier 'Neglect of the accumulated Management Wisdom' shows that the accumulated wisdom of mankind is lying fallow in the absence of free-flow of Knowledge. It also identifies the needs of Knowledge workers that must be satisfied by any attempt to provide them a compelling way of working for generating the free-flow..
Thus far mankind has prided itself on knowing the way to empowerment and success and is inspired by results on a limited scale. That is not enough. The way needs to be practiced on the emerging global scale as well as in the much maligned government administration, and not function as a hot topic for foofaraw (a wonderfully evocative word created by Scholtes and pointed out by Nayantara in her Barrier 'The Need to Progress From People To Their Knowledge').  The Hack 'Compelling Energy for a quantum jump in organization performance with the same resources' explains my all-sizes-fit-one Knowledge process and its successful conversion of IT from just a tool to inexhaustible intelligent energy. The energy integrates the Knowledge worker's need to interact with a compelling means for the organization and drive of meaningful Dialogue on each event.  
Dialogue in context is sufficient to drive successful realization of the ends of Knowledge, namely, empowerment and success. Dialogue is unlike the other techniques for superior thinking like De Bono's Six Thinking Hats. They demand application of specialized Knowledge to show results. Study of patterns, incorporated in Systems Thinking, is not a direct component of Dialogue. However, it is facilitated by the capture of Knowledge that produces Dialogue. Dialogue as organized and driven by intelligent energy, is a means for conversation, free flow of Knowledge and superior thinking. It will serve all techniques of better thinking and enhance their prospects as well as gain from them.
I have treated failure of the practice of Knowledge Management and its replacement by neo-KM concepts for empowerment and success as worthy of a hack to emphasize Management must achieve a shift in mind towards Knowledge Application. Perhaps a System possessing the reserves of energy to organize and drive Knowledge interactions and manage Feedback is the most difficult part of winning with Knowledge.
Practical Impact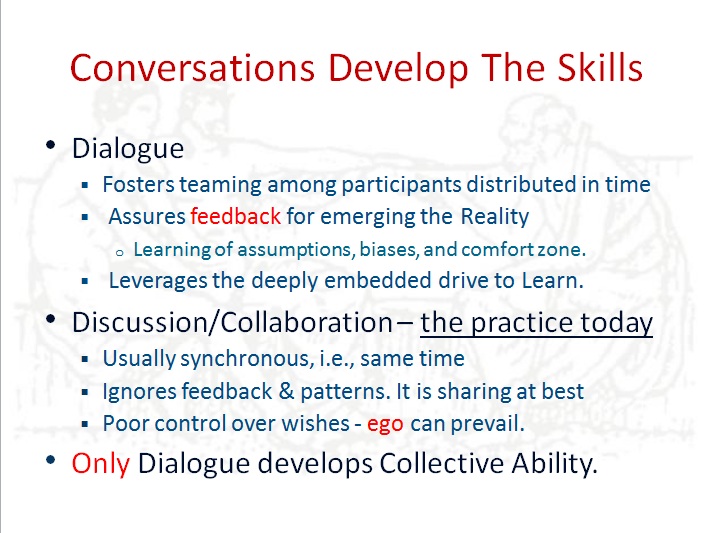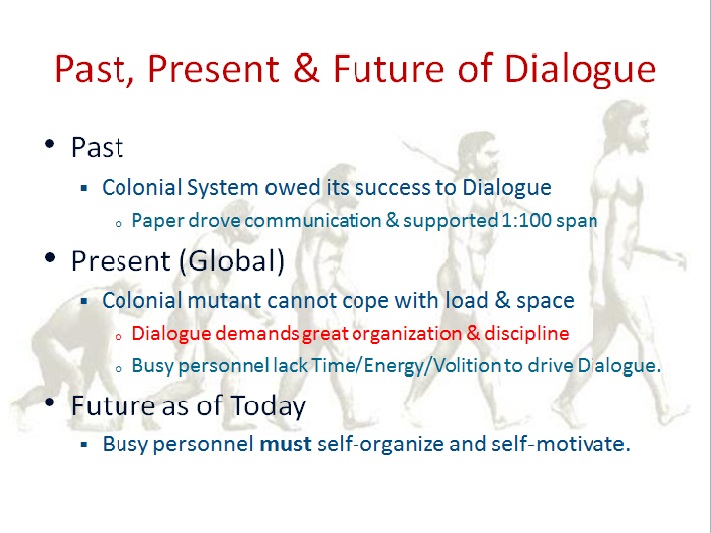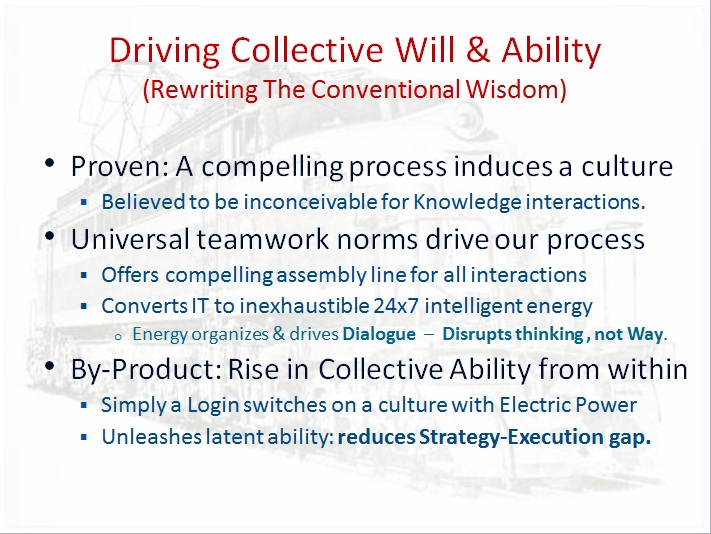 First Steps
This hack is conceptual to explain how openness may be created even where the ground is barren.
Please see Materials Section for guidance to my hack on compelling energy to progress change.
Images