Building a Better Boss with Bob Sutton
December 3, 2010 at 9:42am
Bob Sutton is one of the most provocative, practical, and profoundly human thinkers and writers in the realm of management today. He's written five important books over the last decade about closing the gap between knowledge and organizational action, evidence-based (rather than faith- or fear-based) management), and how the best organizations develop and implement creative ideas. My personal favorite is Weird Ideas That Work. Bob has more recently trained his relentless curiosity on workplaces polluted by jerks and bad bosses. His latest books, The No Asshole Rule and Good Boss, Bad Boss, offer up fresh thinking and engagingly practical pathways forward when it comes to revitalizing the most important relationship at work: the one between you and your boss (and between bosses and the people they manage).


Bob is also a good friend. And I'm delighted to introduce him as our latest MIX Maverick. We're kicking things off with what's bound to be a bracing, fun, and wisdom-packed conversation about what it means to be a great boss. And you're all invited. Sign up for the one-hour "Building a Better Boss" webinar (Thursday, December 9th at 11:00am ET) here.
We'll try to unpack as many of the great insights and engaging stories from Bob's latest book, Good Boss, Bad Boss, as we can during that hour.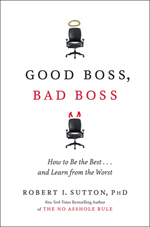 Meanwhile, some food for thought. The first idea that struck me is Bob's notion that "greatness isn't an achievement, it's a practice." That's a crucial mindflip in our hero- and goal-obsessed society. Greatness isn't some mountaintop you conquer and then sit enshrined atop—it's a day in-day out dedicated effort characterized by true grit, focused on small wins, and powered by a carefully balanced cocktail of confidence and humility. The good bosses who populate Bob's book might not all make it onto the cover of business magazines, but they all display what Oscar-winning Pixar director (and magazine coverboy) Brad Bird calls a "relentless restlessness" when it comes to the "craft of management."
Practicing that craft isn't about achieving greatness so much as about cultivating great performance and genuine humanity—and working very hard and very honestly to value both equally. Of course, this is where we get tripped up in our conventional approach to organizational success. As Bob puts it "it's a failure of American corporations and a failure of capitalism that we don't see human well-being and dignity as just as important as making money."


Good bosses don't only have to fight the overwhelming logic of capitalism-as-we-know-it, they also, according to Bob, have to fight the crushing gravity of human nature. Take the "toxic tandem:" behavioral research shows that when people get into positions of authority over others they end up paying a lot less attention to the people they lead than those people pay to them. Bob calls it "asymmetry of attention" and it's almost inevitable—as is what he terms "power poisoning." A large body of research demonstrates that when people get into a position of power, they become more focused on own needs, pay less attention to the needs of others, and believe the rules no longer apply to them. You may be the most compassionate and caring human being in the world, but when you become the boss it's almost guaranteed you'll become less empathetic and lose control over your impulses. Of course, most of us don't believe that this applies to us. But as Bob says, "the odds are that it is us. I think most of us should assume that we're guilty until proven innocent" when it comes to power poisoning.


So, in many ways, the job of a good boss is to fight creeping cluelessness. The irony of becoming the boss, says Bob, is that "the happiness and success of the people you lead depends largely on you being in tune with what it feels like to work with you and be around you." The most remarkable bosses are relentlessly inventive when it comes to finding ways to tune in, surface the truth (even if it's bad news), sharpen their self-awareness.


No one more than David Kelley, founder and chairman of the celebrated innovation firm IDEO (and founder of Stanford's d. school)—a creative leader and human being Bob and I both admire. Every time I talk to David I hear about some new organizational practice, personal discipline, or eye-opening mindset designed to unleash the best gifts of everybody around him. Bob talks about one of David's many antidotes to "power poisoning:" the Monday morning meeting at IDEO (when there were about sixty people in the Palo Alto headquarters). During the hour-long weekly all-hands meeting, Bob observed, David would talk for about nine minutes and then for the rest of the time everyone else would talk. Bob's doctoral students counted an average of 45 different speakers during that hour-long meeting. Now, imagine the balance of talking and listening your boss practices in your regular meetings! David goes even further than genuinely listening to his people. According to Bob, he often felt that "there were times when the best thing he could do was to leave the room. I used to joke to him, 'The key to your success as a manager is to manage by walking out of the room!"


Join us for the webinar on Thursday—we'll dig more deeply into the mindsets and practices of the best bosses. Also, if you're not already a fan, check out Bob's addictive, instructive, and entertaining blog Work Matters.