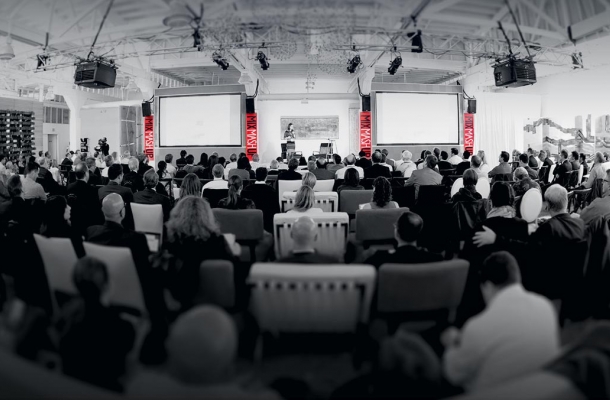 10 Reasons Not to Miss the MIX Mashup
October 20, 2014 at 6:23pm
The MIX Mashup 2014 is a month away—and you can still get in on a great, discounted rate until Monday October 27th.
If you're not already excited to spend two days with the most pioneering leaders, courageous hackers, and agenda-setting thinkers reinventing organizations, here are TEN reasons not to miss this year's event:
EXPLORE DISRUPTIVE IDEAS
1) How do we put the heart and soul back into business? Author of the celebrated new book, Reinventing Organizations, Frederic Laloux will offer up a powerful answer to that urgent question and lead us on a tour of a collection of the world's most progressive organizations. See Tony Schwartz's New York Times column on Frederic's book: "the most important and inspiring business book I've ever read."  
2) What does it take to create a genuine culture of innovation and experimentation?  Get a front row seat to Atlassian president Jay Simons' inspiring and entertaining insider's guide to this dynamic organization's approach to successfully starting and shipping things and competing on purpose, day in and day out.
3) How do we change the way we change? Vineet Nayar, the progressive "practitioner/thinker" who engineered the transformation of tech giant HCL Technologies and invented a radically practical approach to inverting the traditional pyramid, will share a short course on how to achieve deep, durable change without going through a crisis.  
4) What's the future of work? The most compelling leaders today are dedicated to devising ever more inventive approaches to unleashing human potential. Tongal founder James DeJulio will get you ready for the new era of "creative populism"—and share the new rules for activating, enlisting, and organizing talent in the social, mobile and digital age.
TAKE A DEEP DIVE INTO REAL WORLD FIXES
5) Beat bureaucracy. Zappos is on a journey toward "exquisite self-organization." John Bunch will offer up a rare inside look into the biggest, boldest, and most profound transformation of an organization into a self-managed, peer-regulated holacracy.
6) Create a movement inside a hierarchy. Learn from the catalysts behind an audacious campaign for grassroots change at the National Health Service—and how they're turning hundreds of thousands of health care workers into management activists.
7) Scrap the budget—and free yourself from the calendar. Bjarte Bogsnes, the maverick behind Statoil's bold experiment in re-imagining the budgeting process and reinventing the financial calendar, will recount how he created a Trojan Horse to turn a $95 billion oil and gas giant into a dynamic, resilient, and human organization.
8) Build a new organizational operating system. A band of New Zealand-based hacker-entrepreneurs have created a vibrant laboratory for re-inventing core management processes—from decision-making to budgeting to setting direction and funding new initiatives. Alanna Krause will offer a radically practical approach to developing and deploying powerful cultural technology.
DON'T JUST GET INSPIRED, GET STARTED
9) Meet the Mavericks, Heretics & Pirates Steve Jobs famously said "It's more fun to be a pirate than to join the Navy." True enough. But what if you're IN the Navy? How do you change the system when you don't control it? How do you launch a management experiment—from wherever you sit in the organization and with whatever resources you have—and create real impact? Join us for a collection of master classes with accomplished management radicals and a short course on how to "do" management innovation.
10) Launch your own experiment. You might have heard this before: "this is more than an event. . . it's a movement" or "you're not an audience. . . you're a community." That really is the case when it comes to the MIX Mashup. This event is the gathering of the clan of far-flung collaborators and hackers—a global community of management innovators working together and in their own organizations to drive change, launch experiments, and develop 21st century capabilities. You'll leave the Mashup not only inspired and energized, but well-equipped to make an impact—and supported by a powerful network of like-minded peers. There is no going back to business as usual after the MIX Mashup.
Please join us in New York City, November 18-20. You can learn more about the program here and register until October 27th at a significant discount. See you in NYC in November!