January 4, 2013 at 5:32pm
Summary
A Framework for a New Entrepreneurial Innovation Community, sv Dream Makers:
Jumpstarts the dreams of "American dreamers," in this country and all over the World.
Empowers people to make their dreams come true.
Believe that participation in the American Dream is not the "stuff of crazy dreamers," but a global imperative to grow a  better future.  
Is a way that Enterprises can work with independent entrepreneurs to stimulate their own entrepreneurial culture while benefiting from outside leading edge innovation more quickly 
Proposes a number of public/private initiatives designed to build the innovation  nfrastructure needed to skew the odds in favor of entrepreneurial success.

Our logo is energetic, powerful, dynamic, and upward-reaching—our symbol evokes the spirit of hockey-stick growth. It recognizes that the hopes and dreams of "Silicon Valley" entrepreneurs— everywhere--and their supporters are built on shaking things up, on doing things differently.
      1.   Innovation is about taking an unexpected, fresh perspective and embracing change
      2.   Innovation is about taking the initiative. Making things happen. Working together and innovation through collaboration.
      3.   Innovation is about shifting perceptions and seeing new ways to do and create things--that can have a profound effect  on people's lives and the planet.
Problem
Except for those entrepreneurs lucky enough to make it into incubators, each entrepreneur has to create their own infrastructure. An infrastructure that could easily be shared is the gist of the proposed initiatives. The Initiative weCEOs have spelled out in detail here addresses the two biggest unmet needs in our economy:
Access to capital early in start-up or small business life--even at inception.
Cost effective creation of new jobs
Lack of Early Stage Funding: Typically entrepreneurs and small businesses rely on their personal resources (credit card debt, lines of credit) and friends and family. In this economic climate friends and family are hard pressed to help. The Small Business Administration (SBA) requires collateral that many entrepreneurs and small business do not have. Private equity markets are tight. Angels who used to provide seed money and early stage investments rarely do now. There is very little difference in the investment requirements of Angel Groups and Venture Capital these days. See FIRST STEPS for our radical solution.
The lack of funding is only the beginning of the Entrepreneurial Innovation Community infrastructure needed.
Solution
sv Dream Makers Innovation Initiatives
The sv Dream Makers Community is about accelerating innovation and job creation through collaboration in a series of Innovation Initiatives.      
Innovation Initiatives: Innovation through collaboration requires a unique ecosystem that happens at the intersection between visionaries/thought leaders, entrepreneurs, investors, and customers where they can collaborate together and accelerate innovation into the future.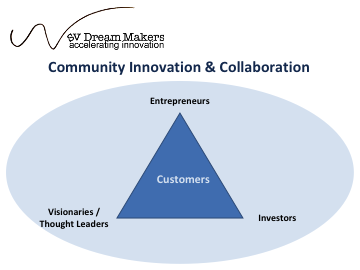 sv Dream Makers accelerate innovation:
through initiatives
in emerging technologies
for stakeholders
with partners
by various methods/programs
Innovation Initiatives thought starters for the proposed Entrepreneurial Innovation Community. We're committed to fostering innovation through collaboration in all these areas.
Pay-It-Forward Investment Fund (See description for this top priority program in FIRST STEPS.)
Mentorship Program
Ideation Collaborative
Thought Leadership Bureau
User Experience Test Bed
Early Adopter Clearinghouse
Voice of the Customer Research Panel
Innovators Circle
Practical Impact
Dreamers are honored, and nurtured. They are actively encouraged with finances and mentors to bring new product/service categories, new companies, and entirely new industries to market reality.
The "can-do spirit" of the American Dream gets material help with executing well on "Main Street" AND on "Wall Street."
 "Silicon Valley" is not just an innovation symbol to the world, but a state-of-mind for all– no matter the gender, race, ethnicity, age, or location.
First Steps
sv Dream Makers Pay-It-Forward Investment Fund
Our Solution Is Radical: GIVE EARLY STAGE FUNDING AWAY
The idea is to get more start-ups and new businesses launched in the first place with a chance of getting the business going. The odds of winning are in favor of this radical idea.
Early Stage Micro and Matching Grants: We believe that a hand up is not a hand out. We are betting and playing the good odds that commendable and motivated entrepreneurs (who are supported by an Entrepreneurial Innovation Community) will be successful. We believe that the return on these grants will be exponential and that asking for collateral is only an impediment to the significant upside in job creation and the potential return of a "pay-it-forward" reciprocal contribution. This is not a loan, but a higher promise to reinvest their own prosperity in other entrepreneurs through this Investment Fund. 
Micro Grants of $10K: If we give away $10K, we increase the likelihood that a SMB will get to "new employer" status and quicker. Job creation is just the beginning of a return on investment. 
Matching Grants Up to $50K: If the entrepreneur can raise some cash, it shows that entrepreneur is CONNECTED to friends and family and community. This entrepreneur is more likely to succeed, e.g. has more resources than a lone wolf.
The Odds:  We play the numbers. 1/3 of "new employers" will last 10 years[1]. So for every three grants of $10K, one could easily "pay-it-forward."
The Return Is Threefold: 
All recipients will promise, in a written contract, to "pay-it-forward" in each of these three ways– whether they      succeed in launching the business and hiring workers or not.

Make a sliding scale suggested contribution to the sv Dream Makers Pay-It-Forward Investment Fund.
Garner additional investments for the Investment Fund from others.
Participate in sv Dream Makers Innovation Initiatives.

The effect to the tax coffers of the government. One new job represents $40 to 70K of income to an individual, which is $10K to 20K in taxes per year.
General spending by those with the new jobs boosts the economy overall.
Radical Solution Validation:
The effect of just one a job created by one entrepreneur or small business is a very basic and conservative way to validate our radical solution. We assumed a grant of $10K would jumpstart the addition of 1 employee @ $40K per year. We used government statistics on the survival rate of new firms to calculate the cash flow generated from one job per firm over a ten-year period from 10 entrepreneurs or small businesses. The total investment is $100K or $10K per firm.
[1] What is the survival rate for new firms?  Source: U.S Dept. of Commerce, Census Bureau, Business Dynamics Statistics; U.S. Dept of Labor, Bureau of Labor Statistics, BED.8.  Seven out of 10 "new employer firms" survive at least 2 years, half at least 5 years, a third at least 10 years, and a quarter stay in business 15 years or more.
Cash Flow Model: 
| | | | | | | | | | | |
| --- | --- | --- | --- | --- | --- | --- | --- | --- | --- | --- |
| YR 0 | YR 1 | YR 2 | YR 3 | YR 4 | YR 5 | YR 6 | YR 7 | YR 8 | YR9 | YR 10 |
| (100K) | 280K | 280K | 200K | 200K | 200K | 120K | 120K | 120K | 120K | 120K |
IRR/YR Approach:
The return on the initial investment varies based on the assumed positive cash flows in future years. With optimistic cash flows as shown in the following chart, the Internal Rate of Return per year (IRR/YR) on the original $100,000 investment is 274.18%. We also show several IRR/Y percentages at lower assumed levels of future cash flows. For example, at only one-fourth of our levels of future cash flows, the IRR/YR is still 60.01%. If the investor only sees one-tenth of our projected future cash flows, the IRR/YR is still positive at 15.02%! 
| | |
| --- | --- |
| IRR/YR | 274.18% BASED ON GIVEN   CASH FLOWS |
|   | 131.96% BASED ON 50%   OF POSITIVE FLOWS |
|   | 60.01% BASED ON 25% OF   POSITIVE FLOWS |
|   | 15.02% BASED ON 10% OF   POSITIVE FLOWS |
Discounted Cash Flow Approach:
Another way to view the investment calculates the Net Present Value of the total cash flows at various Discounted Rates of Return. Because investments of this type include more risk than treasury notes or money market investments, investors expect to receive a higher percentage return on their investment. For example, we show the Net Present Value of an original investment of $100,000 at a high return rate of 25% to be a positive $658,803. Using a more moderate target return rate of 10%, the Net Present Value of the same investment rises to $1,079,454. We include Net Present Values at other target rates of return for reference. 
| | |
| --- | --- |
| DCF RATE % | NET PRESENT VALUE |
| 25% |  $              658,803 |
| 20% |  $              764,568 |
| 15% |  $              900,481 |
| 10% |  $          1,079,454 |
| 8% |  $          1,266,871 |
| 6% |  $          1,266,871 |
| 4% |  $          1,380,341 |
| 2% |  $          1,510,312 |
| 0% |  $          1,660,000 |
 A Radical Job Creation Game: Create jobs via American dreamers by giving them access to micro capital, spreading prosperity and creating jobs now. Without creating any new bureaucracies—the sv Dream Maker Community provides the structure and support-- we can accelerate the engine of job creation in the most efficient way known: small business. Over half of the jobs in the US are from SMB between 10 and 99 employees. We can play winning numbers without bias and without prejudicial requirements.
Versus…The Venture Capitalist Game: VC's use the same math as most sales organizations; They expect to get 80% of their revenues from 20% of their clients.  But, those 20% have to be "BIG" winners and the reality is that many businesses can be financially successful, hire large numbers of people, be in business many years, and never reach revenues in the billions. 
According to the AngelBlog Venture Capital Funds—How the Math Works by Basil Peters, "A minimum 'respectable' return for a VC fund is 20% per year. This is set by the expectations of the investors in VC funds, the relative risk levels compared to other investment classes, and the performance achieved by other Venture Capital fund managers.
"Another way to look at this is that a ten-year Venture Capital fund needs to repay investors six times (6x) their investment. This means that those two "winner" investments have to make a 30x return (on average) to provide the Venture Capital fund a 20% compound return--and that's just to generate a minimum respectable return."
"Radical" Selection Criteria Detail:
 How to decide who gets the money:
 Rigorously gender-, race-, ethnicity-, and age-neutral standardized application/Business Plan to avoid natural hard-wired human bias to be more favorable to people who look like themselves[2].
Weight it towards any motivated and credible entrepreneur who agrees to be mentored.  We are looking for energetic, people who that don't need to be encouraged to see or seek the American Dream. (The success of sv Dream Makers will make this pool of people grow!) 
References would be done within blind process guidelines so identity would not be skewed. Innovators' support system and participation in the sv Dream Makers Community is essentially their "collateral."
[2]Blink –the power of thinking without thinking by Malcolm Gladwell gives a relevant example of blind auditions in symphony orchestras that rendered a very different result than when judges could see the musician auditioning.  Result accelerated diversity in makeup and better orchestras.
Source of Funds:
Entrepreneurs and small business repaying their grant by paying it forward to benefit other entrepreneurs and small      business.
Contributions from others in the sv Dream Makers community—to pay forward for unrelated good turns they have received--not just entrepreneurs who benefited. A way to participate in an innovation culture.
Crowd funding as the word gets out through social media and other online communities.
A safe and cost effective way for large enterprises to invest in innovation and through the sv Dream Makers Community to help shape it—without having to wait until the start-ups have more of a "proven product and customer base." By being part of the Entrepreneurial Innovation Community, these large enterprises would be more likely to have access to additional investment opportunities as these entrepreneurs developed. And by having their own people work closely with independent entrepreneurs, the Enterprise's own entrepreneurial culture will be stimulated.
An easy, affordable way for Angels and Venture Capitalists to screen and shape potential investment opportunities, much  as large enterprises would. Essentially their "farm team."
Joint ventures with Universities
Small Business Administration
Others
Credits
Inspiration for sv Dream Makers Pay-It-Forward Investment Fund
 "Pay-It-Forward"
The expression pay-it-forward" is used to describe the concept of asking that a good turn be repaid by having a good turn done to others instead of being returned to the original good-turn doer.
The first reference to the idea "pay-it-forward" is in a 317 BC Greek play – which was lost until 1957. Before that Benjamin Franklin had "rediscovered" the idea in 1784, which spurred an essay "Compensation" by Ralph Waldo Emerson in 1841. But the actual term "pay-it-forward" was popularized by Robert A. Heinlein in his book Between Planets, published in 1951.
A more viral version was popularized in this century by Catherine Ryan Hyde's novel Pay It Forward adapted into a Warner Brothers film.  As portrayed in the film, when one receives a good deed, there is an obligation to do three good deeds for others in repayment of a good deed that one receives. Such good deeds should be things that the other person cannot accomplish on their own. In this way, the need to help one another can spread exponentially through society, creating a social movement with the goal of making the world a better place. (Source: Wikipedia)
Risk is part of innovation
"The Flip side--it's impossible to have a coin with only one side. You can't have heads without tails.  Innovation is like that. Initiative is like that. Art is like that. You can't have success unless you're prepared to have failure. As soon as you say, "failure is not an option," you've just said, "innovation is not an option." -- Seth Godin's BLOG, 2011 
  
Blindness to all but character…
" I have a dream that my four little children will one day live in a live in a nation where they will not be judged by the color of their skin but by the content of their character...."    -- Martin Luther King, Jr., 1963
weCEO Founders
sv Dream Makers is spearheaded by weCEOs, a group of women serial entrepreneurs located in the San Francisco Bay Area. We are seeking sponsors for this new sv Dream Makers Community of entrepreneurs, investors, visionaries/thought leaders, and customers.
weCEOs inspire, encourage, and appreciate each other and share phenomenal food and wine as well as food for thought! We are already an Entrepreneurial Innovation Community. Founding members are
Key Contact:  Linda Sharp, CEO, Religence, Inc.
linda.sharp@religence.com, (415) 771-7473  
Social CRI Communities Innovator. Passionate about CRI—Customer Relationship Intelligence. CRI Patent Holder, CRI Thought Leader/Author, Religence CRI Team. Collaboration Maven.
Linda's company has leading-edge tools/ methods to map/ measure/ manage the collaboration experience and relationship development--interaction by interaction--in the sv Dream Makers Community. Her breakthrough approach makes sense of real-time operational data and ties customer and community relationships to profit and other positive outcomes. See her and her Religence CRI Team's HACKS:
Measure Innovation Community with CRI
Measure Performance Innovation with CRI
Measure Value Creation with CRI
Measure Strategy Execution with CRI
Measure Management 2.0 with CRI
Elizabeth Hager, CEO, BizMile Tracker,
eehager@BizMile.com, (510) 788 6355
Technology should be easy, useful and entertaining – the Digital Geo landscape is particularly fertile earth. BizMile Tracker is just one example: it makes tracking car mileage "a business no-brainer."
With a sustainable bio-design education,Elizabethhas grown skills as a businesswoman, a creative strategist, an ecologist, and tactician of execution. She is a serial entrepreneur for various consultancies and product companies.
Natalie L. Wood, CEO, The Thought Net, 
natalie@thethoughtnet.com  (415) 425-7124 
Providing thought leadership consulting, helping companies build their brand to become innovative market and social business leaders, leveraging new trends and online platforms.
With a focus on creating engaging and effective thought leadership programs that leverage new trends. These programs include the design of interactive tools to educate, engage and promote new customer relationships. And, they help promote higher visibility with the marketplace and better customer engagement to increase new sales opportunities. Thought leadership centers on earning a position of trust and credibility and is most often obtained through the delivery of unique, relevant, captivating content – information, insight, and ideas.
Claudia Brenner, CEO, Atomic Strategic Design,
cbrenner@atomicstrategicdesign.com, (415) 706-0287
Digital business innovation: delivering simple user experiences and solutions that seamlessly integrate complex businesses through portals, mobile devices, and smart intelligence systems.
Solve complex challenges with strategic systems, innovation and user-centered design practices.  Create long-lasting digital solutions: mobile applications, global cross-enterprise portals, and online businesses for Fortune 1000, medium-sized, and start-up companies.  
© 2013, weCEOs, et al: Linda Sharp, Elizabeth Hager, Natalie L. Wood, Claudia Brenner