November 25, 2010 at 12:05am
Summary
A practical and actionable framework to explore strategic options to TURNAROUND service-based companies. It's not as intangible as it seems.
Problem
Turnarounds have been extensively researched but most of the management writing and thinking has been around manufacturing companies or businesses with their outputs having a large tangible component. However, there is relatively lesser work done for turnarounds for service based companies in which the traditional strategies might prove to be counterproductive. This entry focuses on turnaround strategies for service based companies and how they necessitate a different mindset.
Fortune's list of the "most admired" service companies is one of the most dynamic of the published company rankings marked by most number of basis changes every year. Thus, it can be safely inferred that service based companies are somehow more vulnerable and exposed to internal and external stimuli than other industries. Moreover, the basic nature of a failing service based business is quite different than any other manufacturing based company which makes it more difficult to borrow best practices from previous turnarounds.
Solution
A 'turnaround situation matrix' proposed by Marius Pretorius in the 'Journal of Business Strategy' provides different situations in which a company (not necessarily service based!) might find itself and also provides strategic options for each scenario.
Situation Matrix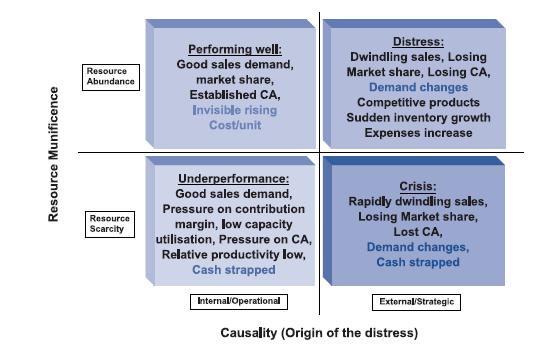 Strategic Options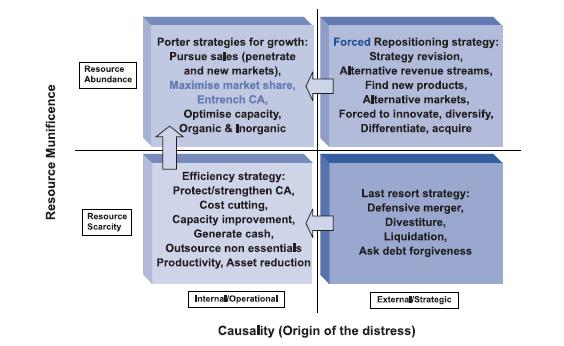 At first glance, Service based companies are fundamentally different from other industries but if looked at a little more closely, most concepts and terminology from these industries have non-tangible cousins in the service industry for instance Capacity, products, inventory, assets etc. most of which are employees.
Therefore, in the global interest of presenting all service based industries with a more intelligible framework (which they all would probably need when the sun starts shining again!)for them to work with , I present a tweaked situation matrix to make it lean towards service industries and provide service specific actions that businesses can take.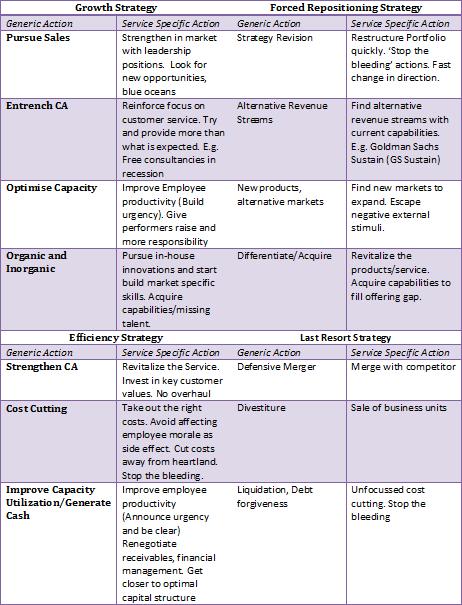 Practical Impact
De-mystify decision making at service based companies. Present clear and actionable strategic options for the management to pursue. Avoids developing a new mind-set to deal with business intangibles when faced with uncertainty, doubts and fear. Allows immediate action and avoids experimentation with strategic options resulting wastage of management bandwidth and time.
First Steps
Assess the situation and identify the situation the company is in, selecting one of the 4 situations in the matrix.
Let key stakeholders (in this case they are mostly the upper management) know of the need to re-organize and              re-strategise. This should be followed by a general address to the employees to build urgency and break inertia.
Once the situation and related strategic options are mapped, the resources that will be affected have to be informed at a level deeper than other employees for instance, is more focus is needed to re-balance the customer base and our offerings to them, the sales need to included in this decision and the reason to deemphasize some customers has to be explained to gain buy-in. Low moral cannot be alleviated with authority or do-as-we-say attitude in these times.
Form core implementation teams in the top-management to execute and communicate the strategy. What's repeated is remembered in these times.
Credits
I Would like to thank and acknowledge Mr.Marius Pretorius  for providing all of us with the original 'Situations Matrix' published in the 'Journal of Business Strategy.
The modified framework for turning around service based companies was conceptualized and developed by Karan Peri
Images