Summary
If there was to be a revolution in the Project Management space, what would it possibly be / look like?
This is what I would predict: All managers would become extinct, just like Dinosaurs – in the near future.
So should we trick evolution and ensure survival of the "Manager" breed OR be a witness to this (carnage) and not do anything OR maybe adapt / evolve, unlike the not so lucky Dinosaurs?
Problem
The problem statement is simple and complex, at the same time. To best describe this, read the next few questions and you will get where I am at.
Can we continue to exist as managers and with our current mindset, (around project management) in this ever changing and dynamic environment?
Can we continue to rely on our legacy and time trodden approach alone (from the birth of Project Management during the Great Giza Pyramid, to the Industrial revolution, to now, and beyond)?
Can we intentionally bring in a "disruptive" approach, so as to join the ever growing frenzy / race for optimization / transformation / success and also not be left behind other disciplines (plus sound jazzy while we are at it)?
I believe not enough questions are being asked.
Fundamental issues with our current way of "managing" can be categorized as below (organized under 3 main heads):
1) APPROACH - To a large extent and in general, our project management philosophies all lay stress to the technical aspects of managing – how to manage, what to manage and so on.
We are also held hostage within the iron triangle (Cost, Scope and Schedule) and just cannot see beyond.
The crucial elements that play a significant role in ensuring that projects succeed – being people aware, understanding needs and expectations management, are more often down played / ignored altogether or are gained only by experience (both in success and failure).
2) STYLE - There are always going to be managers on one side and leaders on another side. We will continue to inadvertently encourage these 2 SEPARATE breeds.
3) FUTURE PROOFING - In the futuristic world, will the current concepts hold good, or do we need to re-define this space?
Can we even Dare?
Solution
We have to seriously start believing that Project Management is not only science, but a (strange) combination of art and science (and maybe luck as well, which I am leaving out for the moment). Strange because for every project you will need a varied mix of these skills, and if you are lucky enough to run the same project twice, you will end up getting a different experience (and sometimes result) altogether!
This is how I would love to influence these fundamental issues listed earlier:-
APPROACH
We are taught to base our project management around managing the constraints (the Iron triangle of Cost, Scope and Time) from the very beginning.
No wonder then, that our focus is almost always constraint oriented and constrained accordingly.
Our modus operandi also needs to shift from a "narrow" science / technical mode (aka scope, cost, deliverables, schedule, quality and then work towards fitment and fit for purpose) to a wider people and needs mode (aka fitmentand fit for purpose first followed by associated quality and timeliness etc), akin to what the LEAN methodology also emphasizes.
Such shift in approach and mindset will force-evolve a transition from being compartmentalized and hierarchical to a more collaborative and flatter ecosystem (for organizations, teams and people within and outside).
This will facilitate an environment where perfect alignment between people, their needs and overall expectations is indeed possible.
To summarize: I would recommend trashing the famous iron triangle of project management in favour of a balance – depicting Project Management and Project Manager's true philosophy and intent – balancing People's Needs and Expectations.
Both are not the same, and getting them on a level playing field is what project management is all about.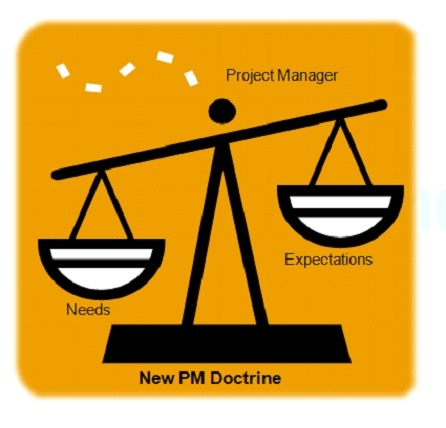 STYLE & CULTURE
By virtue of its current design and topology, the project management ethos is structured so as to bring out the managerial qualities / abilities in any one indulging in it, unfortunately.
Also, more often than otherwise, the implicit widespread understanding / given is that, Leaders run companies and Managers run projects. Why?
What separates the Leaders from Managers and why don't they find the time to run projects as well?
Talk about leadership skills and you talk about the softer aspects around motivating, leading the team from the front, setting an example, taking risks when necessary and also common sense sometimes (to speak of a few but key aspects).
We should go ahead and orchestrate our education and training / certification processes so that we can help groom people turn into leaders and not typical managers who can at the most, swear by, and manage by the book.
Also, in line with the approach, I would like to reconfigure the essence of Project Management as more parts Art, and less Science.
In doing so, (hopefully) Technical and Business Savviness, Process Definition and Controls etc will all be old norms and an expected baseline, from where it is only an understanding, facilitation and collaborative process that is applied on top – to execute projects.
FUTURE PROOFING
How do we future proof our new approach?
If you look at the recommended approach and style outlined earlier, these lay emphasis on a people / expectation centric outlook and "managing" in a non technical mode, by focusing on the softer aspects.
By doing so, I strongly believe that we will always be "future proofed" and the discipline of Project Management can be taken to the highest levels!
In closing, for me, the "Art of Project Management" holds more water than "Project Management" alone.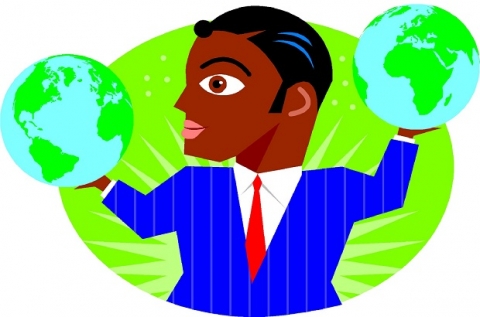 Practical Impact
Practically everyone and everywhere.
Challenges
Current deep rooted mindset and fear of the unknown.
Monolithic principles and culture.
Equivalent to turning this whole system upside down / inside out and is going to be no mean task.
First Steps
Get into this mode, and understand benefits / challenges in deploying the same.
Keep Going.