January 13, 2011 at 3:39am
Summary
Create a new management model with the highest level of employee engagement associated with employee ownership by adopting this new model of employee ownership that makes all employees owners and entails no shares (stock) and no purchase payment by the employee or employer.
Problem
Management failure as evidenced by the lack of employee engagement
This is one of the most pressing problems of our times. It is identified by a number of symptoms such as a high staff turnover, poor customer service, lack of innovation, poor productivity, to name but a few. All have a negative short term and long term impact on the business.

Unfortunately efforts to rectify matters do not seem to be working.
This is partly because employee engagement is a convenient catch-all heading to include them all and most attempts to address the problem still focus on the individual symptoms. They are therefore piecemeal and lack the power of an integrated solution.
More significantly though, we are not solving the problem because our business and organisational structures work against any solutions.
Why? There is a clue in the term itself, which is indicative of old-school "command and control" thinking. This leads to top-down initiatives to solve the problem. These perpetuate the problem they are intended to solve, and so the solutions contain the seeds of their own inevitable failure.
Failure to recognise the value of people
Despite the importance of people there is nothing in the present structure or management system that recognise their value. Organisations simply do not value people or acknowledge the loss of value inherent in their redundanccy programmes. People are managed as costs and not as assets.

Even our employee ownership models are not as effective as we would like
Employee ownership is generally recognised as one of the best ways to engage people. This is why share options are so popular. Unfortunately most existing employee ownership schemes are variations of two basic models and both have their limitations. In particular they either or both:-
      Fail to include all the employees on an equitable basis;
      Do not adequately correlate performance and results.
A new model is required that will substantially address these shortcomings.  
Solution
Move away from the concept of "employees" to one of "Human Assets"
Employees inevitably implies a master and servant relationship and perpetuates "command and control" thinking. To start moving away from this take the cliché "our people are our greatest asset" literally. An asset is distinguished by the fact that it has value. And for a business this means they are shown on the Balance Sheet. Thus you need to recognise every person who works for your company has a value.
Value people as "Human Assets" and incorporate them onto the Balance Sheet
By determining the value of each individual and adding up the total of all employees you create a distinct new class of asset. You can call this Human Assets.
You can then add this to your balance sheet with your other assets. (This is currently contrary to Generally Accepted Accounting Practices (GAAP) but that does not mean you cannot do it in your internal accounts. You probably do a great deal in your internal accounts that is contrary to GAAP).
Create a balancing "Human Capital" Account
To keep your Balance Sheet in balance you need a corresponding entry. You create this by posting an equivalent amount to a new account called Human Capital.
Create universal employee ownership through the "Human Capital" Account
Normally you would treat this as a reserve. Now, however, you add it as a separate category of ownership, as follows:-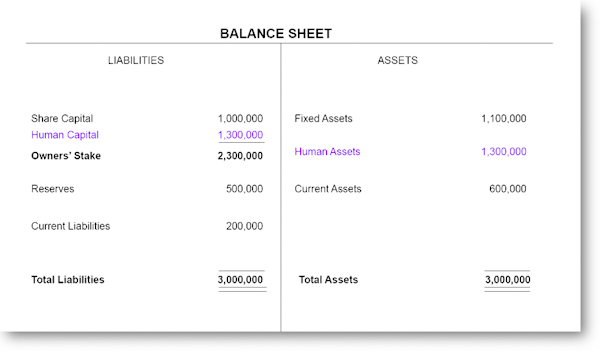 By doing this you will effectively make each employee an owner in the business with a stake equivalent to their asset value. The beauty of this is that, because it is universal, it makes everyone an owner and not just an employee.
Combine the best of the capitalist and co-operative business models
With Share Capital and Human Capital as two categories of ownership you combine the best of the capitalist and co-operative models. You give the owners all the benefits associated with traditional capital investment, and at the same time you recognise that none of it is possible without the human endeavour and reward the human effort. You do this by sharing profits between your shareholders and your employees through a "two-tier" dividend. For example, assume the company above made a profit and decided to declare a dividend of 25 cents. It would thus pay a "capital dividend" of $250,000 to the shareholders (1,000,000 times 25 cents) and a "labour dividend" payable against the Human Capital and to the Human Assets of $325,000 (1,300,000 times 25 cents.) This provides a more obvious link to the overall human endeavour and will inspire people more because they are all effectively "working for themselves."

Distribute profits through a "two tier" dividend - a capital dividend and a labour dividend
This should also be more attractive to the shareholders, because the profit distribution to the people replaces traditional incentive remuneration schemes and all their inequities, and, by engaging people more, facilitates the creation of a superior bottom-line, meaning there is more to distribute.  
Manage effectiveness of people management through a standard new performance measure
Of course none of this is possible without incorporating people into the Balance Sheet. By doing this you recognise them as a valuable part of the organisation and start reshaping management attitudes, which traditionally - despite protestations to the contrary - regard people only as costs. More importantly, though, you also create a new balanced scorecard measure Return on Human Assets or Return on Human Capital; (Profit/Human Assets.) This brings people management into line with the measurement of other assets and creates a benchmark criterion for comparisons.
Practical Impact
The moonshots section includes only the 3 moonshots deemed to best addressed by the solution. However, it addresses many more. (Actually 23 out of the 25.) You can readily see this for yourself in the following chart, where they have been:
      Identified by the smiley faces
      Ranked using a 1-3 scale to assess the impact, where 1 is a weak impact and 3 is a strong one.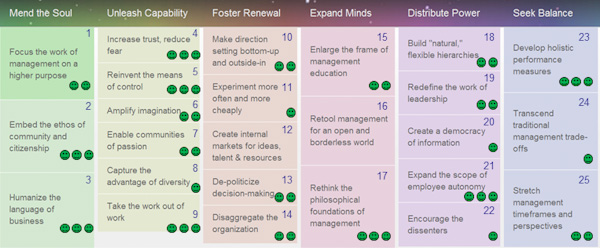 (The rationale behind this chart and the reasons the model addresses each of the moonshots is included in a PowerPoint at the end of this document for readers who are interested.)
The moonshots have also been numbered, so that the practical impact points listed below can be related to the moonshot they address. The moonshot number/numbers is/are depicted in parenthesis.  
The practical impact of this model can be summed up as follows:
A complete reshaping of attitudes and behaviour in the way people are regarded, which increases trust and reduces fear. (4)
The validation of the part that people play within the organisation and proper measurement and acknowledgement thereof, which makes business more humane. (3)
People will be recruited for their potential rather than just their competencies. (3)
People will be encouraged to fulfil their potential by increasing their asset value and thereby take some of the "work" out of work by increasing their enjoyment of their work. (3, 9)
The incentive for people to enhance their asset value and improve themselves within a work context will create a spiral of continuous improvement in all arenas, and thus enable a community of passion. (7)
The creation of organisational integrity through a culture of common purpose built through shared values and the organisation working as a single team. (1,2)
A true alternative to "command and control" that leads to distributed leadership and encourages "intrepreneurship" and a democracy of information. (10)
More open, regular and meaningful communication throughout the organisation with greater understanding of business drivers and results. (6,20)
Less reliance on a few people at the top - and further removed from the day-to-day operations - to make key decisions. (10,13,14)
A force that drives the organisation to a level of optimum efficiency. (5,6,7,19,21)
A force that encourages people to speak up and to contribute their ideas when they encounter problems or challenges, which will also encourage the imagination to spark innovation. (6)
A reduced dependency on "management" and a greater degree of empowerment and self-management. (2,5,7)
People will have a greater "work-life" balance because their work outcomes will be more related to their personal drivers and they will expect and receive greater fulfilment in optimising their own potential. Here you are actually removing the stigma of the word "work" implied in the phrase "work-life balance." (9) 
A new dynamic between manager and employee makes for new industrial relations, without the historic conflict. (10,11,17, 24?)
A platform for a new and more strategic people management function. (15,17)
More engaged people within an organisation with greater responsiveness, adaptability and a willingness to change. (8?,10,11,22)
Greater innovation through greater contribution and less expectation of the "corporate few". (1,2,6)
Less emphasis on performance measurement and management. (3,23)
Reduction and possible elimination of incentive based pay, with all the problems that creates. (2,4)
Organisations better equipped to balance environmental, ethical and corporate social responsibility issues. This makes for a more value driven organisation that can work to a higher corporate purpose and justify its ongoing existence. (1,2,6,8?,13,14)   
A common language that will facilitate improved communication between Finance (left-brain) and OD and HR (right-brain) people. (15,23)
With greater involvement of the people and their stake being recognised and valued there will inevitably be greater focus on the organisational purpose which in turn will lead to a greater long-term focus. (25)
The new performance measure could be the breakthrough the HR profession has been looking for in Human Capital Measurement (HCM). It provides a sound basis for assessing the effectiveness of people management and has the potential to be a benchmark standard for intra and inter-company comparisons. (3,23)
Benefits for Employees: Less of a dichotomy between their personal lives and their work lives; greater personal fulfilment; a sense of independence through "working for themselves"; a greater sense of belonging; a more conducive work environment with less conflict through shared values; greater rewards for their efforts.

Benefits for Managers: Greater personal productivity through (paradoxically) less time spent on performance issues; more opportunity to show leadership capabilities; people management becomes more consistent with the management of other assets.
Benefits for Organisation: Improved bottom line though greater all round performance and productivity; greater organisational integrity with people all working to the same end; a more responsible and responsive corporate citizen, making better use of resources; sustainability.  
First Steps
Obtain organisational buy-in to the concept of people as assets
Agree and gain acceptance of the formula for calculating initial values
Identify all the factors that affect value and formulate and agree rules for: 

Applying them
Changing them (if considered necessary)

Implement a Human Asset Accounting system to handle this as an appendix to existing HCM measures.
Managing and reporting from the new system.
Images