October 13, 2011 at 2:26am
Summary
Editor's note: Frederic opened up this hack for collaboration with MIX members.
Aaron from China and  Bernd from Japan/Germany did engage through an interactive process. 
Bureaucracy is no match for growing collective intelligence.
S1. Summary
------------------------------------------------------------------------------------------------------------------------------
Premise : Bureaucracy will never die.
Challenge : How to pass through bureaucratic headwind with minimum resistance?
How to avoid friction with bureaucracy where it sucks value?
It takes a fresh mix of capabilities to deal with an organization at large (deciders, roadblocks, budget etc...).
We aim for new properties that make your dynamics, barely visible to bureaucratic sensors.
So your entrepreneurship is not drained.
This hack is proposing to progress within the economic space constraints, with adaptive velocity.
"Quantic" is a personal new word for "Quantum+Frantic " dynamics.
It is a "Darwin" adaptation to complexity, with a leap from 1.0 Management beyond 2.0 actual limits. .
Practical examples are given.
It is some kind of Quantum bet, at the instant level (leadership decision).
Odds for additional efficiency are demonstrated.
It refers to quantum world because using explanations about interactions, quite difficult to visualize .
Something simple made complicated, for obscure reasons, at first sight.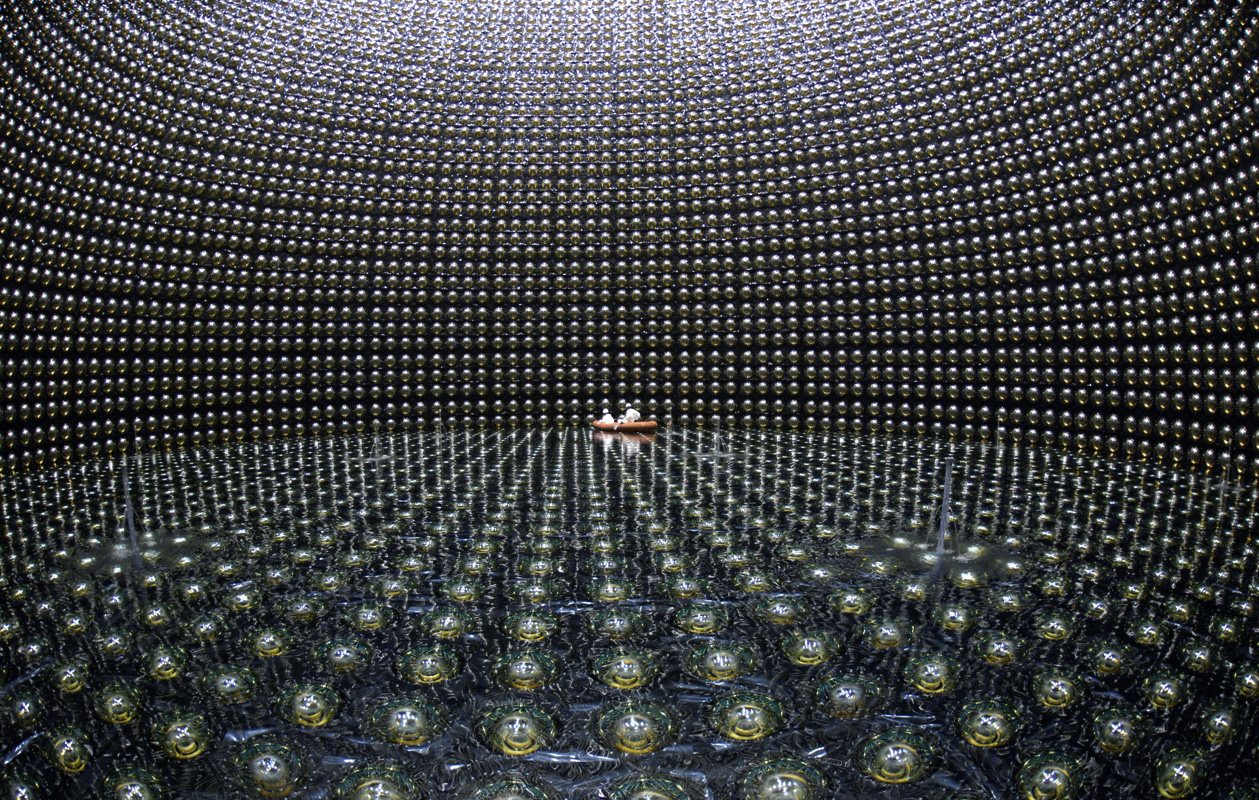 (Photo: Institute for Cosmic Ray Research / University of Tokyo).Capture of a committed duet on a rubber boat. 
Set of over 10 000 sensors to detect neutrinos. It is a "multi-flavors" metaphor....
----------------------------------------------------------------
S2. Extreme summary 
Travel extremely light, smart, somehow unpredictable because innovative and adaptive (as hyper-local adjustments of mirrors in optics), ahead or out of phase, on alternative paths, while interfering with massive positive external systems (higher "out-leadership ratio"), re-shaping the limits of your scope.
Soundless.
This neutrinos management has enough power to burn some of the bureaucracy fat.
There is more than meets the eye.
Problem
P0. Premise : Bureaucracy will never die. (Don't even think about it.)
Challenge : How to streamline actions and decisions so they pass through headwinds with minimum resistance?
P1. Roots
Bureaucracy is the inevitable consequence of companies or administrations growth.
Bureaucracy is here for the long run, it will resist efforts to get rid of it.Including the MIX challenge.
When efficient, it is a useful layer for risk assessment. 
Upper layers are useless processes piling up and duplicating from legacy.
It loses effectiveness also in avoiding personal and organizational conflicts.
Deeper root causes: growth means entropy, rapid increase of difficulty to attain awareness, get control and gain capability of prediction and decision.
Bureaucracy is  helping managers, slowing leaders, while aiming to be a safety net for both profiles.
Finally bureaucracy itself is also sensitive to entropy, and having a hard time to be its own safety net.
P2. Needs and leads
Win-win is a must for bureaucracy to accept any progress endangering  its own power.
Large companies are highly exposed. We should also help start-ups (rising stars) to avoind falling quickly into the trap (energy glutton black hole).
Headwind and turbulences are another way to model effects and illustrate  "resistance index" and "gravity". 

How much force restrains your leading direction and speed, for how long, and how often?
Individuals and teams learn to develop resilience to this ever-increasing counterforce and add confusion.
Understanding this can help an organization to reshape and get lean.
A few changes in appearance may weaken the resistance and leanness reduces gravity forces.
Neutrino-style managers and other low-resistance heretics are relieving administrations from their own burdens.
There is a need for additional levers to move away the mass of such roadblocks or escape fatal attraction.
Elevation (outbound energy release) must gain over attraction (inner consumption).
Is a mechanical approach enough and best to suit all conditions?
Can we learn lessons and extract innovative leads from the quantic world?
P3. Framework
Interest for the quantic reference was justified by difficult to admit explanations of quite familiar management actions and very practical interactions with bureaucracy.
Something (apparently) simple complicated for doubtful reasons, at first sight, challenging common sense.
Richard Feynman (Nobel Prize 1965), was having fun confusing advanced students with quantic jewels.
Explaining how it is simple to observe, give easy  explanation to phenomens such as rainbows, or a mirror reflexion. 
Though mislead even experts with the illusion of a valid smooth and single description, whereas particles interaction is indeed deeper, energetic and randomly patterned.
P4. Businesses segmentation
We urge to work at the early stage of nurseries for entrepreneurs to be shaped extremely resilient to classic organization and processes lacking demonstrated added value.
Mid-cap may have a correct balance between control needs and their economic difficulty to staff, so bureaucracy may by chance be under temporary control.
But. there is a need to address the global companies as well
How can we reduce the impact of bureaucracy, starting today, by courageous and unconventional management positioning and decisions, in established ISO compliant companies and administrations?
P5. Final set of key questions.
How to limit bureaucracy strictly to the very useful layers and driving forces ? 
What if solutions are known, as neither applicable at all times (moment/situation), nor by everyone?
Is it intellectualy acceptable that the real life examples can be observed or measured, but not at the same time?
Like it is for advanced mechanics, as opposed to the good old easy to believe classic rules.
Is it acceptable for academics? For business leaders? For HR business partners ?
How to overcome basic opposition and open eyes and minds to such disruptive 3.0 management moments?
How to convince about a possible co-existence beside proven 2.0 management logic (already at work),  and benefits of  additional 3.0 options, useful for specific scope, time or scale factors?
Solution
S1. Neutrinos Management
"Neutrinos are not only ghosts, but also chameleons " as portrayed by Astrophysics European Roadmap.
So be the entrepreneur.
Our own roadmap is proposing a multi-criteria action field (see Presentation part 2 Slide 1 Mapping Axis).
The idea of varying timelines and switching management styles, organization, orientation (in/out) is to become chameleons-ghosts to bureaucracy.
Open new spaces
It is a "Darwin" adaptation to increasing constraints pushing 1.0 Management into dead ends, while 2.0 interactivity is helping, but not enough.(see Presentation part 1 + part 2  Map 4 / 1-4).
Management 1.0 is (greek) compass geometry : get a clear target (a lighthouse), seek and listen carefully to the wind, check stars above by clear nights, give instructions to your crew and you're set to the point.
Captains sail efficient biais against headwind. Geometry 101 even in hostile seas.Masters and Commanders.
Bureaucracy is contrary and changing winds, dead spots or heavy waves.
M1.0 attitude deals with bureaucracy basics through patience,lines, confrontation eventually.
Management 2.0 is ballistic procedures, yet classical mechanic driven :  Sky Captains face headwinds, manage the globe curves and atmosphere layers for optimization of time, comfort, safety and fuel consumption. 
With the intense collaborative work of skyroutes angels controllers.
Bureaucracy is headwind, turbulences, pre-set skychannels and airport congestion rules, but sky angels too..
M2.0 overcomes some bureaucratic roadblocks with influence, best practices and forms of lobbying.
Management 3.0 is quantum mechanics oriented : Spaceship crew shooting for the moon are using 2.0 ballistic, with intense data crunching and real-time contribution of trajectories wizards, but will deal with space time issues for the long run conquest .
Resistance is not coming from stellar winds while going straight does not have much sense while many forces apply wether you get under the influence of a massive object.
So-called " 3.0 Quantic (Quantum / Frantic) Management " is a part of the space we see, beyond 2.0 horizon.
Seeking for opportunities to avoid some bureaucracy checkpoints, time or spacewise.
Back to Richard Feynman having fun confusing all of us phenomens misleading even experts with the illusion of simplicity : good examples is  mirror reflexion with " light of our face bouncing back  to the observer eyes on the still surface of the lake".Particles interaction is indeed very much more complicated, moving and randomly patterned.
Expected results are (almost) always the same, highly predictable, but it does not happen the same way everytime.
Different causes, different (unpredictable) paths, some failures and missings.
Some (apparently) simple management actions, made complicated for (still) doubtful and obscure (but now clear) reasons, of efficiency under a too large field of constraints for "business as usual solutions".
The name of the game of Quantic management is to deliver expected results (value for the company, or for a non-profit organization, or an administration), and offer easy to observe simplified fair picture to the bureaucracy in charge of consolidation and control.
While leveraging more complex resources, actions and interactions with the external world, unusual time management, not tracked and often not visible to the analytic capabilities or checkpoints choices of administrative processes.An action movie behind the picture.
Neutrinos 3.0 Quantic Management  is one applicable solution. 
It can release significant bureaucracy constraints.
So-called " Neutrinos Management " is a specific sub-set of the above "3.0 QM". Likely the most "Frantic" part of it.
It refers to the far space huge scale journeys, but also to the opposite : elusive, fast and impredictable moves.
Bureaucracy could be gravitational waves someday (not mature yet by chance), but are only signal sensors by now.
M3.0 Neutrinos powered is made of choices in organization, moves, flavor changes and other actions and attitude all contributing to become less sensitive and under the radar screen of bureaucracy sensors and attraction of its mass.
(see Presentation 1+ part 2  Map 1).
S2.Simplified solution
So a first level version of the solution is to adopt different styles according to the context, at a specitic moment :
1.0 Use Management 1.0 when sufficient (clear basic needs and economics)
2.0 Move to 2.0 when a plus  (a driver for motivation, efficiency, change management etc...)
3.0 Elevate to 3.0 when ready to leverage communities external attraction..
3.0+ Jump to Quantic Management  for an instant when a necessity (urgency, frozen budgets, disruptive and too early proposals etc...). In order to escape temporary from bureaucracy attraction or weight.
Key words are :
Agility switches
Community interest

Collective Intelligence