October 1, 2012 at 9:17pm
Summary
Many models of competency exist, but if these competencies are embedded in motivation that is complementary to comptencies, is that the key to success.
This hack will take a well recognised model of competence and consider motivation as a key addition to take being good at something into the realms of achieving greatness.
Problem
How do we explain success - if we can understand the components of success we may be able to achieve it.
Solution
What is the definition of success?  It may be easy for a company or organisation to define success but how easy it is for an individual?  There are many measures of competence but does this equal success?  A pianist may be very accomplished and competent but is he a success unless he plays for the biggest orchestra's or achieves fame and fortune through his talent?
When reviewing theories of individual performance then ability is often considered a requirement of strong performance, and that seems to make sense.  Ability could be a considered a synonym for competence and there are certainly many models of competency.  One highly recognised model of competence is the ASK model (figure 1) where competence lies in the overlap of attitude, knowledge and skill.   But does this combination lead to success?  Is being good at something sufficient to claim success or is something else required to achieve greatness and therefore claim the mantle of success?
Figure 1
This model is often used to demonstrate competence in the workplace and its generic nature means that it is easily attributable to a range of industries.  However is it sufficient to distinguish between those who are good at something and those who would be considered successful?
If we consider this model embedded within motivation then that would seem to lead more comfortably to success.  Without, motivation competence may not lead to greatness.  Figure 2 may present a more convincing model of the requirements to achieve success.
Figure 2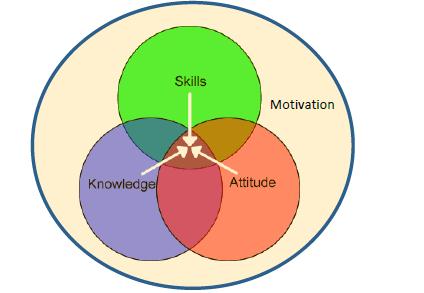 The overriding motivation brings a drive that pushes the person to reach their full potential and achieve success.  Without this drive there is no force to push the boundaries.
What a person strives for will dictate what they consider to be a success.  It is this concept that means a model without motivation cannot adequately explain success.  If someone strives for money and they achieve great power but never riches, then they are unlikely to consider themselves successful.  Likewise the person who is motivated by affiliation or the need to bond and be liked then whatever money they attain with never satiate them.  This may explain why it is so challenging to measure success because just as the drive to achieve the success is unique to each, individual so is the measure of when this is achieved.  Is success something that is recognised by others or from within?  The achievement or path to success is most certainly an individual pursuit, but the accolade of success is frequently something attributed to someone by others.  Perhaps the explanation for this lies in the motivation.  If the motivational factor is a need for achievement then this need may never be satisfied, such is the drive.  Success within an organisation would be measured by profits, this may be attributable to an individual but only if the person was motivated by money.  A company may also measure itself by the reaching of strategic objectives again this may be true of an individual if their motivation is the achievement of challenging goals.
The model would not only suggest that motivation is the determiner of success – there is also the requirement of competence.  The inter-relation of competence and motivation in this model is key to success.  A person will only achieve success if they have the competence to do so, all the mill and drive in the world will not make someone talented if they are not.  So perhaps the drive for success also dictates the path taken to achieve it.  The need for success may override the passion of a pursuit.  If a person dreams of being a professional ballerina but cannot dance then motivation will not enable them to achieve success, a more appropriate and realistic goal needs to be considered in light of the competencies they do hold.
So, perhaps the formula for individual success lies in this model.  Success occurs when a person's drive, motivation and goals are aligned with their competencies and, a shortfall or mismatch of these two factors will result in disappointment or missed opportunity.
Images