January 9, 2012 at 3:48am
Summary
Managing and Retaining Key Talent has always been a challenge for organizations. With high performance comes an ambition to break free and P-Ring provides a framework to create an enriching experience for an organization with the high entropy of performing talents
Problem
Organizations always strive to have performers on their rolls. The irony is performance is a manifestation of the "liberated mind" fuelled by potential and the liberated mind always looks for higher degrees of freedom. Organizations are tied down with rules and structures that create hierarchies, web span of control and emphasize consistency over creativity. While structures are necessary to manage various external forces, it's equally important to realize that rigid structures limit the degree of freedom for the liberated mind. And organizations are caught in this self contradiction forever. This is a key challenge in managing talent, to create an environment of high performance and at the same time to ensure that high performers remain with the organization.
The key questions are:
How to define a fulfilling and enriching career path for employees?
How to create the right opportunity for the high performers?
What are the supporting factors of managing the complexity of talent management?
Solution
In spite of the advancement of science and technology, human resource has always remained and will always remain the key essence to the sustainability and growth of any organization. The human mind has always progressed beyond boundaries through challenges imposed on to it in the process of evolution. Hence old boundaries cease to exist and new boundaries appear. And human minds flourish where boundaries are just logical, no longer barriers.
"P-Ring" is a framework for organizations to create a career path for employees from rigidity to freedom, calibrated against the parameters of Potential and Performance.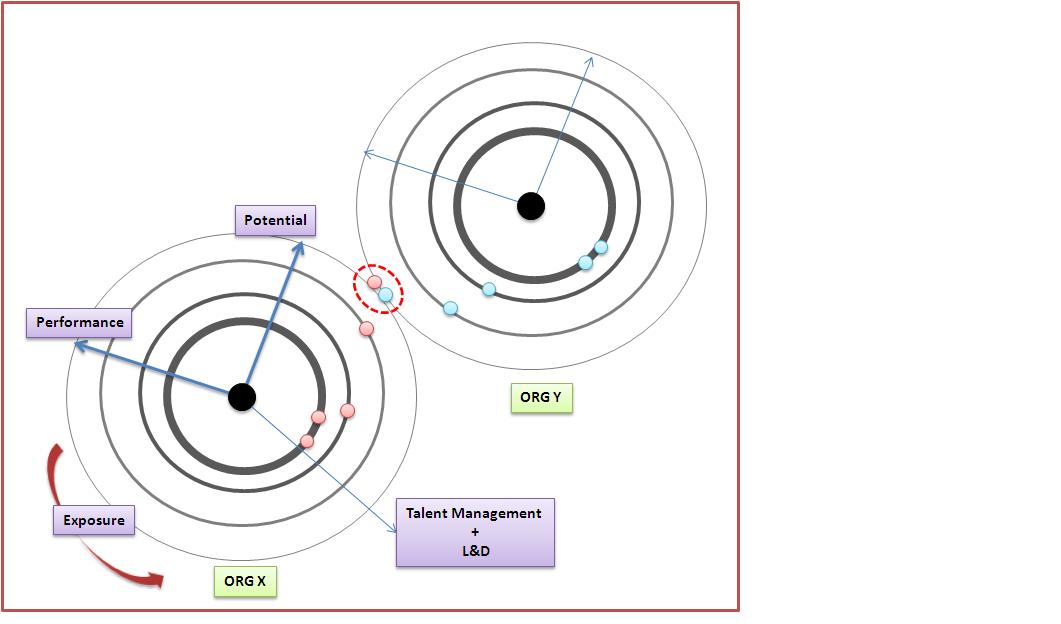 In the proposed framework, each function / vertical in the organization would have one or multiple       P-Rings (depending on functional career options) that would be an orbital career progression for its employees. For example, in the ERP Practice of an IT Services company, there could be multiple career options for Functional consultants, Technical Architects, Delivery Managers, Quality Consultants, and Account Managers etc. Accordingly there can be multiple P-Rings that could either exist with unique identities or have overlaps to facilitate switch in career path.
In a P-Ring, Multiple orbits would indicate the different stages of career progression, while each orbit would ensure a cyclical exposure to a defined competency level and performance level. The Nucleus of the P-Ring is Talent Management and L&D strategy that would create the necessary environment and use appropriate tools to ensure employees get 360 degree exposure to learn the required competencies in their orbit and achieve the required performance level. Obvious question would be what would determine movement into higher orbit? It is the thrust from the Nucleus that has to be continuous to both compel and inspire the employee to increase the potential and performance level. As an employee advances beyond the defined potential and performance level for a particular orbit, movement triggers to the next orbit, i.e. as the potential and performance level moves from P1 à P2, employee moves from O1à O2, where P2 > P1 and O2>O1.With the increase in Orbit level, the hierarchical control reduces and employee acquires more degree of freedom. 
P-Ring for Organization Challenges in Talent Management:
 Seamless Career Path: P-Ring proposes that Career Path for employees in any business function / vertical has to ensure an opportunity to transition from the influence of structural rigidity to higher degree of freedom along a calibrated potential and performance level
Right Opportunity for High Performers: At the highest orbit of the P-Ring, employee enjoys the highest degree of freedom. This can translate into organization roles such as managing Center of Excellence, Coaching, Mentoring, Leadership Training, Research, consulting, Industry Interface etc
Supporting Factors to Manage Complexity of Talent Management: P-Ring suggests a Nucleus formation at the Core of HR Services to manage the complexities of talent management. The Nucleus would be formed of various Key tools and measurements:

OD Intervention
L&D Strategy
Performance Appraisal System
Competency Framework
Competency BuildingPotential Hiring
Practical Impact
P-Ring would have following direct impacts on employees perfroming various roles in the organization :
Clarity of Progression: Direction added to speed creates velocity. And when the direction leads towards intellectual freedom, speed multiplies and performance gets enhanced. P-Ring would ensure a meaningful existence to employees within the organization that aims to achieve greater intellectual freedom and capacity expansion.
Boundary less Immersion: Growth is relative. It's with the subtle urge to expand the universe of comparison, that employees switch organizations. P-Ring is an outward framework where at the highest orbit; employees operate with highest degree of freedom and benchmark themselves against the outer quality proponents. While the employee remains coupled with the organizational Nucleus, the scope of engagement and performance crosses organizational limits and thus creates a boundary less immersion.
Cyclical Competency Exposure: P-Ring proposes a cyclical competency exposure against the prevalent linear competency growth. In a typical Software Project environment, basic competencies would be software development, Architecture Design, Project Management etc. Linear Competency growth would require an employee to sequentially grow from a software developer role to a project manager with experience. However P-Ring proposes a cyclical competency exposure, which believes that job of a software developer, involves certain amount of design and project management and hence the exposure to these competencies needs to take place in parallel. P-Ring proposes a comprehensive growth framework for employees that firm up the employee's self belief. P-Ring adopts a two pronged approach of enhancing employee potential and expanding the universe of comparison so that employees do not feel " left behind" and do not feel the urge to "move away" 
First Steps
For a pilot, designing the inner orbits and assigning the degrees of freedom can be a frustrating experience. The First Step to realize the benefit is to consider any established and developed business function and design the outermost orbit. Move the high perfromers to the outermost orbit for an year in a consulting / mentoring / research role. Design an absolute perfromance appraisal system for this group with no relative ranking. Design specific OD interventions and create appropriate industry interface opportunities for this group to enable the expansion of the universe of comparision for the group.
End of one year, asses the employee satisfaction and transformation to realize the benefit of the basic philosophy of the P-Ring.
Credits
My Work Experience with multiple IT Services and Product companies:
Images