Summary
The Living Intelligence System (LIS) is an alpha project within the United States Intelligence Community (IC) aimed at transforming the vertical agency-proprietary reporting and analysis process (finished intelligence) and reducing the amount of static and duplicative analytic production. Living Intelligence can help reduce the amount of duplication by moving the review process into the same place where transparent online collaboration takes place. This would create a joint vetting system that brings transparency, more serendipity to the flow of information, broader peer review, and network effects to the official process not the informal process. The perception that the process benefits of "social media" can only be applied to informal work has created the false construct that social systems are "good for collaboration but not the product." The living intelligence model bridges this "official gap" with a light formal review function and maintains an agency's brand without locking down and opaquely "owning" the topic or process. These features coupled with the benefits of social systems make "vetted" or "finished" versions by-products of the living story not the end state of collaboration as often perceived under the finished intelligence model.
Problem
The United States Intelligence Community (IC) has made tremendous strides over the last several years with the introduction of a wide range of social software tools such as wikis, blogs, user tagging services, and social networking services for knowledge management and information sharing.  Looking back over the last five years there's little question that "information sharing" has increased across the board and the Web 2.0 tools mentioned above have helped with this moderate cultural shift.  We have successfully automated the digital watercooler, created a massive unofficial knowledge base, and improved search by increasing the amount of links, but is this it?  Are process gains in informal channels the optimized promise of Web 2.0 at work? What about the official channels?  Content exchange is the lowest rung of the collaborative ladder when compared to joint knowledge co-creation in official channels and this has not happened within the IC. 
Wikipedia's success as mental block
Wikipedia's success has created some blinders when it comes to wiki use and original content. Because a Wikipedia link is generally returned within most top 10 search results, people see its format and underlying philosophy everyday .  I believe this ubiquity has caused  many to believe that wikis or horizontal editing systems cannot contain original research or be the source (limited to encyclopedic or support content) .  LIS articles can be the living source, can contain original research, and empirical observations can be made within them.  LIS articles may look similar to Intellipedia or Wikipedia articles, but this surface appearance is based on similar software not the process behind it.
Solution
Co-opt the "command position" (who can speak for the agency or company) by bringing official vetters into a transparent system for accountability and giving "credit" to the agency (corporate group) without locking down the story (community of interest).  Many social software systems are designed around individual contributions not necessarily maximized for corporate identities to navigate the systems.  The LIS links users with their corporate identity because the corporate voice is still important within our community. LIS aims to maximize the power of individual contributions while at the same time facilitating corporate identity to benefit from the power of open systems and social software, which is currently not available under the opaque agency-proprietary finished intelligence model.
Light Review  
LIS is built upon MediaWiki like Wikipedia, but there are some differences. When you go into edit mode you will notice a blue box at the bottom of the page called "Workflow Information and Status of Intelligence."

Notice the drop down box next to the definitions of status that contain the options:   No workflow, Admin, Draft, Analysts Draft, Review 1, and Review 2.  Status of intelligence categories, like all categories, have blurry edges but tagging edits with some structure allows for more advanced sorting, filter, and service options (more on widgetized output later).
No Workflow: used on non-analytic pages, miscellaneous and shows no workflow
Admin: punctuation, grammar, mechanics, minor mistakes, format, stylistic, gardening edits
Draft: developing facts & events of the story or recasting, integrating, refining the story ("fact-of" edits)
Analysts Draft: significant analysis, change, evidence, judgment, assumption, or question added to the story (signals the more analytic edits)
Review 1: Content, beyond admin/draft, added or reviewed by an agency-approved subject matter expert
Review 2: Content, beyond admin/draft, added or reviewed by an agency representative or senior official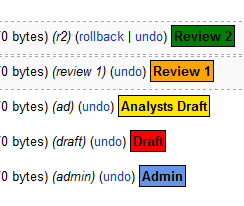 All logged in users will receive all statuses up to Analyst Draft. Review 1 and Review 2 are administered on an agency-by-agency basis to render LIS' official vetting functions. Review 1 and 2 users will not have an Analysts Draft status. Review users will signal their more analytic edits or "inspected in" approvals with Review 1 or 2 signals throughout the system. Review doesn't imply holding queues, excessive management layers or locking down the story. All users can edit any story at any time. Managers and vetters work in the same bucket as everyone else and "review" only signals an official "stamp" of agency vetting.  Users must select an intelligence status to describe that edit at that exact moment in time.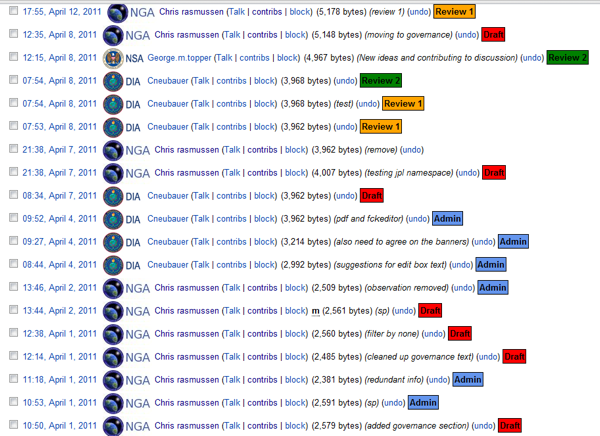 Users can track changes through the edit history.
Click "View History" at the top of any page. You'll see the users' organization, individual link, and status of intelligence tag (Admin, Draft, Analysts Draft, Review 1, or Review 2)
Users can sort by status of intelligence or agency by clicking those choices within each box. If you want to select more than one status or agency, hold down your Ctrl key and click multiple entities. To compare versions select the radio buttons and click "Compare Selected Revisions."
 
The front page
The LIS aims to create joint, integrated narratives. Once a user from a particular agency makes an edit, their agency logo will appear on the front of the page. This is meant as a "quick and dirty" signal to let readers know what agencies are working on the story. It's not intended to convey edit count, compare agency effort by percentage, or convey confidence levels. More detailed agency information can be found by clicking the edit history, using the agency or status filtering functions, and confidence levels can be expressed within the text.  In addition to agency logos, LIS renders a status of intelligence banner at the top of every page to show the last change to the story.  The story does not "end" in Review 1 or 2 status and can be changed to "draft" seconds later.  The important thing is that the vetters are working on the story with everyone else and agencies have the option to only agree upon "their" last permanent reviewed version that cannot be changed through a permalink.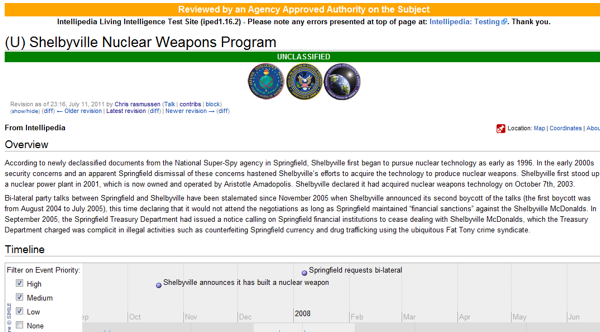 The orange banner at the top is what renders when a user flags an edit with "Review 1."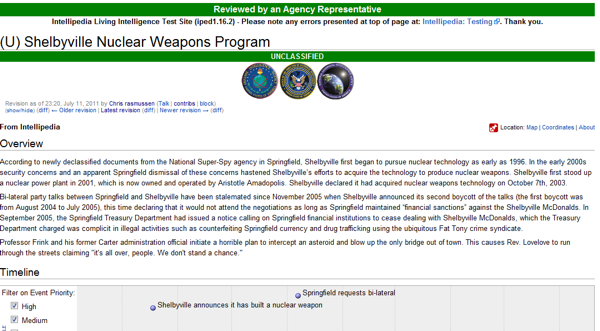 The green banner at the top is what renders when a user flags an edit with "Review 2."
Widgetized Output
LIS will automatically generate HTML to paste into websites or Wikitext to display LIS data.
Users can parse and consume data at the article, edit, or event level in widgets of timelines, RSS feeds, newspaper-like views, and sortable lists. LIS widgets are intended to be embedded on official pages to update readers to changes in analytic stories. Once an official link is created, the backend content needs to up to date and well maintained because it's now tied into an official outlet.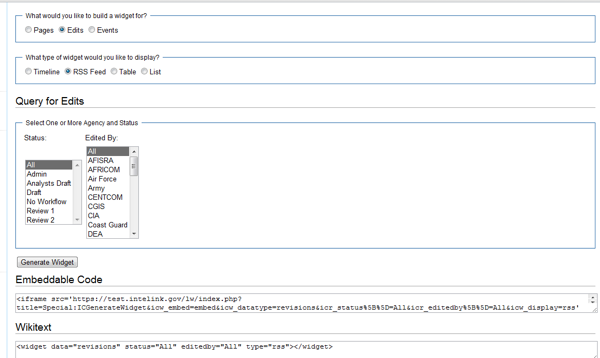 Users can create a curated selection of stories to push to readers, get an RSS feed signaling when the CIA and NSA approve something at Review 1, generate interactive timelines to track stories, or create sortable lists that can be filtered by event priority.
 
First Steps
LIS is in its early days and several "incubators" of analysts and managers are working on some stories.  LIS will scale slowly because the "buy-in" threshold is fairly high.  I believe most managers many know some of their folks are blogging, editing wikis, or posting to forums but probably don't do the same.  I call this "social software salutary neglect."  LIS doesn't work without managers.  Also, the content-type is limited only to "real" analytic content.  For example, lots of enterprise wiki content is often office content and administrative things like meeting minutes, easy-to-use generic websites, event planning, tutorials, etc.  LIS excludes this type of content based on governance.  It's called living intelligence not the living "how-to" document system.
Once a living intelligence story has a good "base," we need to start "telegraphing" the shift in production to other analysts and customers.  Hopefully by sending these links out in official channels we can shift eyeballs away from finished intelligence and get more out of Web 2.0 than automating the watercooler and unofficial knowledge bases.