Summary
"Money is Power." But "knowledge is power," too. And "it doesn't matter what you know, but who you know." Of course, "if you don't have your health, you don't have anything." Capitalism doesn't work because markets only pay attention to the final output at the end of a very long value chain. We "watch the money" but we don't systematically watch knowledge, trust, or health. What we don't see, we can't manage. This hack pulls together the work done over the last decade to build systems that integrate those "soft" inputs with "hard" output. By doing that, we can finally be able to guide the global system of productivity to meeting needs that reflect human values.
Problem
A father wants to watch his son play the trumpet in the school band, but he can't because he has work to do. This isn't the first time either; his kids know he's around, but he has precious little time to instill in them the principles he feels they need to grow, let alone do the fun things he wants to - like take them to science museums and parks. He can see this in his youngest daughter, whose bedtime, at age 3, is earlier than when he comes home, so she goes days at a time without seeing him. She has been so stressed out that she's caught several colds this year. It almost seems that she's spent more time at home than at preschool. He and his wife regularly catch her colds, which is why he is so behind at work. It's a vicious circle!
Meanwhile, their neighbors are in worse shape. A recent storm knocked the tree into their roof. It's something that happens more often these days because of the "weird weather" associated with climate change, so the insurance companies are being very troublesome about settling. As if that's not enough of an insurance nightmare, one of the grandparents has moved into their home so she can be cared for. She has non-Hodgkin's lymphoma, a disease on the rise in farming communities because of the use of pesticides. She's only 60, but her treatment makes it difficult to work, and healthcare is so expensive.
As both these families consult their financial advisor on how to invest for their future, they're told to look for the highest financial return for the risk. Right now, that means they're investing in oil companies, healthcare, and insurance. But it seems that those industries are wreaking havoc on their lives - yet there seems to be no alternative. They ask their financial advisor about investments in an educational software company they've heard about, but the advisor says that would be irresponsible.
Reconciling their future financial stability with their other future of climactic upheaval, poor health, and distressed children seems impossible.
They may not even be aware of the amount of innovation required to meet carbon reduction targets. Those targets are in place because models show that climate change contributes to volatile weather, disease outbreak, and a reduction in the availability of food and water. Capitalism doesn't yet provide a mechanism that shows us how we're doing on the path to innovation (before the product or service has arrived). The markets don't measure the growth and destruction of intangible assets.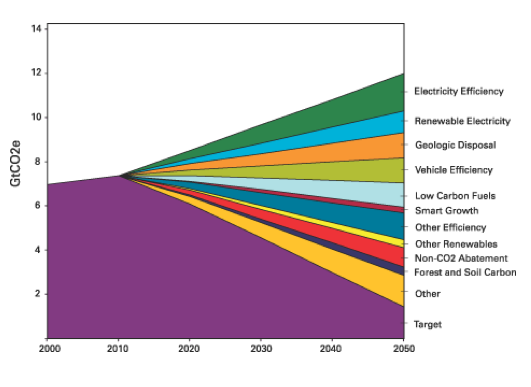 Areas of innovation necessary to meet CO2 reduction, if begun immediately
Source: Princeton Carbon Mitigation Initiative with NRDC
Solution
The solution involves transfoming business into an engine for the creation of products and services that address human resilience and harnessing these to the engines of creation that exist within the community and non-profit sectors. This requires tipping the current understanding of the division of for-profits and non-profits on its side. We currently pay attention to the tip of the iceberg - productivity - but not all the elements that go into the creation of something productive. It's those elements that create a resilient society.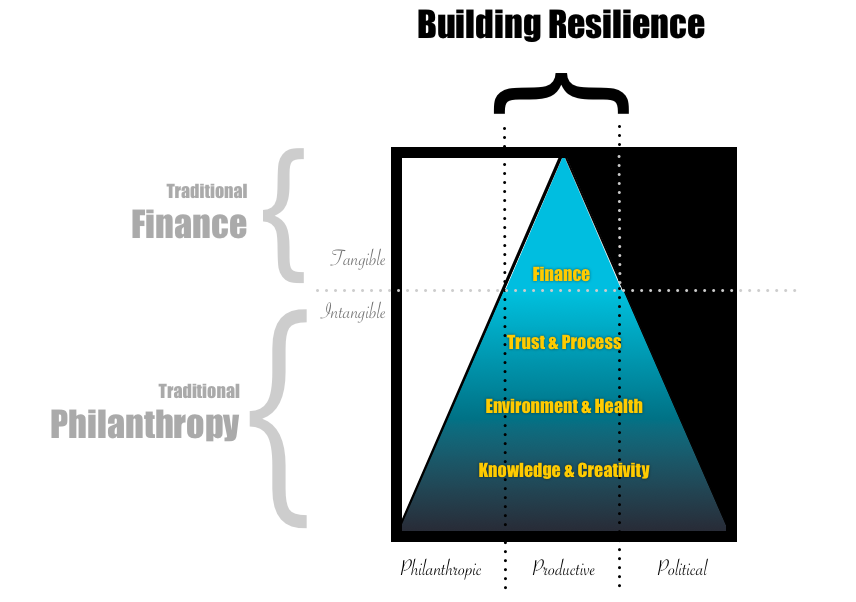 Figure 1: Traditionally, productivity is seen as the tip of the iceberg; it's really the end of the value chain.
The good news is that many of the elements of this hack have been developed over the last decade, as we've experienced a cultural disruption: the idea that the Earth might lose its ability to support civilization as we know it. Soon. Within our lifetimes, or our children's. So this hack is primarily to provide focus and direction, about putting relevant elements together in an organized way, with the tools necessary to fully use them, in order to create the massive change necessary to view the concept of success in a way that advances both individual and group goals (such as planetary liveability).
We're starting to see one aspect of this transformation take place in the rise of so-called "social production" ventures, which range from socially-produced science and journalism to civic action to hands-on low-level manufacturing and peer-to-peer microfinance. With a social production model, the motives for participation are more varied and more complex than with traditional market production. For many of the participants, the motives are intrinsic; that is, primarily reputational and non-monetary. A desire to improve the community, a desire to focus on objectively important but non-monetizable problems, a desire to prove one's moral worth -- these kinds of motives are common in the open source/open access/social production world, but generally of secondary importance in traditional markets.
In other words, a social production model is more likely to be able to address directly the problems surrounding planetary livability than would a 20th century market model.
The tension between social models and market models has been with us for quite some time. The traditional way that hard-to-monetize knowledge, trust, and health have been taken care of is via philanthropic and volunteer efforts within (usually discrete) communities. Simon Kuznitz, the person who developed the original GNP (now GDP) concepts, went so far at the time he presented it to the Senate to say, explicitly, that it should not be used as a comprehensive measure because it excluded the substantive and critical work done in the family and the community. In a small town, companies are integrated in the community because of social and familial ties; in larger cities, this check-and-balance breaks down. In such conditions, they are replaced by philanthropic efforts (funded in part by tax-exemption) and governmental programs (typically facilitated by wealth redistribution); however, these programs are disconnected from commerce. Commercial enterprises exploit the availability of resources and convert that into financial wealth, but there is no system to monitor that exploitation.
What we're seeing now is that the rise of ubiquitous, inexpensive, and easy-to-use networked devices dramatically increase the availability of the kinds of transparency and information sharing that have always driven social production and philanthropic models. Allowing this approach, in turn, to become an engine of creation and transformation.
In the traditional model of capitalism, the community creates subsantively all the raw materials for production, and then businesses take these raw materials and convert them into products that are then bought; the profits enriching owners and paying salaries.
Tipping the system on its side means that business track all the raw materials they use... and build! These materials including the health and wellbeing of their employees, the building of trust and its erosion (through spin or other "professional framing"), and contributions of employees back into the ecosystem of knowledge that surrounds innovative companies. Of course they also include natural resources that suffer from the externalities inherent in production. Meanwhile, communities and philanthropies also build and use these same resources, called "intangible assets," and they will also track their production and destruction. Communities and philanthropies can focus on building the intangible assets that have a long or ambiguous ability to directly affect the production of goods and services, while companies can take ownership of those intangible assets that directly affect their capacity.
STEP 1: Transforming Business
The primary mechanism for transforming business is to re-build Corporate Social Responsibility (CSR) into the main driver of business, the aspect that builds the future product roadmap.
The first part of the process involves building internal capacity. It has several elements:
- Discovery of the distinctive competencies of the organization and building trust of other organizational leaders
- Determining the issues of concern to the employees, customers, and the community-at-large.
- Evaluating existing processes and the histories that led to their establishment
- Understanding the existing hubs of innovation and the specific innovative ideas that have emerged
To create the relevant mechanisms, first an innovative CSR program develops method for establishing the creation of knowledge and relationships and making these transparent. By creating metrics in alignment with the goals of employees, management, and strategic executives, an innovative CSR program can monitor and adapt to changing market conditions.
The first objective involves taking inventory of mechanisms -- and the thought leaders that built them -- that have already been developed for tracking the development of trust, knowledge and health, within the organization. Typically work of this nature has been instigated within the supply chain, within governance groups, and within some product lines; however, it hasn't been developed in such a way that it can be integrated throughout the company, and it's rarely already being monitored by the financial and investor relations functions. Consequently, the first "build" is often developing a communications framework among the different existing implementations, enabling the sharing of information, and developing and executing a plan to integrate this with the financial rollup.
The second objective involves outreach in the community. Many companies are beginning to develop "excess capacity" programs, where their expertise and product are offered at deeply discounted or pro bono rates to community groups. Organizing this program dovetails with the first objective, and extends an understanding of skills, interests, and social ties into the community outside the organization. Conversely, achieving this second objective involves organizing the understanding and progress made addressing community needs over time, and integrating this information with the sales conversion funnel and marketing strategy groups.
The third objective is longer term, involving the creation of socially beneficial products and services from the information gleaned above. This objective confers three major benefits:
Invigorating the product line by building products that are "aspirins," using the parlance of venture capitalists.
Over time, the portfolio of products at the company can increasingly reflect those that aggressively improve the capacity of the planet while cementing the firm's place as a leader in innovation and the development of products and services that are highly resistant to economic fluctuations.
STEP 2: Transforming Community
Expanding on the second objective of Step 1, communities, themselves, will continue to develop their own measures that reflect the values of their residents and broader audiences, particularly philanthropic and governmental ones. The evolution of community indicators has been emerging over the past decade.
For the purposes of this hack, the key components are the ability to track educational attainment, which is child and adult development across knowledge, social, and health objectives; to incorporate the existing tracking of diseases; and to continue to build monitoring of the physical environment for toxicity/contamination, climatological, and other ecosystem data.
Addressing educational outcomes has been particularly contentious since "No Child Left Behind." In the same sense that measuring only financial profit necessarily leaves an informational asymmetry -- for example, managers know the state of internal morale more definitively than investors -- measuring only test scores leaves actual classroom dynamics opaque. It is conceptually simple to institute programs that take into account the specific "starting place" of an individual child and measuring their improvement on not only knowledge but emotional intelligence and health outcomes; this is done for children with Special Needs via the IEP process. But as anyone who has undergone the IEP process knows, with the current configuration of resources, it's a laborious process that doesn't scale, and creating a differentiated curriculum is a challenging task.
Merit pay discussions are related to these issues, and the idea that children might learn in lockstep through grades k-12 grates against common knowledge that babies and toddlers develop language, mobility, and interests at different rates and with enthusiasm unique to their cognitive development.
Consequently the solution is extending the information on knowledge acquisition to include emotional development and health outcomes.
Integrating public health data is profoundly more simple, as that data is already collected by agencies. And there are many breakthroughs in crowdsourcing environmental data that will continue to add context to learning and health outcomes.
Figure 2: The economy, an actor-centric point of view
STEP 3: Build Tools for Learning
As these data become increasingly available, the challenge will be to make sense of the data in a timely way based on new and evolving needs. There are two sets of tools evolving now that will build flexibility into the system; and in fact the increasing flexibility of analytical tools is one thing we can look forward to.
The first tool comes from real time status - whether via social media, shared search data, or currency systems, being able to grab snapshots and their trajectories is crucial to defining true needs of real people.
The second tool enables unstructured data mining. Because the data themselves will be continuously evolving, it will be crucial to enhance the ability to tie data together in a meaningful way even if the data formats and priorities across sectors and organizations are unknown. The risk management industry (e.g. insurance, banking) has the incentive to create open tools to facilitate this process, for which their distinctive competence will be to add proprietary analysis beyond what is incubated in the crowd.
STEP 4: Build Evolution into the System
The disruptive component of this puzzle is how to manage this process of change over the next several decades. The challenge is to encourage innovation yet curb chaos. Unlike climate modeling, which has been done mainly through groups whose mission is primarily societal – e.g. NGOs, large research labs, and universities -- economic modeling has many components whose mission is primarily competitive.
Luckily, there is a model for that type of long-term industry-building approach as well: the World Wide Web Consortium (W3C). That consortium was instrumental in the formation of a rapidly growing fiercely competitive world-wide industry by creating processes that smoothly keep the "playing field level" even in an environment of explosive technological breakthrough, social adaptation, and regulatory volatility.
This new entity rebuilds the W3C processes for the economic world, focusing on how public and private experimentation in new business and community metrics, ESG data, information transfer protocols, etc. can become the basis of standards. It is of great concern that these standards need to evolve, and that participation in the evolution of standards and open understanding of the process will enable competitors to determine their individual best course of action, while simultaneously ensuring that uncertainty and volatility are minimized.
Such a consortium can guide he creation of systems that are financially analogous: We need analogous systems in creditworthiness, debt structures, and non-financial currencies (i.e. contextually-relevant reputations) in order to monitor flows across intangible/tangible asset boundary. And then we need the infrastructure in place to provide pathways for constant evolution.
Practical Impact
Addressing the major threats of climate change, social fragmentation, and individual health requires the full force of existing power structures as well as community-based innovation.
In order to build resilient systems we have to actively work towards building resilient systems.
As this hack is implemented, and indications are that this is the direction we're at least attempting to stumble toward, companies will be able to move towards systems that allow them to become wealthy not only in financial return but also in those intangible assets such as healthy, well-motivated workforce and participatory customers.
Companies can create systems and methods that enhance their ability to share. They share their employees time with their communities and families, their excess capacity and talent.
Investors can choose investments with an understanding that all companies are competing on how to best serve the world's markets - the real markets, not the one of contrived needs based on individuals' insecurities.
As climate change effects become more frightening, the temptation to "go large" might lead to situations where the cure is worse than the disease. By already having an undrstanding of causality - and having this new thinking about causality built into everyday experience, high-touch interventions like geo-engineering can be monitored.
Developmental interventions can be moved to other context, because sufficient contextual information is collected
As the flow of health and relationships is monitored and made robust, companies can learn how to optimize productivity, and avoid perverse incentives like expecting higher productivity among demoralized, overwork employees
First Steps
For Firms: Create an Innovative CSR program that begins to aggregate internal non-financial information and community needs.
For Communities: Develop new sets of community indicators that track community organizations (volunteerism, board composition) as well as educational resources in the community; build community based information systems on the environment.
Images