Summary
The Global Reporting Initiative (GRI) is a private transnational body that has produced the leading standard for sustainability reporting, used by more than three-quarters of the Global Fortune 250 companies. Its guidelines include 79 indicators for corporations to report on their social, environmental, and economic performance
While GRI metrics have created a helpful framework for measuring and reporting the performance of companies across a number of relevant sustainability indicators, their effectiveness and legitimacy is hampered by several issues—including the promotion of box-ticking and superficial compliance, the dominance of technical experts over decision making, and the distortion of public values when converted to numbers.
This hack proposes four fixes to maximize the effectiveness of GRI's sustainability indicators:
Design meaningful indicators
Avoid data overload
Require third-party verification
Expand participation by citizens and a broad group of experts.
Problem
The Global Reporting Initiative (GRI), created in 1997 by the Coalition for Environmentally Responsible Economies (CERES), is the international benchmark standard for corporate sustainability reporting.  According to a 2008 study by the accounting firm KPMG, more than three-quarters of the Global Fortune 250 companies and nearly 70 percent of the 100 largest companies by revenue use GRI guidelines as the basis for their reporting (see http://www.kpmg.com/global/en/issuesandinsights/articlespublications/pages/sustainability-corporate-responsibility-reporting-2008.aspx).  In 2010, there were more than 1,700 reporters in 65 countries, based on those that submitted their reports to the GRI.
The GRI seeks to raise sustainability reporting to the same status as financial reporting by developing metrics for companies to disclose on intangible assets such as human rights and environmental performance. By presenting this information in a comparable and consistent format through quantifiable measures, the GRI attempts to signal that these intangibles have market value and can affect the financial health of a company. While the GRI framework is a voluntary self-regulatory initiative developed by a private, network-based organization, it is moving into the realm of hard law through incorporation into mandatory domestic regulations.
The GRI is comprised of 79 indicators that gauge an organization's ability to meet the ethical, legal, and public expectations of the society within which that organization operates (see diagram below for the main categories of GRI indicators).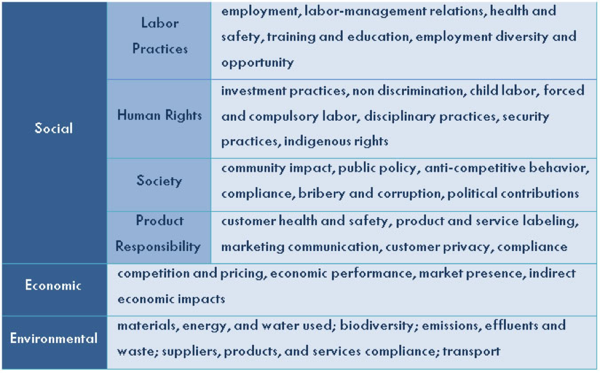 Figure one: The abridged GRI performance indicators.  The GRI guidelines, including the complete list of indicators, can be accessed at https://www.globalreporting.org/reporting/latest-guidelines/g3-1-guidelines/Pages/default.aspx.
While numeric measurement of sustainability indicators should make the reporting process more precise, informative and transparent, the use of GRI indicators can be fraught with problems that are often overlooked due to the authoritative quality of the numbers.  The founding motto of the GRI, "What you cannot measure, you cannot manage," has become problematic for the companies, government agencies, and civil society organizations that produce and rely upon its sustainability indicators. My analysis draws from an empirical study of the Global Reporting Initiative (GRI), based on personal interviews and participation in a GRI-certified training program.  I found that the legitimacy and effectiveness of the GRI indicators is being undermined by 3 weaknesses:
1. The Promotion of Box-Ticking and Superficial Compliance
An overdependence on numeric sustainability indicators risks producing a 'Box-Ticking' approach to compliance. Box-Ticking can result in precise, but not necessarily relevant, data.  As a result, indicators may draw public attention toward data and away from actual corporate behavior, preventing  regulation from measuring what is important.
For instance, a GRI training session that I attended was exclusively focused on developing better indicators and disclosing more information, rather than promoting its original aim of corporate accountability. When the GRI was founded, the intended audience for its reports was consumers, non-governmental organizations, and investors who would presumably read the reports, encourage companies to improve their performance on sustainability issues, and thereby shift the balance of power in corporate governance. However the focus of the GRI's activities has now become the users (the companies)—the GRI devotes significant resources to developing learning tools, training courses, and services for report preparers and users.
The GRI's application levels highlight its focus on transparency for its own sake rather than actual improvements in behavior.  The GRI attaches an application level to a report largely based on the number of indicators that a company reports on.  A company receives an "A" if it reports on at least 50 out of the 79 indicators, a "B" for 20, and a "C" for 10.  This means that a company that is destroying the environment could nevertheless get an "A" for reporting on 50 or more indicators (as well as disclosing its management approach).  Thus, the application levels are based on a quantitative level of disclosure, rather than the quality and accuracy of a firm's actual performance.
2. The Dominance of Technical Experts over Decision Making
Because indicators rely on numerical data, technical experts (particularly accountants) have considerable power over both decision making and interpretation of legal norms on sustainability. The perceived authority of these experts may mask conflicts of interest. 
For example, sustainability report validation is a growing business, especially for accounting firms.  A large service industry comprised largely of sustainability consultancies and auditing firms has emerged around the periodic revision of the guidelines, preparation of reports, their verification, stakeholder outreach, and various efforts to standardize and institutionalize the above activities.  These firms arguably derive more economic benefit from the GRI than any other stakeholder. In fact, some accounting firms have established global sustainability practice groups that focus on corporate sustainability measurement and reporting. 
The role of accounting firms as independent third party verifiers is dubious given that they are actively governing the same organization that they are presumably regulating.  Representatives from large accounting firms occupy key positions in the GRI's governance structure, including the Board of Directors, from which they advise on the methodology and interpretation of indicators.
Given the proliferation of performance codes, standards, and other forms of voluntary self-regulation, the "third-party assurance industry" is becoming increasingly influential in the interpretation of legal norms in a variety of areas. Accountants exercise authority over the ways in which legal norms are valued, interpreted, measured and verified.  Given this conflict of interest, sensitive issues may be left out by assurance providers for fear of upsetting their clients.  In the case of the GRI, verification of data often involves law-related issues such as international human rights and environmental standards, areas in which accountants arguably lack the professional competence to conduct proper evaluations.
3. The Distortion of Public Values Into Numbers. 
While quantification is appropriate for many environmental or health and safety issues, other material information may be difficult to capture in measurable quantities.
In the case of the GRI, issues that are easy to quantify, such as greenhouse gas emissions, are prioritized. At the same time, issues such as human rights and community impact are deemphasized through categorization as mere business risks.  Indicators may lead to better performance on certain issues through reliance on the power of numbers, but may neglect those issues that are difficult to quantify.  Instead of the maxim "what is measured gets done," in reality, what is easy to measure may be the only thing that gets done.
As an example, one of the GRI human rights indicators is "total hours of employee training on policies and procedures concerning aspects of human rights that are relevant to operations, including the percentage of employees trained." Yet the number of employee training hours does not necessarily correlate with positive human rights outcomes. Another GRI indicator is "total number of incidents of violations involving rights of indigenous people and actions taken." Through exclusive reliance on a quantitative measure, this indicator does not give information about the seriousness of the violations or the length of time over which they occurred. Good reporting requires more than just quantitative data.  If the GRI cannot accurately measure sustainability and evaluate performance, there is a risk that its effectiveness as a regulatory tool will be diminished.
Solution
I propose four fixes to increase the legitimacy and effectiveness of GRI indicators. These prescriptions apply to both regulatory actors such as government agencies that incorporate indicators into decision making, as well as private actors such as the GRI that produce indicators and shape regulation.
1. Design Meaningful Indicators that are Outcome-Oriented
In order to avoid box-ticking and superficial compliance, regulators should design meaningful indicators that measure information that is relevant to stakeholders, can be reasonably collected, and regarding issues on which change is most needed. A meaningful indicator is one where when a number improves, then things actually get better on the ground. Towards that end, it is important to balance structure-based and process-based indicators with outcome-based indicators.
Structure-based indicators focus on the legal and institutional framework and organizational inputs, such as the adoption of a policy or equipment type. Process-based indicators measure the efforts made to meet obligations and achieve performance outcomes, such as levels of spending on female primary education or the percentage of employees trained in an organization's anti-corruption policies.  Outcome-oriented indicators measure how well one's initiatives are accomplishing the intended results, such as total greenhouse gas emissions or an increase in literacy rates.
Outcome-based indicators are the most critical type because they track progress over time and assess whether or not performance is improving or worsening. In the case of human rights, outcome-based indicators help determine whether rights are being progressively realized. In contrast, process indicators frequently do not track changes from year to year and do not focus on the extent of implementation of processes. The GRI guidelines should utilize more outcome-oriented indicators rather than overly focusing on management processes, and its application levels should reflect whether a company is performing better over time rather than its level of transparency.
It is also critical to design meaningful rankings that reflect a company's quality of performance and its improvement over time, rather than simply its level of transparency.  Not only is the GRI's grading system only based on the number of indicators reported by a company, but it also prioritizes "core" indicators over "additional" ones that may nonetheless be materially important to stakeholders. For instance, the GRI's only indicator on indigenous rights (which measures the total number of incidents of violations involving the rights of indigenous people and actions taken) is categorized as "additional." As a result, companies could achieve a grade "A" GRI application level without reporting on an indicator that is critical for affected communities and certain civil society organizations.
But how does one overcome the difficulties of translating value-laden issues like human rights into numbers? Measuring human rights is worthwhile given that it provides a number of benefits, such as producing a classification of different types of violations and mapping and pattern recognition of violations over time.  However, quantitative measurement is insufficient to capture the full meaning of human rights. Therefore, producers of indicators should rely on both quantitative data and qualitative information (in textual or descriptive form) when measuring public values. These methods are complementary and interdependent ways of understanding a phenomenon. Quantitative metrics can provide evidence of whether a violation is widespread or systematic, while qualitative information will contextualize the problem and clarify why a situation has arisen.
2. Avoid Data Overload 
When identifying meaningful indicators, one must be careful of data overload as a result of having too many indicators. Having more data does not necessarily mean facilitating better decision making. As I observed with the GRI, there is a tendency to think that technology is the answer. Alan Knight, the Associate Senior Partner of AccountAbility (a global non-profit organization that provides advisory services and creates standards on sustainability) expressed his concern over the reliance on technology to produce effective corporate reporting: "Technology is very good with data. But data must be debated, analyzed, and considered. Technology can help this process of analysis and consideration but should not be relied on to provide ready-made answers. Technology is only a tool. The buck can never stop at a tool."  Simply focusing on information disclosure through indicators may actually be counterproductive because it may appear as greenwashing. The ultimate goal should be embedding certain norms into company culture.
The example of Telefónica, S.A., a Spanish telecommunications company, demonstrates how the GRI indicators can be used as tools for changing behavior.  GRI reports serve within the company as signaling devices, indicating practice areas that need attention.  Internal processes ensure that corporate responsibility issues are implemented properly.  At Telefónica GRI reports are a driver that speeds CSR implementation within the company. GRI indicators are just the tip of the iceberg that includes a larger strategy for change. 
The GRI's focus on disclosing more and more information (resulting in as many as 79 performance indicators) has led to a deviation from its goals.  The large number of indicators discourages companies from adopting the GRI, especially U.S. companies whose corporate counsel fear the litigation risk attached to too much disclosure. On the part of investors and government officials in the U.S. Securities and Exchange Commission, there is a concern that GRI reports are not sufficiently streamlined and not focused on performance outcomes. Some regulatory bodies argue that before mandating any kind of corporate sustainability reporting, they first need a much smaller set of key performance indicators that are clearly linked with financial materiality.
A promising possibility is integrated reporting, whereby companies issue a single report that includes metrics for both financial and non-financial information.  As part of its efforts to streamline indicators and mainstream reporting, the GRI recently announced a goal that by 2020, all companies adopt an integrated report.  This practice would allow companies to apply a smaller subset of outcome-oriented indicators and demonstrate the relationship between sustainability issues, financial performance, and business strategy.
3. Require Third Party Verification
Indicators are not meaningful if there is little confidence in the information that they provide. It must be costly for actors to disclose false information, which they are prone to doing under self-monitoring systems. In order to ensure the quality and reliability of the data that feeds into indicators, there must be a requirement for verification by an independent third-party, both with respect to indicators produced by private actors like the GRI as well as by government agencies.  Possible third parties include NGOs or auditing firms, as long as they are not directly involved in the production or governance of the indicators.
The lack of a third-party assurance requirement affects the trustworthiness of GRI reporting by investors and NGOs. Third-party assurance (where a firm will certify whether a company conforms to a relevant standard) is currently optional under the latest GRI guidelines, and there is not a uniform auditing standard that the GRI requires when an audit is carried out. Because companies may be tempted to misrepresent data so as to enhance their public reputation, the public and NGOs frequently do not trust the reports. The GRI has been thus far reluctant to require independent audits because the cost of doing so may dissuade companies from participating. This is a common reason for the adoption of self-monitoring regimes among private actors. In such cases, I recommend an evolutionary strategy whereby verification would be required only after there is a critical mass of participants. In my view, GRI has already achieved that level and is now suffering from a credibility deficit for not requiring third-party assurance.
Assurance providers should follow standardized and transparent criteria and procedures that are publicly disclosed. They should avoid, or at least disclose, conflicts of interest with the reporting company—for instance, an auditing firm should not serve as verifier for a company if it has designed the company's CSR policies/processes. In addition, the same firms that provide assurance should not be concurrently involved in the governance of the indicators, as is currently the case for the GRI. Finally, governments should regulate the third-party assurance providers through certification or accreditation, or delegate oversight to an independent entity.
4. Expand Participation by Citizens and a Broad Group of Experts
Given the technical nature of indicators, experts should naturally play a role in their design and verification. However, there is a risk that they may exercise undue influence over decision making, exhibit conflicts of interest, and leave little room for public contestation. The dominance of experts (especially accounting professionals) can undermine the legitimacy of indicators and the institutions that produce them. Ensuring citizen participation in rulemaking is especially critical in the use of indicators, whose scientific appearance makes them less open to being challenged by external parties. Market players such as investors should also play an important role in providing feedback to the development of standards. By broadening public participation and including a broad group of experts, regulatory entities can avoid capture by technical experts and the promotion of industry interests at the expense of public interests.
Private actors and government agencies should expand participation by the public and NGOs as well as investors in the design of indicators and engage them in the reporting process. The GRI already exhibits several important mechanisms in this regard—for instance, its multi-stakeholder consultation process for the design and governance of indicators; its evolutionary approach that allows periodic review and revision of indicators by interested parties and transparency in the methods used to produce indicators. Yet despite these praiseworthy procedures, the organization has strayed from its goal of empowering civil society organizations to make informed decisions and seek greater accountability for corporate governance.  Corporate interests currently exert considerable influence over the design of indicators and reporting requirements. Therefore, the GRI should set limits to prevent large businesses and international consulting and accounting firms from dominating the group of Organizational Stakeholders, who vote for members of the Stakeholder Council and approve nominations for Board of Directors.
In addition to civil society participation, experts from a variety of disciplines should contribute to the indicator production and verification processes. In the case of the GRI, accounting professionals have been overly representative in these processes although they lack the professional competence to evaluate all types of indicators. Since many of the GRI indicators draw from legal norms, lawyers should be involved in their design. International human rights, labor, and environmental lawyers would not only provide needed expertise, but they could also facilitate greater company adoption of GRI guidelines. In the United States, a lack of support by corporate counsel has been a significant obstacle towards participation in the GRI by U.S. companies. Inside counsel are frequently hesitant to publicly disclose their companies' social and environmental impacts for fear of future litigation.
Moreover, assurance providers should include a broad group of experts in their teams of verifiers, including not only lawyers but also environmental scientists and anthropologists with knowledge of the local cultural context.
Practical Impact
Improved corporate reporting standards offer greater value and legitimacy for GRI among NGOs, consumers and investors:
A better balance of targeted and actionable metrics, complemented with qualitative data where appropriate.
Meaningful verification of GRI based reporting.
Broader participation by all stakeholders in the design of GRI report structures.
First Steps
The GRI is currently revising its guidelines, with the second public comment period for the new G4 guidelines opening in June 2012.  Therefore, this is a prime opportunity to provide feedback towards producing a more meaningful and robust standard.