September 27, 2016 at 4:01pm
Summary
https://www.youtube.com/watch?v=Yf5JrAGNpzQ
Ireland Tax Calculator is an app to check your payslip, apply for tax refund and file your income tax on the go. The ability to manage your taxes on the go has never being this easy. Tax GO is an initiative of ieaccounts, a company working on making life easy for everyone. The platform was solely created to keep you focused on your life, while your tax affairs are virtually automated at your fingers tips.
Ireland Tax Calculator is a part of Tax GO global tax application. Tax is a very important issue to individuals and the authorities. The government generate revenue from Taxes and individuals benefit from the amenities and project built with the revenue generated. ieaccounts realising the pain that individuals and the authorities are going through from filing of income tax or applying for tax refund or the government tracking defaulters and we developed Ireland Tax Calculator (Tax GO!). We initially developed Ireland Tax Calculator, but our users were requesting the service for other countries.  We then realised that the pain was not only peculiar with Ireland but on a global scale, so we developed Tax GO which now has British Tax Calculator and more countries to follow soon.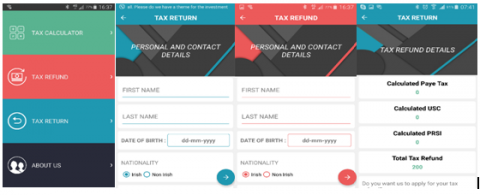 The reward from most employment is the salary that you get at month end, but not being able to understand the deduction on your payslip is a major headache for most employees and Ireland Tax Calculator is the solution. Giving you a breakdown of your salary based your own chosen parameters not payroll department.
From checking your payslip you might realise that you have overpaid tax in the previous year and want to claim back the tax overpaid… just by a click on your mobile…. You will get an instant estimate and when you select that we apply for a tax refund for you, our customer service agent will contact you and review your circumstance, making sure that you get all allowable tax credits due to you. While you wait for your cheque in the post.
At the year-end you have to file your income tax return and with a click, we will give you an estimate, while our customer service agent will review your circumstance to get all the allowable tax credits due to you. This makes you efficient and satisfied. Download the app and see how easy it is to manage your taxes on the go!
If you are concerned with only Ireland Tax issues please download Ireland Tax Calculator but if you have foreign interests please download Tax GO.
If you would like further information on Ireland Tax Calculator or Tax Go, or you would like to schedule an interview, please contact:
Ireland Tax Calculator Team
Freephone: 1800 901 576
Email: info@ieaccounts.ie
British Tax Calculator Team
Freephone: 0808 234 2276
Email: info@ieaccounts.uk
More countries to coming soon!