January 7, 2013 at 8:51am
Summary
We need new strategy tools for the future. Tools that are fit for the realities of more speed, more change and more innovation. The next generation of leaders, entrepreneurs, risk takers and pirates need to master strategic innovation. Our hack is a series of visual strategic innovation tools: Strategy Tools for the Next Generation

Problem
Most of today's strategy tools are insufficient to explain many of our times most successful companies. 
The long-term strategies of firms like Amazon, Apple and Facebook does not fit the current paradigm of strategy teaching in most business school. The mindset, the outsized ambitions, the disruptive attitude, the innovative strategies seen in firms like these does not match the current teaching realities.  
In many of today's business schools, SWOT, Porter's Five-forces, PESTEL are still taught as primary strategy tools. These are the tools that are supposed to develop the next Amazon or the next Facebook. They will not. We need something else.  We need tools for the future. 
Solution
Our solution: a series of visual strategy and innovation tools for the future. 
Through three years of action research and active experiments, we have developed and/or identified 32 powerful visual tools. Tools that help companies make strategic innovation happen. These are the tools we belief students and executives of all ages could benefit greatly from mastering.
All our work builds on Creative Commons. All our tools are freely available from http://strategytoolsforthenextgeneration.com/tools/.
In 2012 we lauched the site in English. In 2013 we published the first tools in Brazilian Portuguese. 
For this Hack we highlight four of these tools:
-          Strategic Innovation Canvas
-          Innovation Thinking Modes
-          The Innovation Pyramid
-          The Action Roadmap
Strategic Innovation Canvas
Strategic Innovation Canvas is our default innovation tool. This is the starting point for virtually any strategy discussion or management development process. This is ground zero. This is where it all begins.
After having run the Strategic Innovation Canvas with management teams across private and public organizations, we can state; it simply works.
The design principles and the visual thinking behind it helps management teams across all industries and all areas of expertise grasp strategic innovation in a record short amount of time.  Business Schools, public schools, oil & gas, manufacturing, IT, Start-ups, they all quickly grasp and are able to act on the canvas. (View the Strategic Innovation Canvas in hi-res PDF here)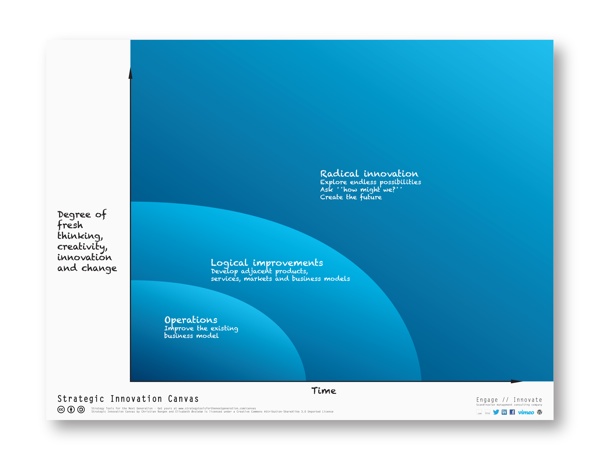 Innovation Thinking Modes
Most people think without thinking.
Apply this to the strategy process, and the result is most often a very linear, logic thinking process. You probably know it as ''Thinking inside the box''.
Bettina von Stamm defines ''innovation as a state of mind''. Genuine innovation first requires a new innovation thinking mode.
We define five such innovation thinking modes.
The Box 
Just outside the box
Think Big 
Dream Bigger 
Pirate thinking
Innovation thinking modes can be taught, learned and trained. As any new language, it requires training, practice and immersion over time to truly master. (View the Innovation Thinking Modes in hi-res PDF here)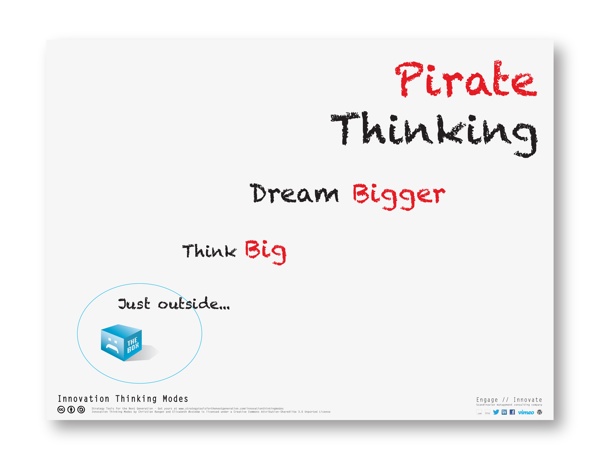 The Innovation Pyramid
The Innovation Pyramid is a holistic tool for making leaders, employees and their companies significantly increase their innovation capability. It is a tool to develop a shared language, shared understanding and shared action around innovation.
Further it is both a strategy tool and a fun process to challenge the organization to dream bigger, drive change and make innovation happen. Along with visual thinking facilitation, The Innovation Pyramid truly helps companies innovate how they innovate. (View the Innovation Pyramid in hi-res PDF here)
The Action Roadmap
The Action Road Map is designed to help you and your team move from ideation to execution – faster. It is designed to make innovation happen – today.
A lot of the innovation tools we have today focus on ideation. On generating ideas. On coming up with incremental and radical ideas. Powerful ideas. This is important. But it is not enough.
The Action Road Map focuses on the back-end of innovation. On execution. The Action Road Map breaks the ideation part into three areas:
Easy to do//can get done by Monday
Impact // will have powerful impact, wow!!
Fun // this would be so much fun to do
These three areas, we find, help balance any company's execution portfolio.
Next, the Action Road Map is built for responsibilities, teamwork and deadlines. It is built for the realities of fast-moving businesses. It is built for teams that want to dramatically increase their ability to get things done.
What is the job to be done?
Who is responsible?
How will it get done?
By when will it be finished?
Teams that adopt these principles will find their ability to execute increase. Teams that master these principles and build them into the team's DNA will find making innovation happen to be a natural state of mind.
Cisco recently hired a Cisco Decision Accelerator to help Cisco develop their ability to execute. The Action Road Map gives you and your team that same ability. (View the Action Road Map in Hi-res PDF here)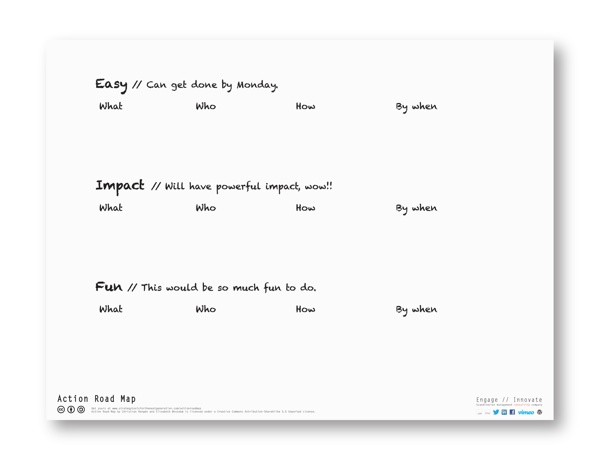 Our deeper philosophy
For this hack we selected four of our 32 strategy and innovation tools. Our work however, builds on a deeper philosophy. We call it Our four beliefs.
1. We believe strategic innovation will be the future of strategy. Strategy in the future will need to embed innovation and change into its very fabric. Too much 'strategic thinking' today is nothing more than a linear extension of the past. Too often, innovation is regarded as side-activity , rather than the core of the firm. Too few leaders are truly strategic thinkers. Too often –some say 70 – 80 % of time – strategy fails because of poor implementation.
We want to change this.
We believe strategic innovation will become a requirement for future leaders.
We believe the rate of change will only increase. We believe creative destruction will multiply and amplify.
We believe deep innovation will become the very essence of strategy.
2. We believe the world needs more visual management tools. Crafting strategy, making innovation happen, making change fun requires a shared understand, shared language and shared mental models. Visual tools help make this a reality. Osterwalder's ''Business Model Canvas'', Allee's ''Value Network Analysis'' and ''Sveiby's KMAP'' are all examples of great visual management tools.
We believe we can make a small contribution to this emerging field of visual thinking tools.
3. We believe the next generation of leaders needs new management tools. New megatrends, emerging complexity, increased digitalization, innovation and globalization; the next generation of leaders need better tools to create the future. From Innovation Thinking Modes, the Change Stairs, the Innovation Pyramid and Swing for the fences; we believe our work and our teaching can be a helpful contribution.
4. We believe in openness. We believe in sharing. We believe in Creative Commons. This is why everything we do, down to the slides and videos we create are free to the world to use. We believe everybody benefits in the long run.
These four beliefs propel us forward.
Practical Impact

Since the humble beginning in January 2010, we've been fortunate to work with a wide range of curious and passionate companies in testing, refining and developing our set of emerging strategy tools. Today, 70+ companies are innovators and early adopters. Ranging from global energy giants, start-up IT-firms, industrial manufacturers, banking and finance; the tools are seeing an ever increasing application. 
Based on our experiences, we can simply state: they work. 
Working with senior management teams, executive development programs, talent programs or bachelor students, the results are virtually always the same. People understand innovation. People think bigger and act more boldly. Divergent groups come together to shape up highly ambitious, highly innovative strategies. 
The four tools we have highligheted in this hack, once put together, give groups, large and small, the shared langugage, the shared mindset and the shared understanding to make innovation happen. 
Selected feedback:
In corporate settings:
 - Now we get a shared picture of our innovation work
- For the first time, we see easy-to-use tools for innovation 
- This is the first time any of us have worked on this kind of innovative thinking tools 
- WOW; these tools really help us think about innovation
In executive education settings:
 - We would never have taught of these things, were in not for the Innovation Thinking Modes tool
- The Strategic Innovation Canvas gave us the perfect starting point to out-gun Spotify's case study
- The Innovation Pyramid helped us solve the case far more creatively than any of us would have thought possible
Mini-Case study: 
A Norwegian industrial firm was looking for ways to develop new strategies. 
As part of a larger development program, we split the participants into smaller groups and put them to work on the Strategic Innovation Canvas.
We used the case of Amazon vs. Norwegian Bokkilden.no to explain the Canvas.
After three hours of intense group work, and with only a twenty minute introduction to the tool, the various groups came back to give mind-blowing presentations on their new innovative strategies. According to the participants, this was the most effectful and powerful innovation tool they had ever experienced.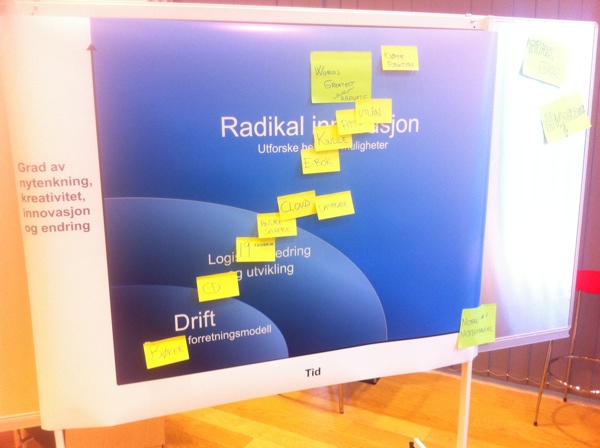 First Steps
Putting Strategy Tools for the Next Generation to use is easy. 
-          Strategic Innovation Canvas
-          Innovation Thinking Modes
-          The Innovation Pyramid
-          The Action Roadmap
Are already freely available from the website. More are coming online in 2013. 
Quick Hack
1. Download your tools of choice from www.strategytoolsforthenextgeneration.com/tools
2. Play around with some or all of them by yourself
3. Grab some inspirational workshop slides and adapt them to your style, via Slideshare
3. invite fellow innovators, curious souls and engaged clients and partners for an innovation workshop
4. Experiment with various tools, various themes and see what works for you
5. Share your experiences on the Facebook group 
Credits
Our journey is far from finished. Rather, we see this as reporting live from the frontlines of new thinking on innovation, strategy, management and change as we go. This is step one. We have an adventurous and exciting journey ahead of us. Working with global firms over the last three years has taught us that these tools can have a powerful effect. This is inspiring. At the same time, we strive to develop better tools, more powerful case studies and explain these principles in an ever more understandable way. 
Fortunately, we are not alone. A global network of management innovators, business model thinker and innovation heroes are pushing the limits of strategic thinking and creating the future. Our aspirations are to gather, create and organize the strategy, innovation and management tools for the next generation of entrepreneurs, risk takers and pirates. We want to build the toolkit today to help the leaders of tomorrow create the future – starting today.
On www.strategytoolsforthenextgeneration.com and in the Facebook group you can follow, comment and contribute to the work as we progress.
Join. Create. Aspire to more.
Inspiration and sources
We draw our inspiration from the thousands of executives and students; young and experienced that we work with every year. The ability to combine advisory, research and teaching into one role is a luxury we are very fortunate to have. Through this work we meet companies, leaders and aspiring talents that challenge our thinking, push our ability to create and provide us with constant, on-going feedback; feedback that social Medias has amplified significantly.
We also draw a lot of inspiration and learning from inspiring colleagues and friends around the globe. In the field of Visual thinking design, four people have been highly influential. Karl-Erik Sveiby and his work with Tango and KMAP. One of us (Christian) had the pleasure of working with Sveiby and the SKA Global Network back in 2002 – 2003. This was the first introduction to the power of visual, interactive strategic tool.
Next comes Verna Allee and her work around Value Networks. Again, a highly visual management tool to reveal the strengths and weaknesses of the intangible relations in a firm's business model. Lengthy discussions, since 2002, with Verna was a powerful lever to start experimenting with visual management tools.
More  recently, Alexander Osterwalder and the massive team of global Business Model Innovators have been a great source of inspiration. This crowd of engaged innovators have used visual design and the power of social media to create a truly global conversation and a global movement around business model innovation.  We can only hope our work can contribute to the global conversation around the future of innovation.
Also of invaluable inspiration is Nancy Duarte and her team at Duarte Design. The teachings embedded in her books should be a must-have for any aspiring leader across the globe. Thank you.
A small selection of sources (Not complete, not final, and far from everyone so far)
Visual thinking design
Allee, Verna (2002) The Future of Knowledge: Increasing Prosperity through Value Networks
Duarte, Nancy (2008) slide:ology: The Art and Science of Creating Great Presentations
Duarte, Nancy (2010) Resonate: Present Visual Stories that Transform Audiences
Osterwalder, Alexander and Pigneur, Yves (2010) Business Model Generation:
A Handbook for Visionaries, Game Changers, and Challengers
Roam, Dan (2008) The Back of the Napkin: Solving Problems and Selling Ideas with Picture
Sibbet, David (2010) Visual Meetings: How Graphics, Sticky Notes and Idea Mapping Can Transform Group Productivity.
Model structure and content
Afuah, Allan (2003) Innovation Management, pg. 13 – 46
Andersen, Michael Moesgaard (2010) Return on Strategy: how to achieve it
Anthony, Scott D., et.al  (2008) Innovator's Guide to Growth: Putting Disruptive Innovation to Work
Design workshop (2011a) Action research workshop. Stavanger, Norway
Design workshop (2011b) Action research workshop, Stavanger, Norway
Hamel, Gary (2007) The Future of Management
Markides, Constantinos (2008) Game-Changing Strategies:
How to Create New Market Space in Established Industries by Breaking the Rules
Skarzynski, Peter and Gibson, Rowan (2008) Innovation to the Core:
A Blueprint for Transforming the Way Your Company Innovates
Tidd, Joe and John Bessant (2009)Managing Innovation: Integrating Technological, Market and Organizational Change
Christensen, Clayton (2002) The Innovator's Dilemma
…and most books on business model innovation and strategic innovation…