February 13, 2014 at 6:47am
Summary
The race to win in the market place has resulted in many management solutions over the past few decades. One such solution is the 'shared service center' – a centralized function for tasks and processes that are similar and repeatable. These service centers promised lower unit costs as well as better and faster service by leveraging the scale centralized work could offer. Users of these services are frontline employees who have to compete externally in markets that are becoming more and more difficult; they create value, generate business, develop innovations, care for customers, etc. Unfortunately, the shared service centers that are meant to support the frontline employees often fall short, exhibiting monopolistic behaviors that support corporate inertia, don't meet the needs of their users and don't get the best from their employees. The response to shared services that haven't delivered on the promise has been more shared services. Bigger, systematized, digitized, off-shored, near-shored, multi-shored solutions that never seem to reach the heights of the business case that resulted in their approval. The way out of this conundrum is just the opposite- rather than creating monopolies, companies should create internal markets to perform support services where appropriate.  Internal markets will lead to increased innovation, productivity/agility and employee satisfaction. 
Problem
The approach large organizations use to support their business and employees is inherently flawed. While companies continuously try to find a competitive edge in their respective markets, they have unknowingly created monopolies and monopolistic behavior in their own corporate centers. Monopolies exist when a specific person or enterprise is the only supplier of a particular commodity or service, and are characterized by a lack of economic competition to produce the good or service and a lack of viable substitute goods. They are less efficient and innovative over time, becoming "complacent giants" because they have to be neither efficient nor innovative to compete in the marketplace (source).  
The innovation of the 1990's for building and delivering enterprise-wide services to support an entire corporation was the "shared service center." In concept these organization units leverage the scale of an enterprise to enable investment and purchasing/negotiating power which promised lower unit cost and better service than a single division was able to achieve. They try to optimize work across the enterprise by centralizing all common work into one department and gain economies of scale. Often the objective of organizing this way is to reduce the unit cost of work while adhering to a set of predetermined service levels. Born was the HR, Technology, Finance, Procurement, etc. service centers. Where technology and automation of repeatable task was feasible, standardization reined.
During the emergence and implementation of the shared service centers- organizations experienced a backlash from the very people they were intended to service, their employees. This backlash often resulted in failed or suboptimal implementations, long and expensive transition periods, higher unit costs and lower service levels. Today these shared service centers have 3 distinctive flaws. Service centers:
perpetuate corporate inertia
don't meet the end users' needs
don't challenge employees who work within them.
On every finance leader's shelf sits multiple business cases, consulting presentations, software proposals and organizational solutions to achieve the shared service nirvana…the lowest unit cost (seemingly unaware only one organization can get there).
Problem 1. Corporate inertia. Corporate inertia is a term used to describe an established organization or that remains rigid in its thinking and actions rather than being open to changing industry and market dynamics. It's easy for leaders to become complacent when things are going well. Ultimately, inertia leads to a loss of competitive advantage, trapping businesses in traditional operational patterns and halting growth (source).
Shared services have become so ingrained in the way companies organize, resource and get work done that they seemingly operate in an unquestioning environment. They don't innovate and keep up with the changing nature of business. Admittedly the value of organizing in a shared service center is to standardize. Therefore the core capability in these organizations is the ability to consistently and predictively comply with a predetermined standard. Consequently a shared service center is not likely to have any innovation capability and if some did exist, it would be the job of management to stamp it out quickly. These organizations are the very definition of inertia. The best day of a shared service employee's work is when they've met a service level agreement or they've come in under budget. They just keep on doing what they were set up to do – only faster and cheaper.
And while almost 80% of the Fortune 500 companies make a statement like "our employees are our greatest assets" in their annual report or most companies will tell you they create value through what their employees' contribute, they have been chipping away at the knowledge workers autonomy in how they perform their job through the shared service monopoly.
Compounding this problem is the fact that the organizations spend plenty of time and money to recruit talent, however once a new employee is in the door they are forced to use the corporate shared services. Employees have fewer and fewer options/choices about the inputs they can use for their work or even how they choose to work.
Problem 2. Not meeting the user's needs.
Corporate shared services centers are working across purposes with the business unit they are in place to serve. The major organizing principle of these centers is to centralize all similar activity and then manufacture a standard service. As a proxy for user needs – service levels are established. The service center then agrees to achieve the service level and accept a penalty when missed and often awarded a bonus when exceeded. The entire service center infrastructure (roles, job descriptions, processes, systems, management reports, management meetings, etc…) is built to deliver upon the service level agreement.
And while there are merits to leveraging scale, today's incarnation of the corporate shared service is like Henry Ford… "we will sell you a car in any color as long as it is black".
Moreover, the service center is in relentless pursuit of a service level, not in pursuit of helping employees and colleagues be more competitive/successful in the market or even win in business.  This results in a mismatch in what the service center produces and what the user actually needs. All too often this leads to rework by the end user or worse --the end user doesn't use service or output at all (think of the marketing manager who had to hire an administrator to  complete procurement forms; the junior finance manager who purchases training externally rather than from the training department; the reams and reams of management reports that go unread and unused; the sales manager who had to hire junior staff to interface with all the corporate requests; the executive doing more administration that leadership…).  
Problem 3. Service centers don't challenge the employees who work within them.
While there is an appropriate role for good operations management, a career in a service center can be the proverbial "thinking inside the box," literally and figuratively.  Like any monopoly, the status quo is the modus operandi and baring a disaster, change doesn't benefit the monopoly and is avoided at all costs. (Sometimes even a disaster won't change the status quo in a monopoly-think of the energy companies). Work tends to be boring, monotonous and separated from the users or main line of business that the company is in. There is no sense of contribution to the business or that your effort actually matters. The service center is so far removed from the business and sector in which it operates that its employees often don't know the core business, lead products or even key customers. The overall objective has become to figure out how to meet the services level utilizing as few resources as possible, not contribute to the business. This results in a culture of "can't do" inevitably the employees of the service center tell its user (customers) that it can't meet a particular need and over time employee's stop doing or stop trying anything other than meeting the agreed service level.
Delivering a standard transaction or service is not enough in today's competitive business environment. Additionally, the line business too spends a lot of time and money recruiting top talent to their organization. The very same talent that is supposed to bring value to the company. If you believe that organizations add value through what their people contribute then supporting them in the best way possible becomes a priority. The corporate center of today operates and behaves like a monopoly (Figure 1). There is no incentive or pressure to figure out new and better ways to increase both the quality and speed of service while at the same time reducing costs and producing a service that is continually more valuable to the employee. The only incentive is to meet a service level target. Often the center will reuse a product or services even if it does not meet the user's business objective.  Organizations can get a lot better return from their employees if they are supported in a way that mirrors the dynamic environment in which they work. A market environment.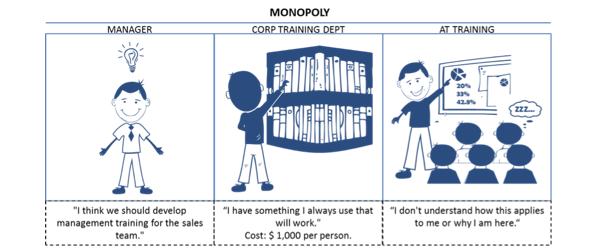 Figure 1. Problem Illustrated
A more vibrant and enabling environment for employees to thrive is one in which they can contribute to the business and the mission of their organization – a "can do" environment.
Solution
The typical trade-off is to centralize in order to achieve economies of scale and or decentralize to get customization. A third option has not been considered.
The "Busting Monopolies" solution is similar to setting up a marketplace within an organization. This is where a seller offers a service in exchange for money from buyers while there is more than a single buyer or seller. In this marketplace the seller must be able to build and deliver the services employees want and need to be successful in their respective roles. Three conditions are necessary for this market to work:
there must be more than one service provider;
users of the service must be allowed and enabled to purchase the service they like best and switch service providers if dissatisfied;
the service provider must be empowered to get close to the core business of the organization to find ways to partner with the user.
Firstly, in order to remove corporate inertia and for a market to work there must be more than one service provider authorized to provide services to employees.  When the service providers (internal) feel they need to win the right to serve users, it breeds the opposite of monopolistic behavior, thus a competitive marketplace is born. Competition results in the providers seeking to understand the user's needs and correspondingly meeting those needs. How the service provider defines success will change and new metrics will emerge.  Over time the service providers will figure out:
what service offering  the user really needs
the users cost-for-value equation – both explicit and implicit
delivery methods that satisfy the users cost-for-value equation
how to appropriately build/adopt technology and innovations that provide user determined  valuable benefits
Secondly, the provider and user (employee) must be free to exchange money for service. Providing users a choice of which service provider to use directly implies they can determine who, when and how they want to do business. This means that users must have the ability to choose a service provider and then buy and pay for service from that department or external provider. A real world example would be choosing to buy a steak from Costco rather than your neighborhood supermarket. This is quite different than the monopoly service center that utilizes a cost allocation or step down process that occurs in nearly every corporation today. The current approach to funding a service center is to allocate cost to the users department based on an agreed coefficient (FTE's, number of reports, etc…) whether the service is good, valuable or even used. This form of paying for services is invisible to the users. The only way to understand how much a service costs is to find the appropriate line item on the department budget (that is – if it is not bundled with other costs). In fact, services often appear free to the user because there is no buying transaction (an agreement of service for payment).
The ultimate measure of customer satisfaction in a market is whether or not the customer (user) is willing to pay for the service and come back for more. The busting monopolies solution enables such transactions and empowers the employee to purchase the service with existing budget. If the employee likes the service he will continue to purchase. The more the employees purchase, the more funds the provider gets. If on the other hand the employee doesn't like the service, she doesn't pay. In this scenario, the provider is required to create value for its customers or risk going out of business from lack of requests i.e. funds.
Finally, the service provider must be directed (enabled or allowed) to figure out the user's needs, not just stated service levels. Sadly, corporate service centers such as human resources, legal, market research, information technology, etc…typically do not deliver satisfactory service to its end user in the business unit. Moreover, they are out of touch with the dynamic business environment in which their users need to compete. Lastly, their cost or cost for value is out of touch with respect to the value of the service they deliver. This is because they operate as a monopoly.
Experience tells us that partnering with users results in more superior solutions than the provider or users could have developed on their own.  The provider (internal) must have this important opportunity to partner. Typically this will go beyond the users stated needs and involve a genuine attempt at understanding what the user is trying to accomplish. With this deep understanding, the provider will develop and deliver services that help the user become successful.
The opportunity to find new ways to contribute to the business will attract better talent and result in a more engaged workforce…
Busting monopolies requires more than one service provider (Figure 2).  Figure 2 illustrates three service providers (two internal and one external) who attempt to develop a service they believe will address the manager's stated needs. Busting monopolies also empowers the manager to choose which provider he wants to do business with.
Figure 2. Solution Illustrated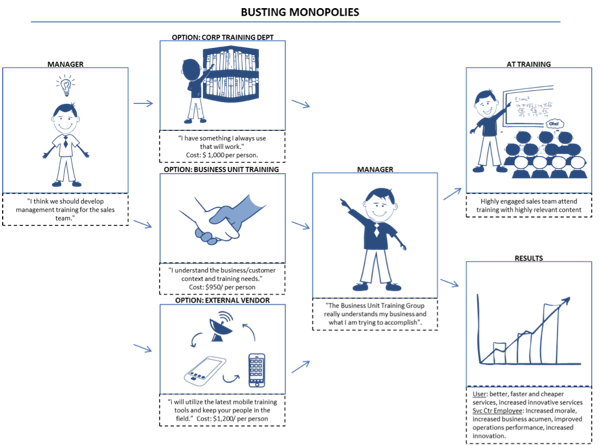 Practical Impact
Economic theory tells us there are many advantages to a market system. A busting monopolies solution with the proper governance enables several of these advantages.
Internal providers are incented to deliver services that users want and need.
Market dynamics push businesses to be efficient: keeping costs down and production high and relevant
Markets also provide incentive for teams to compete and win. Incentivizing providers to grow and acquire useful skills to  create need-based (market based) impactful services.
Challenges
Challenges

What to do

Fear about introducing competition inside the company

Management is often worried about internal competition. If employees or departments are spending time competing against each other, they are spending less time competing against the competition. The fact is that much internal competition exists in organizations today. We are so used to it being a regular part of corporate life that we typically don't perceive it as competition. In fact, we compete for resources during the budgeting process, for a fixed bonus or merit increase pool, for promotions or new positions.

 

Making the deliberate decision to allow some internal competition allows companies to set up the proper governance and infrastructure to ensure they get all the benefits of competition and minimize the down sides.

Different philosophy (in direct conflict) than the current shared service centers today

The philosophy behind the busting monopolies solution is in direct conflict with the purpose of shared service centers. Centralizing all similar tasks for the purpose of one service provider is at odds with one of the central tenants behind the shared service center.

 

One possible way to address this challenge is to choose one service that employees need (i.e., training or secondary research) and allow more than one service provider to support the organization. Then measure the experience and results.  

Duplication of effort to manage more than one service provider

Any effort to provide a service requires management time and attention. It may also require specific infrastructure. Having more than one service provider means each service provider will incur the same or similar management costs necessary.  By definition this is a duplication of effort. Most organizations avoid duplication of effort at all costs. While the de-monopolize approach has duplication of effort- specifically each server provider incurs management and infrastructure costs, the economic model acts as a counterbalancing force.  The service provider charges the user for its service and these charges include management costs. The user has the power to decide to pay for a service of greater 'value'; If the service provider is unable to provide the services at a reasonable cost for the value- the user will not purchase the services. The economic model encourages the service provider to provide high-quality valuable services at an acceptable cost. If the management burden is too high and the service provider cannot offer this service at a cost that is acceptable for the user, the user will not purchase the services.

Systems that allow employees to spend what they use vs get an allocated cost

A critical component of the busting monopolies solution is to empower the user (employee) to purchase the service he wants from the service provider he chooses. The infrastructure can be aided by IT systems and policy changes.   

Core capabilities in the corporate service departments now moves to one of a business owner

The busting monopolies approach essentially requires service owners to operate like business owners.  No longer is the job to execute an immediate transaction. Department heads must now think of the service they are providing as a business, the users they are servicing as customers and their operation as one that needs to produce a service within a competitive market.

This switch requires new business skills, different management techniques and a new level of aspiration. Luckily these skills can be taught or hired in.

Doesn't work for all services – (will need guidelines)

The busting monopolies approach is not appropriate for all shared (or centralized) services. For instance, it would not make sense to have more than one group executing payroll.  Guidelines and criteria can be established to identify candidates for the busting monopolies approach. 
First Steps
Identify a service that users are dissatisfied with (i.e., customer analysis).
Ask users if they would like to perform service themselves.
Fund as an experiment and have team perform services for small and defined user group to get started.
Once services viable - expand to larger user group.
Allow multiple service providers to offer services to the user community.
Set up metrics to measure impact.