Hack:

The Trust Extender: Enlarge the circle of trust by empowering stakeholders to trust and reciprocate trust
Summary
Enlarge the circle of trust by orders of magnitude and radically accelerate the trust-building process by empowering people to rely on the information even before they trust each other.  Scaling trust is important because it allows one to transcend traditional spheres of influence and control, such as organizational hierarchy and personal relationships.  
Problem
A paradigm-shifting breakthrough in how management views trust is necessary for this hack to work. Trust is most often viewed in the context of personal relationships, but we know that trust-building confined to personal relations is a limiting paradigm that adversely affects how organizations operate. Relationship building is counterproductive for extending and sustaining trust. Relationships affect people's objectivity; on one hand, causing them to be overly trusting and less discriminating within relationships, and on the other, to be excessively discriminating and less trusting of others. Relationships can therefore be insular, keeping people within their comfort zone and less open to external influences that spawn innovation. Trust, based solely on relationships, can also be fickle by being overly susceptible to changes in the dynamics of the personalities involved.  Thus trust limited to relationships can also stunt an organization's ability to innovate, because information is not valued equally regardless of its source.
Current models of "trust building" focus on modifying the behavior of individuals, when it is exactly the differences in human behavior that create information diversity and lead to "big ideas."  Francis Fukuyama and other academics have even attributed the trust-building norms of various cultures to their nations' economic performance, offering a macroeconomic perspective that associates prosperity with a capacity to scale trust. We believe that an open, free flow of ideas, regardless of their source within and between organizations would stimulate significant gains in productivity and employee satisfaction, and lead to discovering hidden organizational dynamics, such as underlying, exclusive power channels. 
Solution
Trust is one of the most important success factors for the prosperity of business and society. And today we need trust more than ever. Yet, trust is one of the least understood management sciences, as it has traditionally been relegated to social science. Trust requires more than platitudes about ethics, accountability and transparency. And it is inadequate to address trust considerations indirectly, as merely a byproduct of other activities, such as risk management. If every business, government organization and politician were professional at systematically designing structures that enable trust, we would enjoy more sustainable prosperity and avoid the self-inflicted costs of recurring cycles of exuberance and despair.
According to the Conference Board of Canada's 2009 report, Stakeholder Trust, "Companies that create trust with stakeholders build intangible value and anticipate, innovate, and adapt fast—keys to business survival and maximization of shareholder value."
Our societies are returning to their roots. We now live in a "global village" that calls for a new, yet time-honored, approach for people, businesses and governments to improve their capacity to trust and be trusted. Throughout history trust was rooted in physical communities. Today, our communities span the globe, and persist in ubiquitous digital spaces. Trust messages are now sent and received through a distinct-new, online medium that dramatically alters the dynamics of how trust is created and eroded, and is characterized by unprecedented speed, scope and impact.
We propose the following approach to solving the problem:
 
A New Perspective on Trust:  Educate managers that they can have a greater impact on business performance by enabling trust in information than only in individuals.  Managers, open your minds and revisit your long-standing beliefs about trust by participating in continuing education programs.
The Dynamics of Trust:  Provide case studies that demonstrate how mechanisms that facilitate trust in information not only allow organizations to scale the effects of their trust-building efforts, but also improve trust between people – even strangers.  Managers, read case studies and attend workshops to gain insights into new approaches that could help you achieve your trust objectives.
A Universal Framework for Trust:  Demonstrate the use of a universal framework for diagnosing and designing scalable trust and its impact on business performance.  Managers, start communicating using a universal lingua franca for trust as your blueprint for evaluating your existing trust models and refining them.
Institute for Extending Trust:  Create a research, education, collaboration and advocacy organization focused on enhancing the capacity of people and organizations worldwide to trust by facilitating innovation in trust-extending business practices that deliver sustainable improvements in business performance.  Managers, encourage your organizations to join the Institute for Extending Trust in order to improve their chances of success by learning from the experiences of other innovative organizations on the leading edge of transforming trust-extending practices.
Delivering Trust Models:  Provide expertise and tools for developing information trust models to organizations on the cutting edge of innovation that value idea channels over power channels in order to help them develop trust extending systems that help engage the best and brightest creative talent worldwide in activities that generate unprecedented new value for stakeholders.  Managers, seek external expertise and create sandboxes for experimenting with third party tools that support your trust extending initiatives.
Practical Impact
We believe that an open, free flow of ideas, regardless of source, could yield huge gains in organizational productivity, employee satisfaction, and engaging neglected organizational dynamics that transcend traditional power channels.
Managers will find that by implementing trust models that depersonalize trust they will reduce conflict and resistance to change, and engage more participants, sooner.
It has broad applicability that impacts virtually every aspect of business:
Risk Management: http://trustenablement.com/local/GRCT-KPMG.ppsx
Corporate Policies: see http://trustenablement.com/Policy_Recommendations.htm
Corporate Governance: see Governance Lifecycle Model (GLM)™ Assessment Tool at http://trustenablement.com/governing.html#GLM and "Corporate Governance Best Practices: One size does not fit all" at http://trustenablement.com/local/Corporate_Governanc_Best_%20Preactices-...
Business Strategy: "Trust Enablement: A critical success factor" at http://trustenablement.com/local/Assessment_of_Critical_Success_Factor.pdf
Supply Chain Management: "Trust Enabled™ Supply Networks: Uncovering the trust-building secrets of highly collaborative supply chains." at http://trustenablement.com/local/Trust_Enabled_Supply_Networks-whitepape... and "Trust Enabled™ Supply Networks: Enabling trust for collaboration, innovation and sustainability" at http://trustenablement.com/Trust_Enabled_Supply_Networks-SCL-notes.pdf
Electronic Commerce: "The Challenges of Online Trust: for online and offline businesses" at http://trustenablement.com/local/The_Challenges_of_Online_Trust-slides.pdf and "The Essential Christmas Web-store Makeover" at http://trustenablement.com/Web-store_Makeover_Article.html
Sales and Marketing: "Trust: The most important marketing ingredient" at http://trustenablement.com/local/Hepworth_Interview-Trust_the_most_impor..., "Measuring Awareness, Brand & Competitive Standing: Using trust indicators", and "Enabling Trust Online" at http://trustenablement.com/local/Enabling_Trust_Online.pdf
Online Social Networks: "Building Trust in the Social Space" at http://diy-marketing.blogspot.com/2008/10/building-trust-in-social-space...
Information Technology: "Confidence & The Cloud" at http://trustenablement.com/local/Cobit_Cloud.pdf, "Trusting Information - Not the Source: The impact of trust on Business on Demand" at http://trustenablement.com/local/Trusting_Information-Not_the_Source.pdf, and E-Trust: Establisning consumer confidence in On-Line Commercial Transactions" at http://trustenablement.com/local/E-Trust-Establishing_Consumer_Confidenc...
Outsourcing: "Why Outsourcing Deals Fail" at http://trustenablement.com/local/Why_Outsourcing_Deals_Fail-draft.pdf
Collaboration: ""Trust Enabled™ Ecosystems: SAP Global Ecosystem Marketing" at http://trustenablement.com/local/Trust_Enabled_Ecosystems.ppsx, "Global Supply Chain Risk Management & Trust Study" at http://trustenablement.com/Aberdee_SCRM_&_Trust_Study-ExecSummary.pdf, and "The Wikinomics Playbook" at http://www.socialtext.net/data/workspaces/wikinomics/attachments/wikinom...
Leadership: "Building Trust in a Law Firm" at http://trustenablement.com/local/Building_Trust_in_a_Law_Firm.pdf
Ethics and Compliance: "Trust without Ethics - Ethics without Trust" at http://trustenablers.gather.com/viewArticle.action?articleId=28147497689...
Public Policy: "Creating trust in government is more than 'cleaning house'" at http://trustenablement.com/local/Creating_trust_in_government.pdf
Economic Development: "Leading Intelligent Communities Through Enabling Trust" at http://trustenablement.com/local/iCommunity_Focus_on_Leadership-Leading_...
First Steps
Develop a model and processes that allow organizations to adopt information trust practices.  Managers, start learning about trust models designed to extend trust;
Pilot a high-visibility, low-risk implementation of a scalable trust model for an innovative project, such as http://www.managementexchange.com.  Managers, identify your own pilot projects and experiment with models and processes for extending trust;
Work with a few cutting edge organizations committed to innovating on their management practices to experiment with prototypes of information-oriented trust tools and methods in order to extend trust beyond traditional boundaries.  Managers, if you have a mandate to adopt innovative new approaches for improving business performance, get involved in organized experiments that position you as a leader in trust-extending innovations; and
Celebrate successes and enroll other similarly-minded organizations to participate in the Institute for Extending Trust by building upon previous successes.  Managers, get involved in the Institute for Extending Trust by sharing your experiences with other members and collaboratively refining methods for extending trust.
Credits
I am most grateful to Matthew Cloutier for helping me structure and compose this hack submission.
Images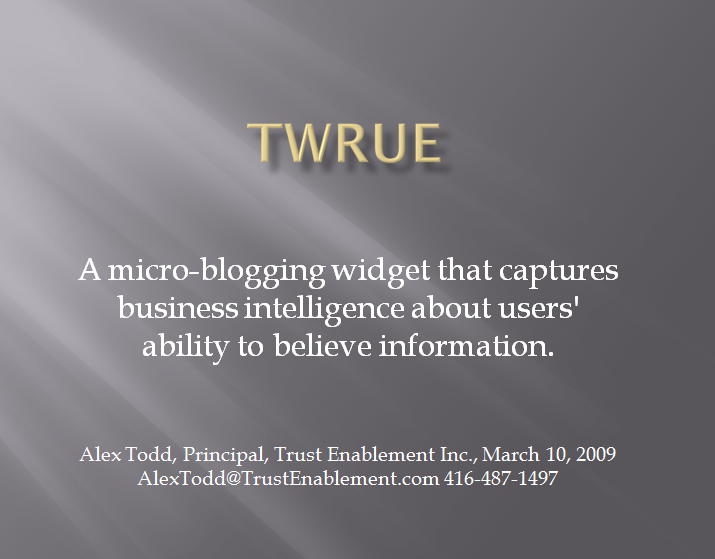 Videos
Alliance Governance: Balancing Trust and Control in Dealing with Risk from Alex Todd on Vimeo.
Every alliance requires that at the outset there are ways and means to establish sufficient trust for the parties to share information fully and to make timely decisions regarding joint investments and activities. Additionally, there are always times during the life cycle of an alliance when trust is challenged (key people change, surprises happen, partners become complacent and let communications lapse, etc.). So how do alliance managers develop and preserve a sufficient level of trust and deal with situations where trust erodes and needs to be shored up again?

When designing an alliance governance structure, managers have to choose between approaches based on control or on trust. This presentations proposes a framework to help managers decide which of the two is appropriate in a particular situation. Are control and trust substitutes or complements? What is the link between control, trust and risk? Our approach proposes that whether control and trust are substitutes or complements depends on the level and type of risk an alliance faces. In high risk situations companies use complex combinations of control and trust in a complementary way.

Download slides from http://trustenablement.com/local/Alliance_Governance.ppsx.

Note to the time constrained: The risk and trust discussion begins at the 15 minute mark.