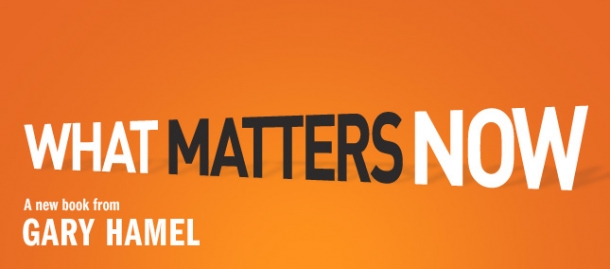 What Matters Now by Gary Hamel

Gary Hamel



Amazon.com

Barnes & Noble

Books-A-Million

IndieBound

800 CEO Read

Wiley




MIX co-founder and leading management thinker Gary Hamel shares his agenda for building organizations that can flourish in a world of diminished hopes, relentless change and ferocious competition.
This is not a book about doing better. It's not a manual for people who want to tinker at the margins. Instead, it's an impassioned plea to reinvent management as we know it—to rethink the fundamental assumptions we have about capitalism, organizational life, and the meaning of work.

Leaders today confront a world where the unprecedented is the norm. Wherever one looks, one sees the exceptional and the extraordinary:

Once-innovative companies struggling to save off senescence.
Next gen employees shunning blue chips for social start-ups.
Hundred year-old business models being rendered irrelevant
overnight.
Investors angrily confronting greedy CEOs and complacent boards.
Newly omnipotent customers eagerly wielding their power.
Social media dramatically transforming the way human beings
connect, learn and collaborate.

Obviously, there are lots of things that matter now. But in a world of fractured certainties and battered trust, some things matter more than others. While the challenges facing organizations are limitless; leadership bandwidth isn't. That's why you have to be clear about what really matters now. What are the fundamental, make-or-break issues that will determine whether your organization thrives or dives in the years ahead? Hamel identifies five issues are that are paramount: values, innovation, adaptability, passion and ideology. In doing so he presents an essential agenda for leaders everywhere who are eager to. . .

reverse the tide of commoditization
defeat bureaucracy
astonish their customers
foster extraordinary contribution
outrun change
build a company that's truly fit for the future

 

 

 

 

 

  has been called the world's "most influential business thinker" (Wall Street Journal) and "leading expert on business strategy (Fortune). His landmark books have appeared on every management bestseller list. He is also author of 15 articles for the Harvard Business Review and articles for The Wall Street Journal, Fortune, and The Financial Times. He is on the faculty of the London Business School and consults with GE, Time Warner, Nokia, Nestle, Shell, Best Buy, Procter & Gamble, 3M, IBM, and Microsoft. He founded the management consulting firm Strategos and the think-tank MLab. He is currently leading an effort to built an open innovation platform for reinventing management—the Management Innovation eXchange (MIX)—which is designed to radically accelerate the evolution of management knowledge and practice.