We launched the inaugural Harvard Business Review/McKinsey M-Prize for Management Innovation nearly a year ago. Today, we are so proud to announce the grand prize winners as well as the "Management Innovator of the Year" Award.
The M-Prize is our call to management innovators (and aspiring management innovators) around the world to make a real difference when it comes to improving the technology of human accomplishment. We asked for real-world case studies (stories) and bold ideas (hacks) on three crucial challenges:
How can the principles that undergird the Web (such as transparency, collaboration, meritocracy, openness, and community) and the approaches that contribute to its power (social technologies and architectures of participation including wikis, blogs, social networks, crowdsourcing initiatives, markets) be unleashed to overcome the design limits of Management 1.0—and help to create Management 2.0?
The Beyond Bureaucracy Challenge seeks to advance progress on making organizations genuinely fit for human beings—more inspiring, open, and free. What will it take to manage without managers and switch on the organization from edge-to-edge?
It's time to radically revise the deeply-etched beliefs about what business is for, whose interests it serves, and how it creates value. We need a new form of capitalism for the 21st century. How can we accelerate the shift toward a capitalism that is profoundly principled, fundamentally patient, and socially accountable?
We received nearly 400 submissions of remarkable quality and diversity from leaders and innovators from every kind of organization around the world. We recognized 58 finalists and celebrated 24 winners across the three challenges.
---
The Management 2.0 Challenge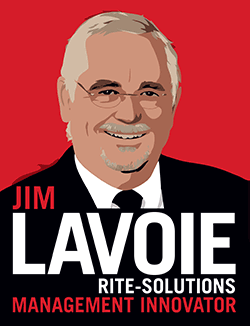 Special Mention:
Jim Lavoie
Rite-Solutions
STORY: Nobody's as Smart as Everybody—Unleashing Individual Brilliance and Aligning Collective Genius
Software company Rite-Solutions has developed a state-of-the-art "innovation engine" to unearth the organization's hidden genius. Think Bloomberg terminal meets Monopoly board: a dynamic marketplace for idea generation and development in which all employees are entrusted with the future direction of the company, asked for their opinions, listened to, and rewarded for successful ideas. The result: an organization in which ideas and people flourish—and new products, technologies, and directions are freely generated. New lines of business created via the innovation engine account for 20% of the company's total revenue.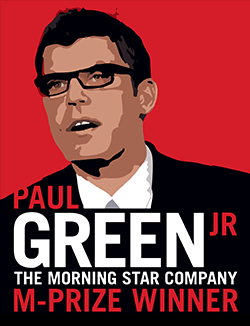 Winner:
Paul Green, Jr.
The Morning Star Company
Story: The Colleague Letter of Understanding: Replacing Jobs with Commitments
Morning Star is one of the world's leading processors of tomatoes—and one of the most progressive models of a self-managed enterprise in the world. At the heart of this peer-regulated collection of colleagues who determine their own roles and responsibilities is the "Colleague Letter of Understanding" or CLOU. Four years ago, the company introduced a custom social network to support a more dynamic, transparent, and scalable approach to self-management. Today, an ever-evolving (and immediately visible) network serves as "org chart" and peer-to-peer responsiveness replaces hierarchical control.
---
The Beyond Bureaucracy Challenge
Special Mention:
Pam Weiss
Appropriate Response
and Todd Pierce
salesforce.com
STORY: Growing People: The Heart of the Organizational Transformation
What if training and development programs unleashed human potential—rather than packed people full of curricula, models, and competencies? More to the point, what if cultivating a successful inner life was front and center on the leadership agenda? That's the question Todd Pierce asked himself after years of experimenting with the full menu of leadership development models in his capacity as CIO of biotech giant Genentech. He answered it, along with executive coach and mindfulness teacher Pamela Weiss, by creating the "Personal Effectiveness Program"—a transformative, year-long experience with mindfulness practices at the center that has yielded extraordinary results in terms of engagement, customer satisfaction, collaboration and communication. Pierce and Weiss's story offers a short course in how to instill greater resilience, responsiveness, and emotional maturity in your organization.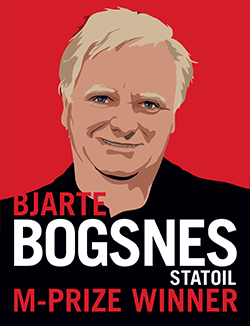 Winner:
Bjarte Bogsnes
Statoil
STORY: Taking reality seriously - towards a more self-regulating management model at Statoil
Bogsnes recounts the journey of $90 billion Norwegian oil and gas company Statoil toward a more resilient management model—one designed to distribute freedom and accountability as broadly as possible. Bogsnes and his team focused on two powerful levers: abolishing the traditional budget in favor of a more dynamic and distributed process, and scrapping the annual calendar for a more continuous and variable approach to setting time-horizons for a particular business or project. It's a big-ticket shift that is already yielding big impact—from employee engagement to increased agility to real performance gains.
---
The Long-Term Capitalism Challenge
Special Mention:
Juan Carlos Rojas Serrano
DaviPlata
STORY: DaviPlata: "Self-Service" Financial Inclusion
DaviPlata is a pioneering, free, self-service approach to financial inclusion. The platform was born of a dream to create savings accounts for the unbanked and underserved population at the bottom of the pyramid (in Colombia nearly 40% of the population is unbanked—though the country has 105% cellphone penetration and 100% geographic coverage). But companies don't bet on dreams, they bet on ROIs, facts, numbers and P&Ls. Not true for parent company Davivienda, part of the Bolivar Group, which is founded on the purpose of "enriching life with integrity." Today, DaviPlata has almost 600,000 users (more than half from the unbanked population) and Colombia is the first country in the region to have a fully-operational e-money platform.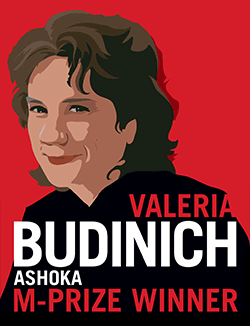 Winner:
Valeria Budinich
Ashoka
Story: Ashoka's Hybrid Value Chain: Revving the Engine of Sustained Global Prosperity and Social Value
Ashoka has worked relentlessly for years to cultivate and support a generation of social entrepreneurs. Now it's turned its attention to hacking the traditional value chain to promote a new framework, the "hybrid value chain," (HVC) that drives collaboration between all sectors to produce both economic and social value. The HVC offers an operating framework for citizen- and private-sector collaboration to solve large-scale problems neither could solve on their own—and seeks to redefine value once-and-for-all as the interlinked creation of wealth and sustainable social benefit.
---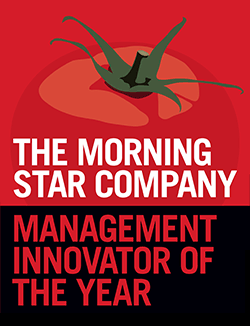 Management Innovator of the Year Award
The Morning Star Company
Morning Star is one of the world's leading processors of tomatoes—and one of the most progressive models of a self-managed enterprise we've seen. The company was founded in 1970 with a distinct philosophy: people are most productive, creative and happy when they have personal control over their own lives. And the best organizations are those in which people are not managed by directive from above but when coordination happens among peers who manage their own relationships and commitments. In the last 30 years, founder Chris Rufer and his colleagues have built a company to bring that philosophy to life: no bosses, no titles, not job descriptions, and a sweeping scope of authority for every individual.
---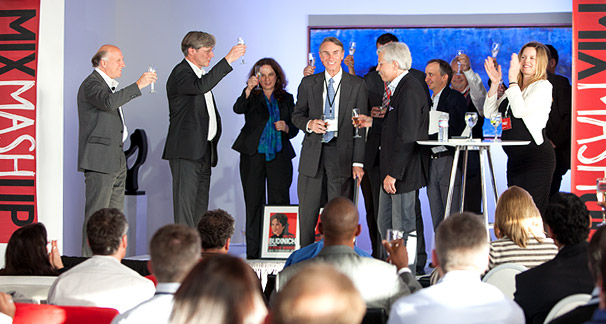 M-Prize winners toast at the MIX Mashup on June 19, 2012.