Hack:

Breaking the Stealth of our Mental Modes: Shift the Default Directive Leadership Style a Thousand Mini-Transformations, a Day at a Time
Summary
We Cannot Escape our Central Biases.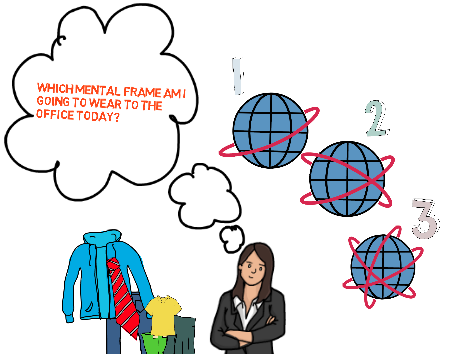 We inadvertently use legacy, non-conscious assumptions that inform our behaviour and revert us to the directive leadership style, with which we were brought up and socialized, as a default style, despite our better intentions, especially in our current climate of constant urgency.
This generates default operational modes, and the directive leadership style, induces fear and reactive controlling behavior, which limits acceptance and implementations of new ideas, innovations and paradigm shifts.
Unless we catapult ourselves out of our conditioned mindsets, or make them more conscious and more visible, we will continue to act on the basis of the "truth", grown from the socialized assumptions. Perpetuating the Status Quo, limiting our ablity for fundamental change.
These assumptions are the root cause of all of today's organizational (and social) problems. 
How could we jostle our cognitive dissonance collectively, into believing that we act from inner strength and grounding rather than a perceived lack of significance leading to the permanent need and race for outer validation?
What type of mental sport can we devise to jostle our consciousness into cognitive dissonance over longer stretches of times or short bursts a couple of times daily….to induce a permanent habit change?
And what type of new Leadership Training could maximize impact via experiential learning and support?
Could a Relational Community comprised of Courageous Leaders accelerate and increase momentum?
Problem
Different frames, and bias create different realities, knowing our own frames, and being aware of our preferred frames, enables us to add, contribute and stay open, adding our truth to the truth of our collaborators.
The legacy of our traditional management styles, roles and functions is imbedded by cultural, economic, business and functional education, inherently assuming that :
People are machines pre-programmed by genes and therefore, lack power
Human capital is a commodity and therefore, everyone is inherently valueless and replaceable
We are motivated extrinsically and therefore, need external rewards or pressure to perform, create and contribute
Logic is presumed superior to emotional intelligence
"Leaders" are then left to "motivate" people through carrots and sticks, demanding constant proof of worthiness through visible achievements.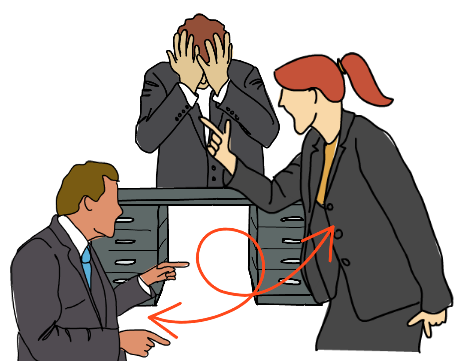 At the same time, "Leaders" believe the same above assumptions about themselves, leaving them without an internal reference or power base from which to "act out of the box" and nurture healthy team cultures that unleash human potential.
We do not 'consciously see the system that socialized us, and therefore, cannot see "outside the box," which biases our perspectives even further.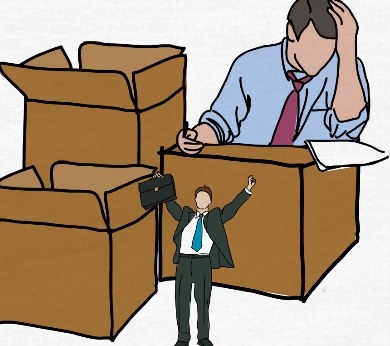 As a result, we perpetuate the same external environments we hold within:    
Carrots/sticks,
Need for external validation to feel worthy,
Inconsistently creative and innovative,
Fearful that outer failure implies inner worthlessness and only outer success is tolerable.
To take things to fill their internal needs
Without a feeling of intrinsic value, "Leaders" are left without a strong base of self-confidence, self-respect or self-trust and therefore, easily depend on external validation.
From this weak base, "Leaders" cannot nurture open, trusting and learning team cultures, because they inherently fear competition from others. They prefer to create environments of fear, so that people comply and they can temporarily feel strong and powerful.
These assumptions are underlying the and comprise the entire ills which befall society today.
This social inheritance, which conditions our very being and notions of self, underlies all the unease and problems, we are faced with today, and have created up to date. It is our task to ensure that we re-conditioned our children and ourselves. It is our task to tackle the problems we created jostling ourselves into profound cognitive dissonance – to be able to see our frames, see other frames, and to enter a new  habits to sustain a new frames ultimately leading to a new paradigm.
How to decrease reliance on external validation?                                                                          
How to raise the awareness of the frames which socialized us ? How to increase the visualizations of these frames and our leadership styles?
Solution
The simple solution is to socialize leaders [1] to see themselves and others as people. This inherently assume 
We are conscious beings, made of energy that constantly changes and therefore, are intelligent on many levels with the capacity to affect their genes
 Human capital is unique and limitless, therefore, people are born valuable and naturally powerful, creative and at choice
We are motivated intrinsically, constantly seeking to meet their basic needs - significance, certainty, love/connection, variety, growth and contribution-.
In a people centric environment everybody is a social architect, a co designer of a healthy and empowering culture which:
•                Makes people free to focus on growth and contribution,
•                Set's free innate creativity and innovation.
When leaders can meet their basic needs, they feel "full" and therefore, can contribute to a company by empowering others, instead of "take" by using the organization to meet their basic needs.
A leader who is dependent on external validation to feel confident, is destined for a life-long competition to prove his/her worth to others in an organization, making him/her unable to listen and empower others to do their best - for fear they'll be outshined-.
Learning to Shift Frames and increase our mental flexibility to use more frames, actually leverages creativity, and increases strategic adaptability. It is essential to foster this to address the global complexities and real time challenges we face. Systematic Training is necesary since we do not recognize theses frames other than when we are put into cognitive dissonance. This is often done via stretch assignments, but maybe counterproductive if leaders are not empowered to act from a basis of inner strength and fullfillment.
A leader, who operates from an internal lack or emptiness, is forced to promote fear and demand compliance instead of nurture engagement.  
[1] - We use the notion that everybody is a potential leader, and everybody is potentially called upon to leadfor a limited time -
Practical Impact
These assumptions shift leaders from performance to learning mode, from which they can create an infinitely creative and innovative team/organizational environments.
Increasing our internal understanding and build our inner power to understand our worthiness = fill the tank 
 A Thousand Mini-Transformations, a Day at a Time
Across our entire Work/Life Settings

Drive down health issues , stress levels - devise metrics for this

Increase focus and quality of work, joy 

Opens up spaces for creative work and collaboration

Invite more of the creative self and human potential to the tasks at hand
The impact of the leadership paradigm shift completely transforms each leaders' and employees' behavior and experience and, as a result, the organization's culture, and our social spaces and interaction across extending beyond and over work deep into the private realm.
Resulting in healthy, confident leaders who tend to the health of others functioning from a "fulfilled inner space", with "filled tanks," capable to nurture open, trusting, engaging and learning teams through which people can share their unlimited creativity and innovation.
When executive leaders are transformed, they will act as role models, thereby, affecting even larger numbers of employees in a relatively short period of time.
When we ourselves acknowledge our potential to lead informally in all our life settings we become the force that breaks stealth[1] – the stealth of our primary mental mode, we were socialized with, enabling us to see beyond its limiting frame – cultural setting, work ethos, nation principle, gender role etc. to invite more contribution, more of the self and more of the other into the process of what we are doing and accomplishing at work and outside of work. Snowballing fundamental social change from within.
---
[1] You break stealth take this big, massive thing and turn it into a million little things ...
Challenges
Generate Buy In; be the change we want to see...
In order to spearhead a thousands of minitransformations we have to be constantly jostling our default consciouness. Increasing our understanding of which frames impact us.
The permanent urgency and the incredible complexity , hardly leave any time for reflection or focus mode on the self in action. 
We need to create a movement, and a system of conscious reminders throughout the day, using either behavioural simulations with feedback loops, through digital tools, embedded in a given context, in the absence of this type of technology, often costly to realize we start with a million little things.
Scaling: Spark a movement and contagion in our natural environments at the workplace, at home and in our leisure groups....
Identifying leaders who are self-confident enough to choose to modify their leadership paradigms. Support from important, relevant stakeholders can solve this issue (BoD, etc).
The second challenge will be companies' existing compensation strategies. They will need to be modified to reward behavior outside revenue and profits, to include the skills needed to lead with the "see people as people" paradigm, as well as nurture team culture around that basis
First Steps
Shifting To Learning Mode , Dialing Down Command Style - making it inappropriate - Reward Nurturing Behaviour which tends to the health of each other, - provides safety to share.
1) Individual Transformation Across Work and Life Spheres
- We recognize that the transformation is well under way through the personal development movement but add our list of mini transformations to make it crystal clear that we as a collective already breaking the stealth on a daily basis, but now we need to get down to this as a whole person and deliberatly in our work places.
- Each and every one of you to pick 1-3 of the ideas mentioned here and to consciously apply it throughout your day and the week for 21 days in a row. Then move to the next 1 or 2 items on the list. We invite you to join the leaders for good network or else to comment in the comment section of this forum on your progress. Invite others at work or at home to do the same. This same Individual movement for buy in can be replicated in the organization, increasing awareness to and of the issue.
1 Inducing Individual Behavioral Shifts
Opportune Moments
Finding the opportune moments to jostle cognitive dissonance during our daily work and life routines to maximize our individual impact to be a change and paradigm shifter.
Scaling: Spark a movement and contagion in our natural environments at the workplace, at home and in our leisure groups....
Dialing down command style in your business meetings this weeks
Dialing down command style can happen when you model as your childs sports coach, in a choir or in the bus.
Carving away at the steel wall that separates us from our unlimited multidimensional Human Potential what we want to become across Work and Life spheres and zones of influence.
Tools: everyday 7practical mini-transformations to practice across Work and Life settings – see below -.
During formal and informal Meetings; on and off the job
1.     Learn to distinguish Learning mode from Performance mode
Learning Mode means:
-       Accept outcomes as they are, Depersonalize the results
-       Experimenting
-       Adjusting to New Information with new Strategies
Performance Mode means:
-       Focus on proving intelligence and capabilities
-       Personalize Results
-       Forcing outcomes to meet your bias 
Ex: a leader entering his meeting and consciously priming himself for staying conscious and open to lead from a full tank. Doing this repeatedly will model new behavior and alternatives and transform them into a habit and spread contagion Stay consciously in Learning Mode with increased frequency. Prime to be in the learning mode instead of performance. Learning mode assumes you are already the best you can be and then you relax and enter the task with openness and curiosity inviting the learning and contributions in. Dissociate doing and being. Shift between both states during your work day and meetings.
2.   Shift From Time Management Mode To Energy and Emotional Intentions
Check in to see how much of the time I spend thinking about what other think of my work or me, instead of thinking of what I need to do, free up mental space to be used to focus on task at hand.
3.     Trust Meter: Instead of saying I do not trust this person. Think which part of this person inspires my trust:
·       His/Her Intentions,
·       His/Her Character
·       His/Her Knowledge
4.     Clarity Indicator: Take Responsibility for Pursuing Clarity by asking for what you want and need, in a straightforward manner.
5.     Open Our Treasure Trove: more often, stay open for longer durations
Share with transparency instead of fear; follow the three-second rule of your intuition - when you feel prompted to share, connect or interact, act in immediacy.
 Can I share something out of my treasure trove; the deeply hidden dreams or talents and accomplishments we have but rarely risk to show fully, or share that hidden section of or on the internet you are working on but fear to show…
6.     Tri-level Communication: In any interaction step away either physically or mentally: Respond to the Intentions, not the    Form.
7.     Time/Space Meter : - notice where you are in time - in the past, present or future; if outside of the present - perhaps thinking of a former experience or boss, or hoping for something in the future -, gently bring yourself back into the present and focus on the intention at hand; this will increase your focus & capacity to put your best into your work without feeling drained or tired - through this, you will become a more deliberate leader
  2 Disruptive Leadership Developments : Start Leadership Training groups and Devise Executive Measures to reward new behaviour
Identifying leaders who are self-confident enough to choose to modify their leadership paradigms. Support from important, relevant stakeholders can solve this issue (BoD, etc).
Create an opt in group of interested individuals - open to all , work with those who show up on identifying two or three elements which can be addressed- ex. share tresure trove, trust meter. 
Instill a task group to revise how rewardaring nurturing behaviours can be imbued in the company culture and  performance review structure or your organization. 
Make Giving Visible ; 
Creating Congruence between Logic Emotions and other Human Intelligence[2]: translating knowledge into new behavior and habits over time using a multifaceted learning approach. - 
   3 Priming a Leaders Community
Change-Ready Leaders Connect and Support each other in a virtual Global collaborative Space, ex. Leaders for Good or create an internal equivalent.
4 Organizational Focus Shift; re-design of compensation and developmental strategies
Redesigning reward strategies to nurture human environments that maximize human potential: compensation of developing employees, team culture and new behaviors around performance reviews.
Credits
 Wharton Scholar, Jennifer Mueller's Research about "central bias". "Stating that we all share a bias against new and creative ideas when we are faced even with minimal amounts of uncertainty." We extend this bias to ideas and creative talent and solutions alike.
Nilofer Merchant in her blog post is bias fixable, describes our human nature, the pattering mechanism as our biggest flaw implying and building on the work of Gail Frailhurst, that we need to increase the flexibility of our frameworks to become more discerning, setting us on our way to becoming a catalyst.
Fellow Mixers who are a permanent inspiration: 
Pamela Weiss/Todd Pierce: Growing People The Heart of the Organizational Transformation