Summary
Companies want to change. However, they usually do it in front of severe crises and when it's too late. Hence, why not create in advance those crises by ourselves?
This hack proposes a thrilling role for HR: to provoke corporate earthquakes and create mobility, fun, and courage in the process.  
Problem
Both desired and elusive, organizational adaptability is one of those make or break competencies that every company wants to have, but only few succeed to attain. "Why is it so hard to acquire?" You may ask.
The difficulty is not because there's a lack of awareness or diagnosis (who could ever argue against the vital role of adaptability in surviving and thriving?), but because there's an inability to translate such strong convictions into effective day-to-day practices and actions.
Reframing it, despite a universal consensus around organizational adaptability, modern companies seem to fall behind and disappear at a violent speed. In fact, what we have reflected as part of the collaborative CIPD-MIX hackathon project is that companies change (if ever) in front of abrupt and severe crises (and when they do it it's generally too late).
Truth be told, most of our traditional organizations have been built on pillars that don't cope (in some cases, even collude) with current challenges. We are referring to pervasive barriers (such as fear, decision bias, old habits, inflexible business practices, rigid structures, short-term thinking, and insufficient experimentation) that prevent organizations and the people who are part of them from rapidly and systematically adapting to the levels of variability we are all experiencing.
As Gary Hamel argues: "The only thing that can be safely predicted is that sometime soon your organization will be challenged to change in ways for which it has no precedent." Moreover, we have envisioned that those challenges are going to be of an enormous magnitude to the point it will be virtually impossible for companies to predict them, prevent them, stop them, or even revert their consequences.
Hence, how do we make it possible for a (not-so) modern company to survive and thrive in the inevitability of the occurrence of doomsday-like scenarios? That's precisely the problem this hack is focused to solve.
Solution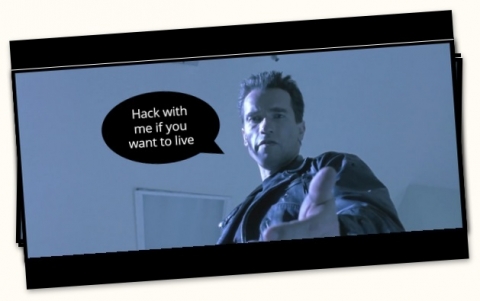 From <<Scenario Planning>> to <<Scenario Playing>>
This experiment is all about crafting and anticipating your future by bringing today your unthinkable nightmares (and dreams) of tomorrow.
How? By designing and running corporate-wide hackathons focused on extreme, unusual, apocalyptical, and why-not, funny challenges or situations.
In this line of thought, the next stretch imagination exercise for finding innovative solutions for your company could (and should) go beyond the shortsighted denial-reinforcing goal of "how to strengthen our EBIDTA". It should point out things like:
·         After a successful meeting with your top supplier, you have discovered that ALL of your customers have been abducted by an alien race from a distant planet. So, now you need to address a whole new audience.
·         Aliens are back, and this time they have given you $10 million for projects. What could you do it with and why?
***
"Wait a minute… Aliens?"
Think of both examples as fun ways to address real potential problems or opportunities. However, pick any color you like. 
Let's say you want to stick with challenge number #1 (the one about the disappearance of your customers) but want to leave the extraterrestrial details out of the equation. That's perfectly fine. In that case, the challenge may be just about the "unlikely" fact that all of your customers suddenly taking on a totally new mindset about your company based on some massive change in the world or competitive landscape. 
Now, here is an example of a terrestrial trend that may originate those considerable changes in consuming behaviors: 
- Modern families or new family configurations: traditional patterns are disappearing. Now, single parents, boomerang children, grandparents, among others are modeling the new family structures and rewiring societal interactions at large (Sparks & Honey, 2013).
***
In this sense, one of the values of this hack relies in asking your organization to consider how you are coping with seismic changes (being positive or negative). This may imply a shift on how your company "foresees" the occurrence of future challenges and opportunities, which can be illustrated as follows: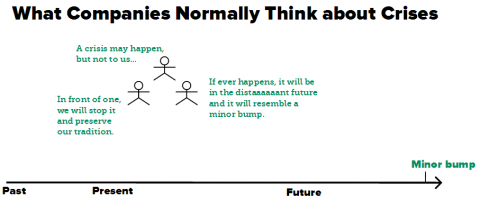 All in all, it is a time for questioning this general tendency of denying the occurrence of a crisis or underestimating its magnitude. That rusty practice could only leave your organization with not so pleasant situations like this one: 

Practical Impact
The unexpected outcomes -new ideas, new points of view, new thinking, rethinking your entire industry, legacies, and dogmas- that could emerge from such absurd challenges we are inviting you to run can be vast, illuminating, and paradigm-breaking.
However, in order to grasp the true power of the corporate earthquakes hack, we would like to share with you some practical guidelines. Please take these into consideration while planning the execution of your own experiment:
Seven Rules for Designing and Running Corporate Earthquakes
1. HR stands for <<Hacking Resources>>
New corporate realities must be accompanied with new corporate roles in order to sustain the positive changes over time. The time for static supervisor/subordinate relations is running out. Now, we need guides more than experts, followers more than leaders, and hackers and artisans more than employees.
In this sense, use the implementation of this hack as a splendid opportunity to bestow HR with a new and thrilling role: to act as the provocateur, guide and conspirator of change. If "modern" organizations were to survive, they have to face their phobias and HR, in particular, can be an excellent partner in creating slightly uncomfortable imbalances for the sake of reinvention.
2. Look for Crises, not Emergencies
It is important to make a distinction between a crisis and an emergency. The former is the one you should focus on in order to implement this hack.
Crisis: is defined by Merriam-Webster dictionary as "an unstable or crucial time or state of affairs in which a decisive change is impending."
Emergency: also defined by Merriam-Webster as "an unforeseen combination of circumstances or the resulting state that calls for immediate action". Please note that a situation, which requires an immediate action from your organization, may not force your company to look for unthinkable solutions and; therefore, learn in the process. Instead, it will demand the implementation of the regular, remedial, and obvious approaches in order to reset the company to its original state. For example: a challenge stated as "your best client has an enormous complaint, what should we do?" would require just to follow your customer service guide book or your ISO standards.
In essence, your corporate earthquake challenge must not be based on trying to avoid the occurrence of the earthquake but on how your company can move on from that inevitable change of conditions.  
3. It is not all about Nightmares and Terminators Chasing you
Not every crisis is necessarily negative. There are some unexpected opportunities that will demand to think out of the box in order to solve the equation. Previously, we used the example of receiving a 10 million $ gift from an alien race. Now, here's another one: what if those extraterrestrial creatures abducted your competitors instead of your clients. In that case you will have a light-tone riddle to play with.
4. Challenging the Sacred
Identify a sacred belief, something that anyone in your company including you hold as immutable and untouchable, and run a corporate earthquake challenge to defy it. Here are some examples:
·         This is our star client.
·         This is our core business.
·         This is what our business is about.
·         These are our core competences.
·         This is how we should compensate people.
·         This is the best way to communicate internally and externally.
After the challenge is over, you can ask yourselves: was this [put the name of the sacred belief here] as vital as we thought before?
5. Less is More
Make it fun!
Make it simple!
Don't get too real!
Sci Fi allowed!
6. Debrief Debrief Debrief
Nothing more is needed to be said in order to understand this step than the following. As stated by Thiagarajan, mentioned by Borodzicz and van Haperen in their paper Individual and Group Learning in Crisis Simulations, "people don't learn from actual experiences, instead they learn from reflecting on the experience."
7. Set Actionable Follow-ups
Based on the reflections and learning from the earthquake, you can encourage the development of more formal projects intended to internalize and strengthen the recent acquired adaptability competencies. Moreover, you can create an action plan to improve the performance of the company regarding training, procedures, etc., or fish around for cool outcomes like new ideas, new ways of thinking, and more.
***
Further Reflections on Applying this Hack
On Selecting your First Corporate Earthquake
"What could happen to our organization in the near future" is a question you may never accurately respond. That's a wonderful thing, and here's why: 1) it gives you a blank sheet of paper where odd opportunities can be taken into consideration; 2) it removes the pressure of becoming a clairvoyant as to come up with near-to-perfect predictions. 
On the flip side, being the provocateur of change in your organization may also cause you a headache when trying to figure out what could work as a trigger. 
Suggested pills: 
- Observation and experimentation: there may be ways to recognize the arrival of a seismic shift, in some degree; even though we have pointed out they may catch you off guard. Possible signs can come from emerging technologies (e.g. 3D printing) and music trends, changes in language, cultural behaviors, etc. In this sense, young people can become important providers of information. They are at the forefront of what may dictate future realities. For such, it would be recommendable to talk to them and wear their same shoes, meaning experiencing their tastes, listening to their music, and so on. Even if this won't work as a crystal ball, it will broaden your worldview and perceptions. 
- Hackathon pre-show: invite your hackathon participants not only to face a corporate earthquake, but also to previously help you define it. You shouldn't carry all the weight in your shoulders. Plus, by using a bottom-up approach, you will help install in a way some skills for recognizing future challenges in your organization; or at least to promote in your workplace a culture of seeing problems and opportunities from multiple lenses.  
About Coping with Corporate Earthquakes
It may not be enough to just invite you organization to experience or simulate a potential crisis. You will also have to pay especial attention on how people go through it. In the following, we share some rules of engagement that you may enforce within the hackathon participants: 
a) Keep calm
b) Raise your hand: it's all about volunteerism.
c) Embrace the gaman ethos:  
"Japanese is one of those languages that is full of untranslatable words that define a unique culture. Gaman is one of them. It means something like the art of endurance, with a good dose of stoicism and resiliency mixed in. Gaman is what Japan in the wake of the killer earthquake and tsunami has displayed in abundance" (Beech, 2011).
d) Commit to relocate peers: this applies in such cases that earthquakes may force roles and job positions to disappear. Thus, peers should help each other find other places, where they could contribute meaningfully. 
e) Forget the hierarchical structure: feel free to embrace new informal channels of communication and interactions. Find natural ways of relating to others, even if that means to move away from the existing hierarchy previous to the earthquake. 
f) Be kind
g) Offer your friendship generously and make new friends
h) Blur or expand the walls of your organization: earthquakes are excellent opportunities for engaging communities, suppliers, and even competitors in creative dialogues and simulations about the future.
i) Put political battles or frictions behind: there's no time for fighting in the middle of a crisis. So, focus in grasping potential opportunities and heeling old wounds.
Challenges
These types of challenges may look crazy and threatening. However, we encourage you to involve some curious but stealthy volunteers and run a pilot 'under the radar'. That is, start with a micro-earthquake (2.0 or less in the Richter scale) and analyze what you may have learned from the experience. The results will speak for themselves. This will open the door for moderate (5.0 in the scale) or even more powerful disruptive challenges.
Someone may argue that you have lost your mind suggesting that the company should start considering aliens as their customers in the absence of humans… In that case you can reply: "why not?" Accompanied with a gently smile. If that is not enough, tell them that this is about engaging in serious playing. Just like kids when they play. They are really into the game and take rules very seriously. That's why they have a good time, learn, and exercise their imagination.
"Seriously guys, Aliens?" While an E.T. challenge may attract a lot of attention in your company, it could be just too much. If that's the case, look for alternative triggers or seismic trends. We invite you to check these sources for inspiration:
a)    8 New Jobs People Will Have  in 2025, by Ben Schiller
b)    8 Exponential Trends that will Shape Humanity, by Sparks & Honey
First Steps
·         Start under the radar.
·         Invite curious volunteers to co-design the pilot.
·         Determine which sacred assumptions/area/process/procedure/team/person you will test.
·         Determine the scope and depth of the corporate earthquake challenge.
·         Set the timeframe (30 days for design, 30 for execution, and 15 days for debrief).
·         Involve other volunteers, who will act as hackers.
·         Run the challenge.
·         Debrief.
·         Share your findings with the CIPD and MIX communities.
Credits
This hack has been developed during the CIPD-MIX Hacking HR to Build an Adaptability Advantage by:
Alberto Blanco
Guido Rubio Amestoy
Kandy Woodfield
Matt Frost
Stephen Remedios
Conor Moss
Diana Felibert
Images